How to start a Moving Out review? Well, its probably best summed up with a classic like "Great things come in small packages".  In short the game is a frantic race against the clock, part puzzle, part arcade craziness and a sprinkle of comedy charm. If you are looking for a couch co-op game to keep the family entertained or at least blaming each other. Then look no further, its got lockdown shenanigans all over it.
I've moved house, indeed countries a few time times, more than most of my relatives to be honest. I enjoy it, I enjoy the process and the sweat and the challenges. Most people hate moving house, I don't get that because I embrace the changes that it brings. Maybe this makes the game relatable to me, maybe it makes me laugh because I see other people wincing. Moving house can be fun and Moving Out can certainly show you the way.  Any game that introduces your avatar as a F.A.R.T. has its tongue well and truly lodged in a cheek. Moving Out knows what it is and it's proudly so. Developed in the Australian state of Victoria by SMG Studio and Published by Team17, Moving Out has the hallmarks of a home grown indie that will be taking the big stage.

Timing is everything, especially when Moving Out
For what could be a niche title on a regular day, with the majority of the world in pandemic lockdown and taut families looking for a game they can play together. Moving Out hits the spot. It has a sense of humour, it has some silly and yet, clever physics. More importantly it can get four people to sit around the console of choice and work together. Knowing what to expect I booted the game up, keen to take it for a spin.
Then the children drifted in and before I knew it, we had our moving team in play. The youngest being Four and the game being accessible and colourful enough for her to feel a part of it. In fact, Bonnie is our designated driver. There's nothing quite like careening around a nicely blocky map, running cars off the road to keep a four year old entertained. they also love the roster of unusual characters, all of which can be customised to bit, with new members being unlocked as the game progresses. To be honest the Toaster Head Guy is eta team favourite, especially as he pops out toast as he works.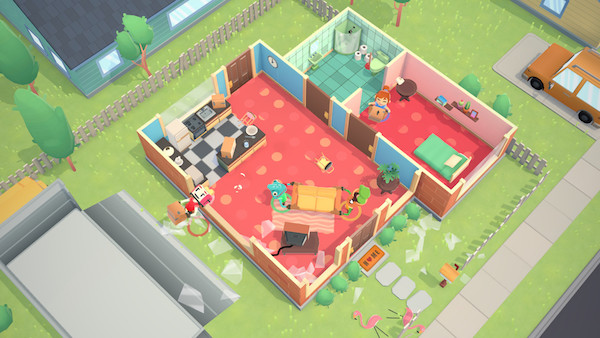 Controlling the chaos
The game doesn't need to be big, the environments lay the groundwork and its down to all of you to run around each level. Essentially a level is a house, apartment, industrial building or even an homage to arcade classic Frogger. Run around against the clock, grabbing items with your weirdly long arms and drag them out to your van. Get all the required items in the fastest time to score a Gold medal and don't mind the mess.
The look and feel of the levels is spot on, bring and boldly coloured. Items can be grabbed, thrown and caught if your team is 'mature enough'. Lighter items are no problem, but big heavy items like beds and couches are always a challenge. Getting a corner sofa around a dog leg corridor and out to the van in time can become stressful. Especially if you are all pulling in different directions, there are times you might challenge the physics, but its actually doing a good job. The good thing about having a team is that two players can throw heavy objects together, with is a great skill if you'd rather throw a bed out of the window.
Heavy items leave carpet smears, windows and ornaments get smashed. There are plenty of nice touches like the how the appliances are all plugged in and the weighty snap of the cord as you drag it away. The Moving Out company would be slaughtered for its level of service, that said its water off a ducks back for your Boss.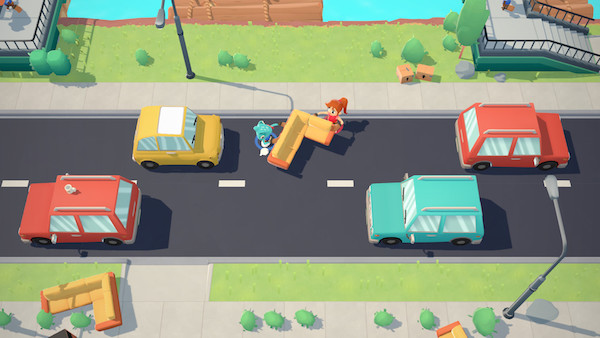 Play Moving Out in a crowd or go home
While Moving Out is fun to play alone, playing solo can become tiresome. Especially when you are playing a level with specific needs, like keeping sheep and chickens penned up in the van. Such a scenario benefits immediately from having more than one capable player working together. It's worth noting that the levels get harder with more objects to load up depending on how many players you have. However, seeing my middle child take control and get us organised into targeting bigger object first was worth the ticket price alone.
The chaos levels up too. Most of the environment is destructible and throw in something like a handy snow covered slope or oil slick, it gets messier. I imagine a day when we are capable enough to throw items to each other, clearing a house without breaking everything else. One day.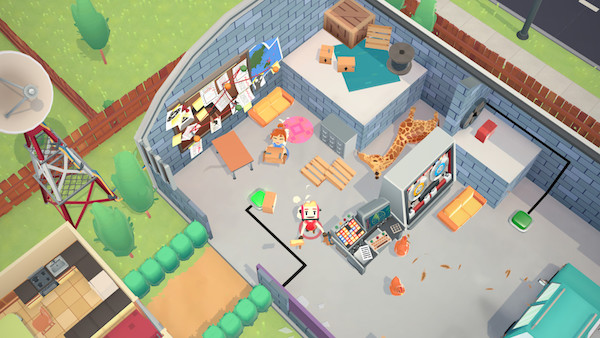 Overall
There's no online play, so you do need friends and relatives. If you are locked down with a party of two or more, then Moving Out will scratch some itches. Whether its destructive pent up frustration or just a plain old belly laugh at your antics. The experience may be short lived, but Moving Out will always be fun. Certainly something to look forward to post pandemic when drunk moving will become a thing.
Drunk or not, this isn't a quiet couch co-op game.