Powerwave Controller Phone Mount, Xbox review
Powerwave Controller Phone Mount. That's a mouthful, isn't it?
Yes, I would say, but then I would also say. Good things come in small packages. Currently hitting retail across Australia/NZ these nifty clip-on mounts really do offer you a better mobile gaming experience. With two models designed for PS4 and Xbox Powerwave have not re-invented a wheel, but they have done a good job making sure theirs is round.
When offered the chance to take a closer look I went with the Xbox unit. The main reasons being that I still actively use my Vita and PS-TV for gaming away from the TV. So with one eye on the future of Xbox streaming (Project xCloud) I figured it would be worth seeing how the unit fit for Microsoft.
What can you do with it right now?
Right now, that's a pipe dream so having access to controller enabled games is essential. Surprisingly these are few and far between. Given that top tier FPS games would be crying out for controller support, you would be forgiven for expecting more. Obviously the other restrictions are whether you are an Apple or Android phone person and how much Mobile Gaming you actually do.
I stumble on the first hurdle, having an Android and not many games installed. However after a quick Google and scanning the Play Store I grabbed a couple. One of which I will keep longer than the others. Free twin-stick shooter PewPew is my cup of retro tea and worked really nicely with the controller. Being able to use the thumbsticks, especially in a shooter, rather than cumbersome touchscreen controls is a joy.
Does it fit and is it solid?
The Powerwave Controller Phone Mount has a solid build quality, it clamps over the controller with a good fit and snaps satisfyingly into position. So satisfying that you do need to apply some pressure to release it. The screen clamp can be adjusted for best viewing angle and the spring loaded holder adopted a couple of different phones admirably.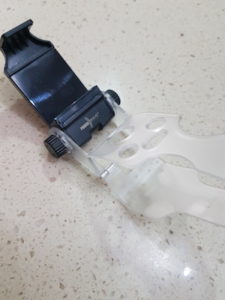 Once the phone is in place the unit feels rock solid. Although the weight is front heavy and when you put it down it will fall forward. Otherwise it sits nicely in your hand and the weight becomes reassuring. It is a lightweight and well made accessory, but there is not much else to say about it. Coming to market at $15 – $20 approximately, its a cheap enough and handy accessory or maybe a decent stocking filler at Christmas.
Bluetooth and Beyond!
Syncing the controller to the phone has nothing to do with the unit, that process was easy enough. I did find it odd that I couldn't switch the controller off without leaving it to go to sleep and once it was turned back on, a re-sync had to be done. Like I said, that's for Android and my controller to work out.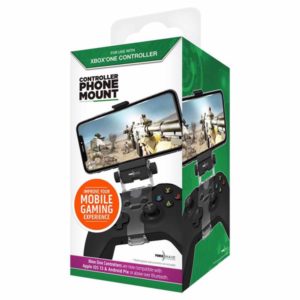 The main issue here is whether its a quality of life improvement, to be honest I'd say yes, but with the caveat that I am waiting on Xbox Streaming. That will be the day I can happily leave a spare controller in the mount. Because taking an Xbox game to bed or into the garden will be more attractive than a mobile game. I don't play a lot of mobile games and that is unlikely to change, but remote play? Well that's when this puppy starts to get sexy!
If like me you have one eye on the next step for Xbox or love a decent mobile session, I'd recommend picking one up.