EPOS GTW 270 Hybrid, review
New to our market the GTW 270 from EPOS is a great addition to the family. A set of earbuds with all the hallmarks of the EPOS family.
Delivering easy functionality, fluid connections and some impressive noise cancelling. This set of Earbuds made me realise something, the wired earpieces that came with my phone are a thing of the past.
Big Things in Small Packages.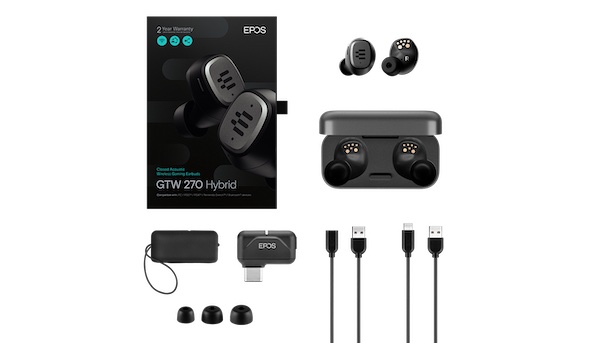 Moving away from big, comfy headsets the GTW 270 are earbuds designed for gaming first, life second. Subtitled as "Closed Acoustic Gaming Wireless Earbuds" says it all really. That said, the packaging and feel screams Business.
The earbuds themselves are a nice size, small and unobtrusive, yet they fit naturally. With 3 sizes of earplugs in the box the standard size fit me snugly, well enough that I barely noticed them once in place. The carrying case has an important feel to it, the brushed steel and sleek design can't help but make you feel a bit Mission Impossible.
Also in the box is a USB dongle, extender cable and charge cable.
GTW 270 connectivity.
These earbuds are a dream to connect, set the carry case to scan and add to your device. Phones and Laptop grabbed the set in seconds, hearing "Device Connected" as soon as I placed the first bud in my ear. The Switch fared just as well and using the included dongle to get my PS5 connected was also easy. However, after having the PS5 paired, I found I had to unpair previous devices to get them working again.
Having become very used to the ease of popping the GTW 270 in for Teams meetings. Having to re-pair was a minor hiccup. While on the Day to Day use, I was impressed with how well the unit switched device at will. For example, I had been so engrossed in a meeting on my laptop, I completely forgot I wasn't cabled to the screen and left my desk. Once I was out on the street, the earbuds switched over to Teams on my phone allowing me to continue. It was smooth, effortless and brought home how useful these things are.
Cancelling the Noise
The GTW 270 certainly dampens the world noise around you. Once the buds are plugged in I find I'm in a world of muffle, like having very blocked ears. It takes a little getting used to, but does the job well. Even my own footsteps seem to be echoing through my insides.
As for environment noise, wearing the buds outside did leave me susceptible to some wind interference. It was dealt with by cupping one ear, but that's not really the aim.
Overall they are a terrific fit, I only let one drop out once although I cant vouch for running with them in. One thing I have noticed is the housing box, once solid and sexy now has a slight wobble on the hinge. Nothing to worry about, but interesting to see if its general thing.
Is the GTW 270 a worthy set of Earbuds?
Hell yes. They are functional, perfect for busy lives that talk, meet and game. As a gaming peripheral they are loud and clear, the mic works well and while the battery life is lessened while connected to a console via USB dongle. They still give you enough juice for a decent session. Also worth noting the absolutely make sense for gaming in bed or public where you may feel self conscious wearing big, comfy, more traditional Headsets.
In this busy world, I'll be keeping them close. Especially tethered to the Switch before sleeping.