Save Room will appeal to a certain type of Gamer. When it floated by me on an email, I knew straight away I was one of them.
If you've ever been swamped by a cluttered inventory screen in your games, or just enjoy keeping it tidy then Save Room is for you.
Save Room is the name of the game, literally.
Playing out of a nondescript screen that looks like any inventory screen you've ever had this title starts off small and soon opens up. It's a puzzle game dressed up as familiar inventory items, giving you an ever increasing backpack to fill. Each level is a collection of equipment that you need to fit into the available space. As we all know, Gamers dont leave spare inventory behind. In fact I've often spent hours walking at a snails pace in fallout because I needed everything in my backpack.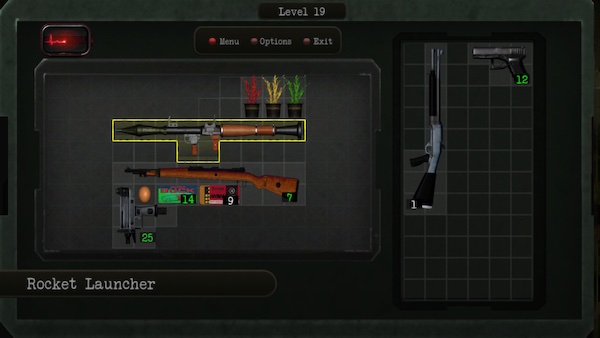 Save Room has a few tricks up its sleeve too, as you experiment it starts to make sense that you can combine items to ease teh pressure. Bullets can stack, they can also go into guns. There are other items that can and have to be combined or consumed (food items) to keep you progressing.
While the developer has created a smart, niche title, there's no big fanfare – sound is at a minimum and once you start up, you're in and running. There's no narrative to worry about or online competition. It's a fun time waster, perfect on the Switch for grabbing a quiet few minutes or to keep your commute busy.
Keep it tidy, keep it clean.
Controls would be my only gripe, not being able to use the touch screen, which would be more natural. That and the rotation could be smoother.
Overall, Save Room is going to appeal to certain types of gamers and a certain mindset. However, its also a great learning tool for 'how to maintain you inventory'. A skill sadly lacking in many of todays gamers.
It's cheap, its chill, give it a go and you'll never look at an Auto-Arrange button the same way again.
We also discussed Save Room on our latest Podcast: Koru-Cottage: Generations