Championship Manager 97/98 (CM97/98) – in 2020
Championship Manager 97/98 is an evergreen to me. I can't say exactly why, but like many of the converted it really is the equivalent of pulling an old sweater on. Born in a time where it strained an Intel 486, the game now runs like Ryan Giggs used to on any platform. Whenever somebody Tweets up a best game ever poll or which game would you take to a desert island. Yep, I'm in like Flint with a quick and subtle CM97/98.
Maybe it was the time of my life that etched the game so deeply into my brain. This was my late twenties, and probably the period when I was most interested in football. Attending Premier League games over the years, feeling the joy of Aston Villa lifting the League Cup and more likely just needed a fantasy world.
I have never had a game give me euphoria like when Lincoln City snatched the F.A.Cup from Manchester United, with an injury time goal by Tom Youngs. This is the way of CM97/98.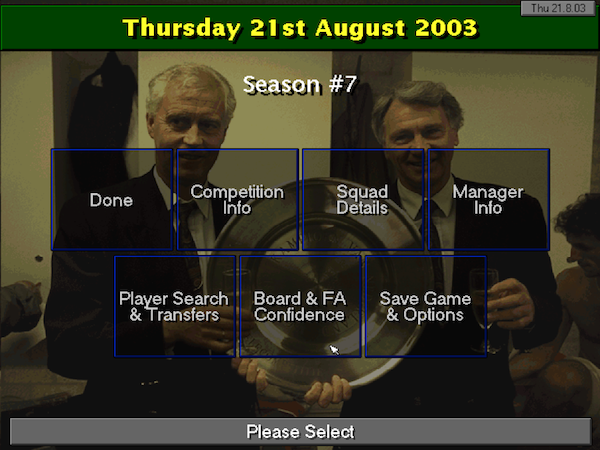 With a mazy dribble
The late nineties weren't much to look at, Champo fit right in. It had basic aesthetics, a spreadsheet to an outsider, but these days more like a clean website design. No pretty match engines, games were played out by a text commentary and a possession statistic. Purists will swear they can control the flow of the game with the tactics, I just love the drama. Letting it unfold as it does, feeling a connection to the data that connects these dots. You can't help but talk to yourself when you are balls deep into a session of Champo. Praising your favourite players and swearing at the injury prone as they go down. Getting angry at the stubborn keeper sent off two games in a row, because you didn't put a reserve Goalie on the bench.
The connection to the real world ups and downs of the players and clubs is tangible. I have been astounded at transfers that mirrored life, even managers moving to the same clubs. I really believe the strength of the connection is knowing the faces and stories of players. Having 'been there' during the period and having your hunch on a player's stats being backed up by Match of the Day. One of my most embarrassing memories in gaming comes from Championship Manager 97/98.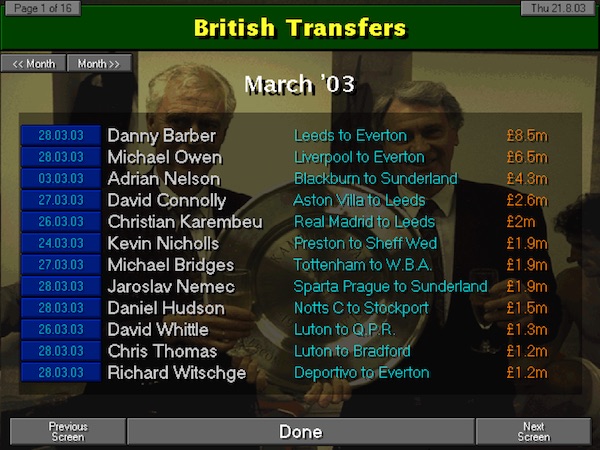 It's a terrible backpass
I had been playing a Danish Goalkeeper for a couple of seasons, he was young and good. Good enough to make the bench for the Danish International team. Where he never got to play game, because Peter Schmeichel was still a God at Manchester United. One day I sat down at work and glanced at the newspaper (we still read them then). Schmeichel had been injured and was going to miss an upcoming International match.
I leapt out of my seat with a mighty YESSSSS! A colleague asked me what was going on. Once I said the words out loud. That my keeper would finally get a game, the line between fantasy and reality was really broken.
Late nights would draw in to the early hours, more often than not with sunlight creeping through the window. Nothing else could keep you up than the promise of getting to the end season before bed. Falling under the covers for a few hours, knowing that when you woke up the game would be ready for the next season. Retirements, rebirths, shortlisting and transfers all updated.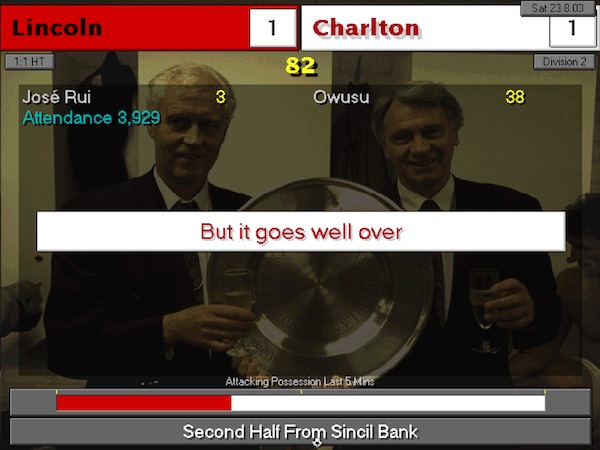 Weekends were especially fateful. Friday night in the pub swapping some CM97/98 stories and tips. Wobble home and fire it up, survive until morning, then get up grab a cuppa and some toast, before starting the next season in earnest. It was appropriate practice to get friendlies and the first leg of the League Cup done prior to taking a shower.
Addictive? No, I don't think so. It was more a way of life. Ask my old friend who sat up for a whole weekend engineering his transfers to turn his squad of CM97/98 into the England squad of the day.
It's in safe hands with the keeper.
Most games are about risk vs reward. Go on a quest, get experience, fight things and win the day. All Football Manager games, Championship Manager 97/98 being no exception are a microcosm of life. Simulating something that you may have an opinion on, to give you the actual chance to control it. Rewards are few and far between, but the relationships grow on you.
Snap up a free transfer or snatch a new signing that you've often admired. You have a connection, getting them into matches and working well within the team is reward itself. Seeing your squad grow in stature, having reliable names around you season in season out. It all builds the fantasy that a football team is an extended family. Then there are the special players, where the database and game engine came together to make magic. There are players that out perform their real life counterparts beyond belief. Forums and social media often peppered with "you must sign so and so…". Everybody has their favourites and its a huge database, I have a history with low level teams and enjoy taking them to the international stage.
A ten year tenure at Lincoln City would do that to you. European and Domestic cups literally falling into my hands. That said it wasn't all me, it was the gems that I signed, we all know Graham "Goal Machine" Fenton wasn't much more that a decent midfielder in real life. In CM97/98 he is considered by some an essential signing.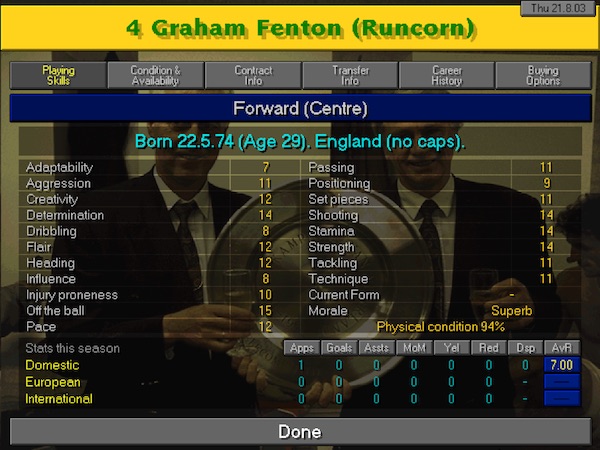 A Red Card, no hesitation.
Cheats never prosper. CM97/98 came with an editor for the data, that said I like the vanilla game and never went looking for a patch. Some people would spend hours tinkering with the database to put themselves in and tweak player stats. Seemed like too much effort to me, when I wanted an experimental game I would simply load up a couple of players. Have the other players play as high roller teams, then have them buy my rubbish players at huge profits for me. Once that was done I would waste their transfer budget on very cheap low level teams. Watching how they react to their slush funds over the next few years, while the big teams struggled in a cash crunch.
These days the internet and Champo community are a wealth of resource and you are only a couple of clicks away from running the 97/98 version with modern squads.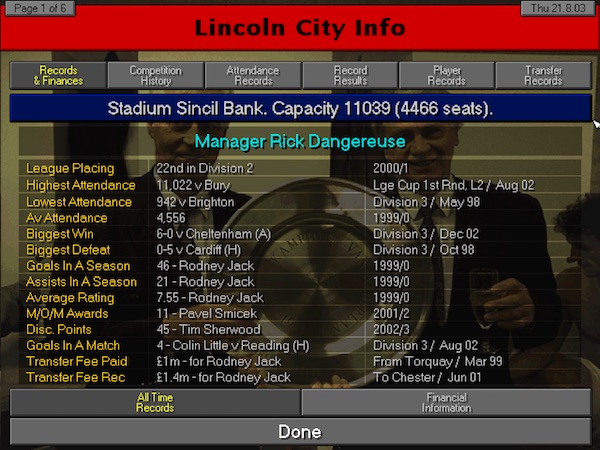 A rocket in the top corner!
Speaking of Community, its huge, especially in the days of Covid I've seen a resurgence in Championship Manager 97/98 on Social media. People finding their love for the game all over again and having a platform to share it on. It's quite lovely to watch. One regular I've had plenty of interaction on Twitter with is David Black from England. Dave has run a popular Champo blog for a number of years and in 2015 published a clever little book. See cm9798.co.uk for more.
The World According to Championship Manager 1997/98 & The World According to Championship Manager 2001/02 are both available now in paperback and on Kindle!https://t.co/MZI5yhgfqi pic.twitter.com/A4Bt6rucAY

— Dave Black (@cm9798) November 15, 2017
The World according to Championship Manager 97/98 – anybody with a love of the game should be reading this book. It takes a season in the game and Dave runs through that year of football like it was an alternate history. With match highlights, anecdotes about players, and commentary on high profile transfers. It's a fun ride and I've read it a couple of times, certainly an inspired project with a lot to resonate to. He also released a follow up for the 01/02 version, but I bounced off that game.

The Officials indicate 4 mins extra time…
I started out trying to explain why I love CM97/98. I don't believe I can, looking back and editing this feature I see spirals and ramblings. Many of the memories I hoped to share have dropped along the way. The nuances of the game that hook you take centre stage once you are engaged and unless you really click, it's not going to happen. Preceeded by 96/97 and followed by a family tree of follow ups, this is the one.
What I can say is that I love it for its simplicity. There's no hiking ticket prices, or media interviews or player counselling. The game does what it says on the tin, you have enough work cut out trying to get a winning formula. Once you have that formula, its about 'lobbing them out' and looking for your next star player. Hours get eaten up quickly and as I said, having been around the scene at that time makes it more real. It gives you the link and you don't need to suspend your belief, you're there with them. On rainy Saturdays in Division 3 and hot sunny afternoons at Wembley.
Championship Manager 97/98 will always be in my heart, on my mac, on my Android Phone and occasionally on my work laptop.