Gearshifters is a game that fits right into a classic arcade niche. Up until recently it was completely off my radar, but for catching a Tweet and having my fancy tickled. It turns out this indie game is right on the money.
We've seen post-apocalyptic car games before.
Granted, but what Gearshifters does is take the format of a (good) arcade scroller and put it on wheels. Imagine Skyforce, but driving a car and rolling left to right instead of up.
Visually the game reminds me of the Battlecars board games back in the 80's. There is plenty of detail in the environments as it whizzes by, and little innocent traffic. As a courier of sorts, you are driving delivery packages from point to point. Basically an excuse for stages, stages populated with a variety of bad guys. Not forgetting the big big ass Bullet-Hell Bosses that need beating at the end of each Zone, (collection of stages).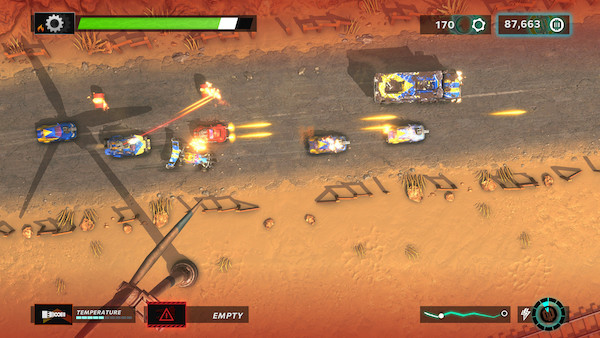 Gearshifters isn't the Last V8.
Grind the levels for coins and blueprints, unlocking modifications and buffs for your car. These are applied back at Base, after each Zone or more likely, after you get wrecked. Technically you don't die, just get fixed up along with the car and try again. Fair enough.
This means as long as you've found the right schematics you can build your car however you want. Upgraded weapons, secondary weapons, melee enhancements and fancy livery. It's all up for grabs and will make the journey on these roads easier. That said, it will cost a few games and some coins to get there, but when you do you'll be happy.
On top of the modifications extra abilities unlock as you progress, skills that range between hard braking, or power drift to a 360 degree spin and more. All super useful, especially as the levels ramp up.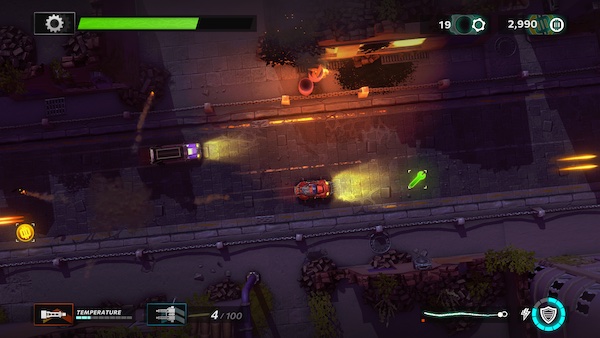 Hit the road Jack.
Gearshifters hits a delightful spot, it's a classic style arcade scrolling shooter. Has longevity with the collectibles and some tasty options. You can play the game in an unfolding story mode, and Arcade style mode or a Permadeath mode. The latter is certainly not for the faint hearted.
It's as retro pleasing as it comes, and I'm enjoying it on the PS5 in between AAA sessions on bigger games. My biggest regret is not reviewing the Switch version, because it would be the perfect handheld for quick blasts. Oh, I wish the Vita was still a thing.
Red Phantom Games have pulled out a fun, playable homage to cult car games and arcade shooters. Now, I'm off for one more go before bed.