LEGO Bonsai, Botanical Collection
LEGO Bonsai, not a couple of words you'd expect to put together. Being a growing fan of the complex interlocking building system as an adult, I'm not surprised. As a child I loved LEGO as much as the next kid, I had the classic Space Cruiser and Moonbase – they were happy days. After that we grew apart for a while.
Years later we clicked again, like a 4×4 Square and a classic 8-Brick.
The Creator series caught my eye, and I spent too much money on an Aston Martin DB5. It was beyond my means for a few years, but I am slowly gathering an incredible little LEGO town. Of course the Holy Grail will always be the Ultimate Collectors Millennium Falcon, but for now, I have LEGO Bonsai.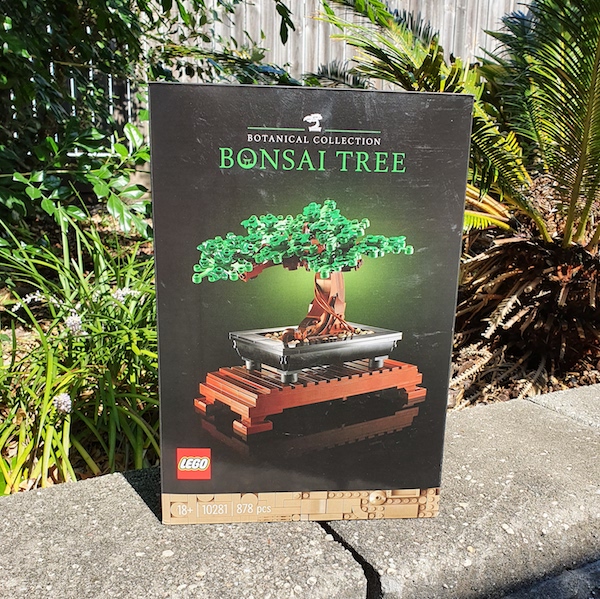 The origin of the LEGO Bonsai
The brainchild of Kiwi LEGO Designer Nicolaas Vás, not a green fingered man by account. He has become a LEGO Bonsai expert after adding his designs to eta Ninjago series. One of the attractions of the Botanical Collection is also eta introduction of LEGO using sustainable bricks. Plant based plastic, creating bricks to build a LEGO Bonsai tree. A nice touch.
The set itself comprises of 878 pieces, of which a portion are not used depending on your preference. The set comes with two build options, Greenand and leafy or Pink Blossom. I opted for the green variant out of the box, but the blossom build makes clever use of pink frogs to good effect. It's also a quick build, given the bag you decide not to use, what looks complex is relatively straightforward. Overall I spent about an hour and a quarter from start to finish, good use of time while the family was watching "I'm a Celebrity".
Building the LEGO Bonsai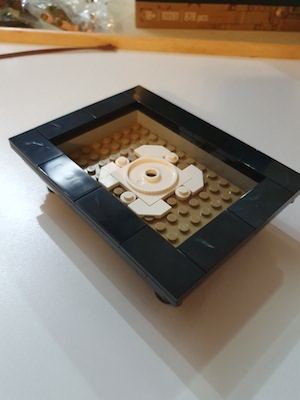 The set comes in six numbered bags, with two flexible lines and the glossy manual.
Bag one makes the dish for the tree, its really effective and makes nice use of rubber tyres for the feet.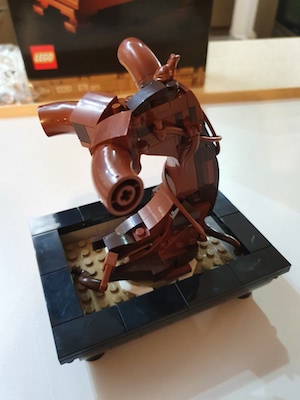 Bag two is the main trunk section, its interesting how these angular sections become something organic.
An issue I encountered here was the colour shading in the manual. It was hard at time to differentiate bricks due to the colour blends on the page.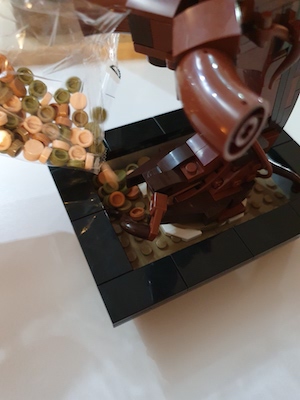 Bag three is over in seconds, the instructions call for a mixture of 'pebbles' to be poured into the base.
It looks great loose, but I'm thinking I will get round to building up the ground and fixing them.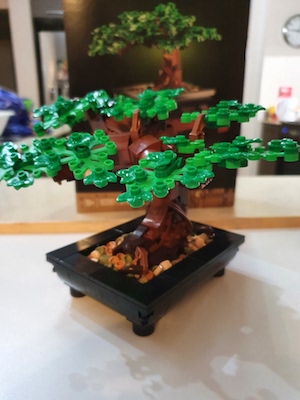 Four an Five are where you decide between a green tree and a pink one.
This requires some creative dressing as you shape the branches to match the lovely box artwork.
Bag Six is a solid wooden display table that the pot sits on. It's really attractive and the kind of LEGO build I like.
Overall Impressions
Its a really nice kit, personally I bought the LEGO Bonsai because I wanted it on my desk as a talking point. It's a clever build, great to look at and when people see it for the first time "that's cool" is the first thing they say.
I'd be happy to see a collection of these trees, and judging from the image of Nicolaas inside the instructions – we might just get it.