Mario Kart 8 Deluxe, Nintendo Switch Review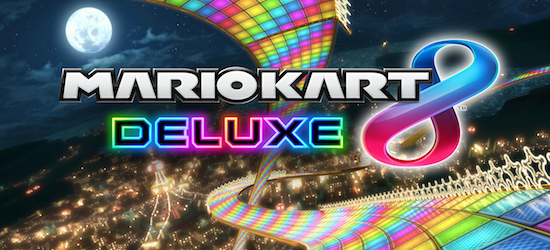 I'm a purist when it comes to Mario Kart, having experienced many heart wrenching moments at the hands of the characters and many slating moments of joy. Especially sneaking a 150cc win against Luigi on the Rainbow Road. This was all of course a very long time ago on the SNES. When consoles were simple, you couldn't Tweet or Post anything you did and the gameplay mattered, especially in glorious Mode7 graphics.
So twenty odd years later and here we are with a polished version of the wiiU Mario Kart, a extensive track list, extra modes and a host of characters new and old.
Start your engines.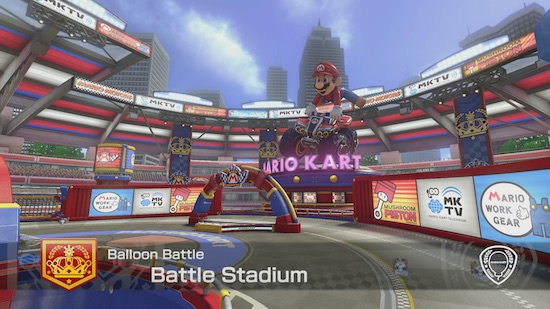 Straight off the bat MK8 is a console winner, it looks fantastic, both on the TV and the native Switch screen. The visuals actually feel crisp and sharper on the small screen. The sound is spot on Nintendo cutesy and the game wastes no time with some attention grabbing highlights. The tracks are incredible, it's that simple. Where some of my all time favourite tracks in the original game were the basic conventional courses, MK8 throws all sorts of twists at you. Gravity defying loops and twists, ramps, jumps all adding to the verticality and there are plenty of nifty shortcut routes for the keen eyed racer to grab. The backgrounds are lively and colourful with plenty going on to keep your audience entertained.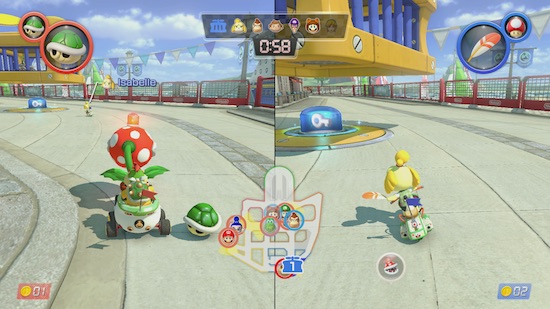 Coming strictly from the past the array of options is just right for today, solo, multiplayer both local and online. Being able to play Grand Prix races, Time Trials, Custom Races and a wide variety of Battle Modes. There is more than enough content to ensure MK8 stays in or near the Switch for a good long time.
The feel of the racing is spot on, controls vary from the classic set-up, to popping a Joycon into a steering wheel peripheral (many thanks to Nintendo for supplying these). It all works whether you are wandering around with the Switch in your hand or gathered around the console with a Joycon each. The controllers also steer with motion, which is great for people that get carried away with their button steering.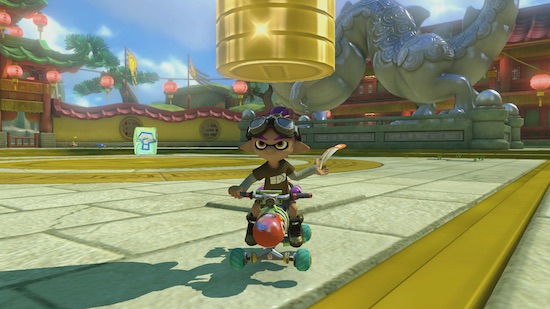 Of course it wouldn't be Mario Kart without power ups or a hefty dose of rubber banding, safe to say its all there. While the roster of weapons tends to feel a touch overdone – that's only because I'm a purist for the classic set, etc. As for the rubber banding, its fair to say that you can recover pretty well if you get taken off the lead, it's more of a speed bump than an actual hindrance. The AI do what they always do and the extended roster of characters offers some new rivalries along with more options for customising your ride.
Getting a game online is easy and anonymous, so its a pretty family friendly event. That said the skills out there in the field will take some practice to match. Picking a lobby and getting into a game is quick and easy whether that is a race or a balloon battle.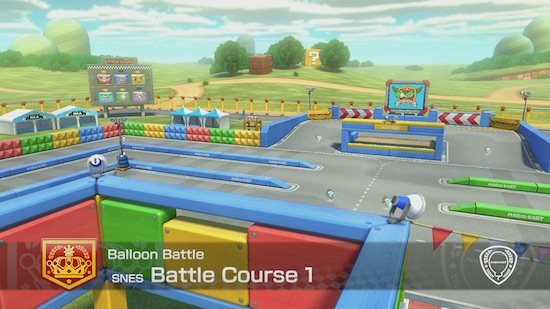 On top of everything else, the customisation is fun and the game has an intuitive highlight reel at the end of each event which help you relive exciting moments quickly and easily. MK8 is a complete, polished package that does everything right. Even though I have very fond memories of scraping hundredths of a second off classic Mario GP courses against my ghost I have to say I'm sold, MK8 is a game for now. It is an instant pick up and play classic, I don't have the stamina for all night sessions anymore, but I bet there are plenty that do.
Its fair to say that I haven't fully explored all of the options on offer, there's plenty to do and the classic Grand Prix section is just too tempting. The game has more than enough content to make it an instant classic and a damn fine reason to own a Switch. Some critics may have levelled the lack of games as a reason not to buy, I believe this release destroys any doubt.