New Star Manager, PS4 Review
There will always be room for more takes on soccer manager genre, at least there is if you've ever let one get its hooks into you.
For me the Holy Grail has always been CM97/98, many wasted weekends as nights turned to mornings and you'd catch an hour of sleep while a creaky 386 PC ground out the close season update. There have been all sorts of attempts to capture that lightning, sometimes they have just been too complex for their own good.
New Star Manager brings a fresh take and more importantly for consoles a better user interface than suits the medium. No more snapping to and fro between far too many icons, no more floaty cursors relying on your thumbstick that wished it was a mouse, you have to appreciate the design path going from mobile to Switch before PS4 being one of the core drivers here.
New Star has a big and bold look, the feel is obviously born from its mobile game / Switch roots and on a large screen TV the thought that it would be so much more at home on the Vita keeps coming up. In fact the icons are pretty much still screaming out to be touched.
The game itself has some really nice takes on the sim catalogue, first up, no it's not licensed, so PES fans will be right at home with some misspelt clubs and random players. No drama there, just something people like to know. Same goes for competitions, leagues and cups, but again it's not a deal breaker.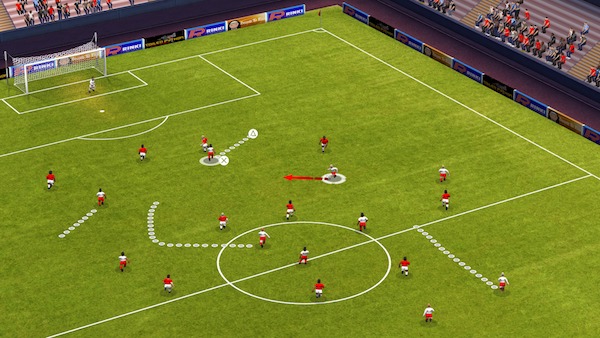 The magic comes with the match engine, the matches play out with text and events much like the Champo of old, but when you get to an opening in your attack, you get to take control. The next few seconds play out in a part soccer / part turn based sequence, giving you control of passing, through balls and shots. At first it feels slow, but after a match or two it's a pleasant way to steer your team. No need to play the whole match, but grab the attention and slot away a few goals. Once you get the gist it starts to feel easy, but the player selection still affects your skills and once you are out of the lower leagues missed opportunities will be punished.
Wrapped around the match engine is a stock set of formations and some basic parameters that can change the tempo of the game. Team selection is easy, again quite obviously screaming out to be touched by a finger, although the Assistant often does a better job at picking the team and putting the right players together than me, maybe I expect too much of the boys.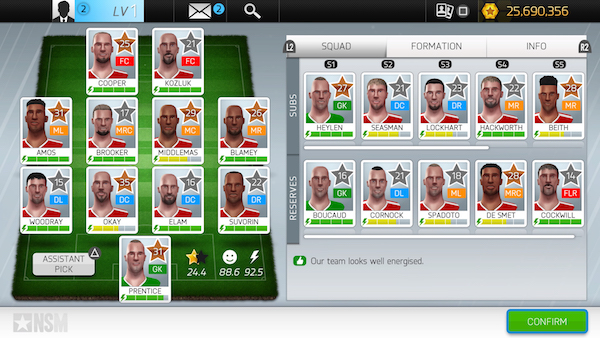 Progression by winning matches is rewarded by income and that is essential to upgrade ground facilities or hire new staff. As your levels of experience grow you are gifted cards that affect the team, these are also rewarded at the end of matches and for various events that come up. Cards come in a few shapes and sizes, the most used are the Energy Drink cards that will revive players with lagging fitness, always a good thing to keep your star players up front. Other cards give you the other functions, like the chance to have a Team Talk mid-match. This is a novel and satisfying idea, a puzzle-like mini game where you need to remember some phrases within a time limit, get enough right and the team picks up their game, fail and well… you know.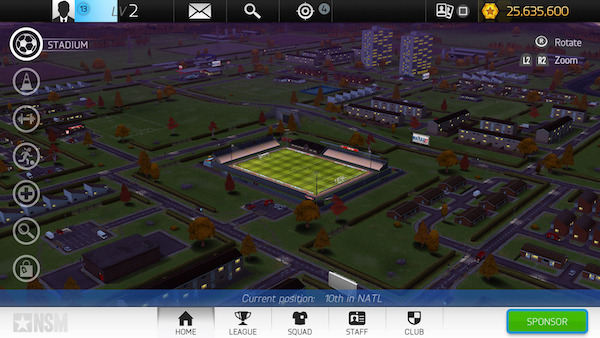 The same goes for some of the things that happen in your inbox, a press conference may test your general knowledge about your team, facilities or recent results. Get the answer right and be rewarded, get it wrong and loose faith with the fans or worse still, the Board.
New Star is a relaxed and enjoyable take on the manager sim, the pace is fairly pedestrian which makes it a top-corner chill-out game and the mini games along with the in-match controls have raised more than a few smiles in my dugout.
If you are looking for something different that tickles your soccer fantasies, I'd be giving New Star a run out, new signings, fresh legs and all that.