No Mans Sky, Switch Review
This would be our 4th review of No Mans Sky, safe to say it's going to be a slightly different treatment.
Back in 2016, Guy and Myself had experiences that were polar opposites. In 2018 Barrie had the blessing of an updated No Mans Sky on Xbox, which pandered to his tastes. Here we are in 2022, 6 whole years later and a raft of free (yes, FREE) updates, that have changed the game significantly.
We're going back, back to No Mans Sky.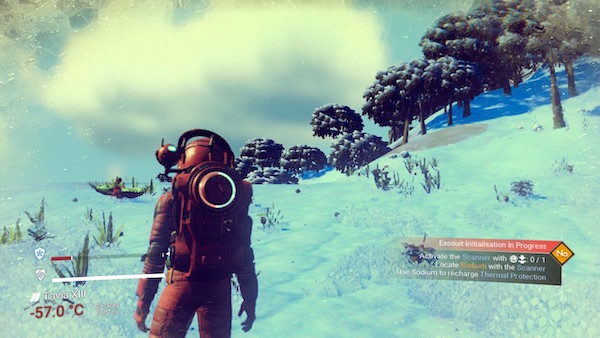 Over the last six years No Mans Sky has held a special place in my heart and library. It speaks to me and the Elite (8-bit) playing memories I harked back to in my original review. Not only that, but after a break, like a good book you read regularly there are days when I feel the urge to play again. Then I'm in deep for weeks at a time.
Which brings me to 2022, and here we are playing No Mans Sky on the Nintendo Switch.
There's no doubt the Nintendo handheld punches above its weight, and it proves this again. Having become used to playing No Mans Ky on the PS5 and Xbox Series X did raise concerns over the Switch port. The game runs fine, no beating around the bush. Yes, there is a bit of Pop-In when you fly around. Yes, the textures are less than PS5 worthy. Even so, it still looks terrific on the Switch OLED.
If you've been with No Mans Sky for 6 years, you know looks aren't everything.
It's full of stars.
No Man's Sky started out as a journey to the centre of an incredible procedurally generated Galaxy. It was a massive task, the game has been on as much of a journey as the players, and developers Hello Games.
What we got admittedly didn't live up to the promises, but it did set teh stage. If you could see past the early limitations there was still an amazing universe to explore. Even now after some insane updates, you can be forgiven for wondering why a planet has a limited variety of Flora. Or it's own quite unusual Fauna even. If you can ignore that, enjoy the thrill of exploration. Every time I find a whole new planet to crawl over I do, from mountains to oceans and beneath. There is so much to discover.
Not forgetting the ever-growing list of gadgets and installs, the whole Freighter culture, giant Worms that breach the surface and cascade overhead, companions, multiplayer, Piracy… The. List. Is. Endless.
A universe in the palm of my hands.
The biggest leap the Switch has brought to the table is a decent mobile venue for the game. Being able to take No Mans Sky on a trip, into another room or even just to chill and finish resource gathering in bed. All game changers, and benefits that can excuse the pop-ups or occasional load times. To be fair, I've played most of this version undocked, well, just because I could.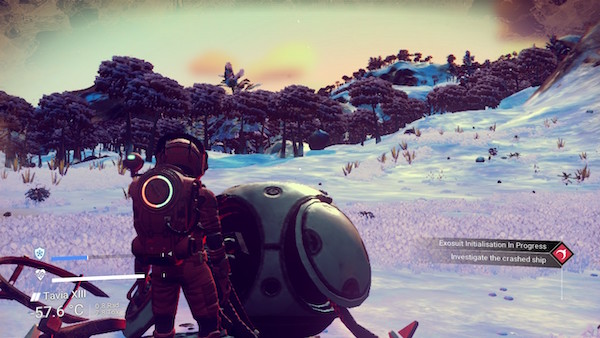 There's something else worth mentioning about No Mans Sky on teh Switch – it feels right. The stick travel is comfortable, normally I struggle with the native sticks for extended sessions, but here I manage. The button layout makes sense and mirrors the other consoles, so it's easy to pick up and play. And I didn't experience any nausea, whereas the recent review of BPM whacked me between the eyes, but No Mans Sky doesn't. Flinging around my spaceship, or jet packing through tunnels I haven't suffered once.
Which is nice.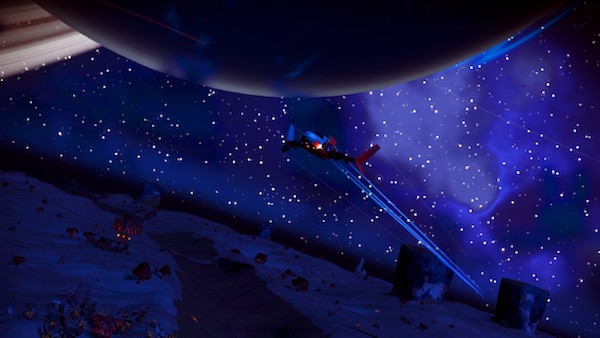 No Mans Sky and Journey's End.
I'll never get to the centre of the universe, I'm happy tinkering through unique systems. Always looking for a prime base, somewhere to call home, but that takes commitment. Whenever I leave a system I worry I've missed something.
Saying that my bases are usually overcrowded single room tenements, nothing like the epic structures you see around the web.
Where will No Mans Sky go? When will the wonderful team at Hello Games stop bringing out layer upon layer of enhancements? Who knows, but for now this game gets better every time it hooks me.
The only thing it really needs now is cross platform saves on consoles. Then I'll be off.