Roccat Kone Pro Air Mouse, review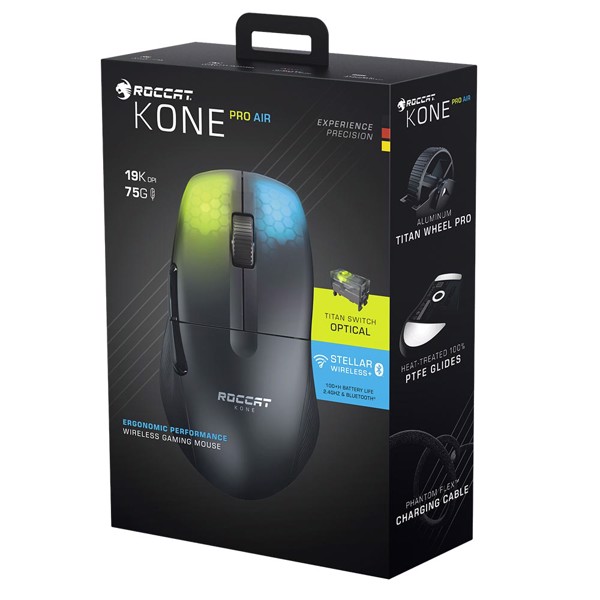 The Roccat Kone Pro Air wireless mouse has done the unthinkable: It's become my go-to gaming mouse. Superseding the excellent Logitech G gaming  mouse that has been my staple for, well, I've lost track of how many years I've used it.
Tipping the scales at 75 grams and connecting via bluetooth or wireless (using the supplied dongle). The Roccat Kone Pro Air Mouse is lightweight in feel but is definitely no lightweight in performance. Ably tackling general day-to-day mundane tasks before switching tack and aiding the Master Chief fend off the Banished in the Halo Infinite or even V navigate the neon-soaked world of Cyberpunk 2077.
But is this Mouse comfy?
The Kone Air Pro is probably one of the few mice that feels comfortable in my hand, too – something it has in common with the Logitech G. With its buttons returning solid clicks and has customisable software that will let you change everything. From the RGB lighting that pulses from underneath the left and right buttons to adjusting the DPI, polling rate, double click speed and configure the button assignment.
Roccat reckons the Kone Pro Air will give you 100+ hours battery life before needing a recharge. While I didn't log how many hours it took, I used it for a good month and a bit before it needed charging via the USB-C charging cable.
Simply put, the Roccat Kone Air is a stellar mouse that while not offering any guarantees it'll improve your response times in your favourite first person shooter, it'll definitely look nice sitting next to your PC keyboard. Your hand will also thank you for its comfort.
Thanks to Fivestar Australia for providing a Roccat Kone Pro Air for review.