Trek to Yomi: Side-scrolling samurai
Shinto mythology describes Yomi as the Japanese word for land of the dead. It is said to be where the dead go to dwell and apparently rot indefinitely. It's comparable to Hell or Hades and it's here that much of Flying Wild Hogs' and Leonard Menchiari's samurai hack 'n slash game Trek to Yomi takes place.
"Once one has eaten at the hearth of Yomi it is impossible to return to the land of the living,". One site told me as I was researching the meaning of Yomi.
Trek to Yomi (published by indie darling Devolver Digital) begins with a flashback. Where we meet young samurai Hiroki training with his sensi. It's a good introductory sequence that introduces you to the basic combat that will become crucial as you progress. Hiroki's arsenal includes fast upward slashes with his katana and slower paced but more deadly downward strikes. As adventure continues, Hiroki gains access to a bow and arrow, throwing knives and a handheld canon.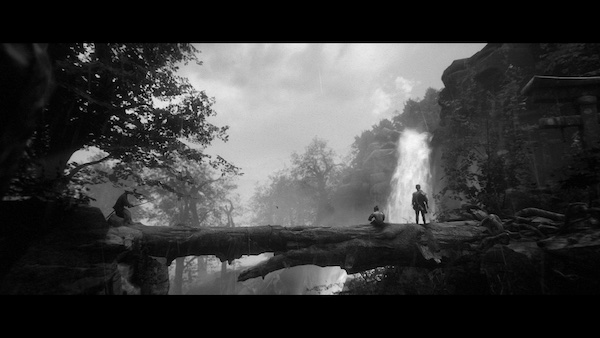 Suddenly, there's a commotion. Hiroki's sensei grabs a spear, tells his ward to stay where he is and runs off to fight bandits invading the village. Hiroki, of course, doesn't listen and runs off in search of his master only to see him slaughtered before his eyes by the bandit leader. Hiroki's village is burned to the ground, along with its inhabitants, he vows to avenge them and his love Aiko. Hiroki must venture into the underworld of Yomi to avenge those he loved. 
Every journey needs a beginning
Right off the bat, Trek to Yomi has a stunning visual style, with gameplay taking place across a 2.5D plane. It has an old black and white film grain that is reminiscent of the samurai films of old from Akira Kurosawa. Sometimes the camera will pull back, revealing sweeping rice fields, cascading waterfalls and mountain backdrops. Several times I just sat back and took in the view before me. With Hiroki often silhouetted in the foreground with the sun shining through trees with falling leaves. It really is stunning in its presentation.
Adding to the immersion is the dialogue is in full Japanese. It really adds to the atmosphere of being drawn into a Japanese samurai movie of the 1950s.
When Hiroki explores the game world it's in 2.5D, meaning he can move left and right, forward and backwards, exploring. When combat is activated the perspective shifts to a flat 2D plane with Hiroki having to fight foes coming from his left and right.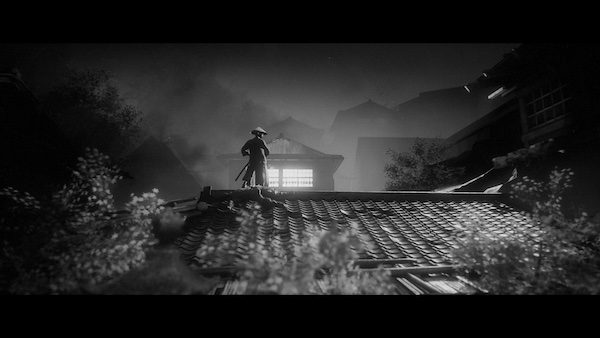 Hiroki faces off against a variety of foes, some armoured, some brandishing long spears. Others gruesome apparitions of their former selves, and most of them he can dispatch with simple slashing moves. As things progress, more complex moves are unlocked but to be honest, I found it a struggle at times for my old man gamer brain to remember some of the more complex combinations. Instead tending to block, parry, thrust, slash and roll when confronted with a handful of enemies all at once. That said, being on a 2D plan means enemies only attack you one at a time from the left or right, though.
Trek to Yomi is a tale that turns a corner
There are three difficulty modes: Kabuki (Story), Bushido (Normal) and Ronin (Hard) . I used throwing knives, portable cannon and bow & arrow quite a bit to clear out enemies when things got a little hectic. Small shrines dotted about the game world act as save points, refilling your health and stamina meters.
At about the halfway mark, perhaps slightly after, the game takes a dramatic and supernatural turn. With Hiroki suddenly finding himself wandering the creepy realm of Yomi, it's pathways piled high with human skulls and mutant villagers inhabiting its houses. It's in Yomi that Hiroki begins his descent into seeming madness to avenge those he vowed to protect. What follows is Hiroki banishing the spirits of the bandits he killed when they were alive and ultimately facing off against the bandit leader who slayed his sensei and vowed to kill you when you were a child.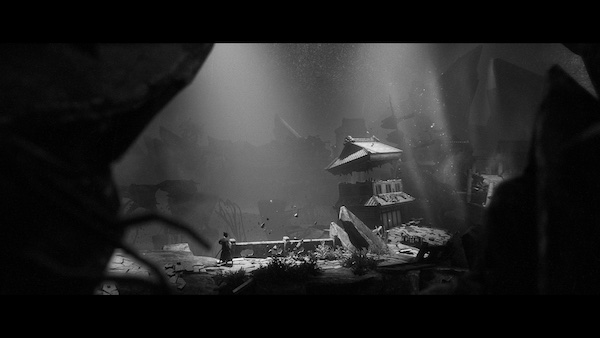 It's in Yomi that the game takes a tonal shift towards a much darker narrative (throwing in a few easy to solve environmental puzzles into the mix) but deep down I think the overall arc here is asking what price will you pay to avenge those you loved the most?
The last word is good
Trek to Yomi really surprised me in that it wasn't a game that was on my radar until a gameplay dropped into my inbox from Devolver Digital's Australian PR team. I shouldn't have been surprised: It's from Devolver Digital who tend to support promising indie titles.
While Trek to Yomi starts off as what seems a traditional hack 'n slash it soon takes an intriguing turn. Stepping things up a notch with Japanese notion of the land of the dead. Playing a fitting backdrop to a game that explores, life, death and everything that straddles them both. Recommended highly.