A long time ago a mouse for me was a wired device with a dust gathering ball at its heart. The Aerox 9 proves we are a long way past the days of white spirit soaked cotton-buds. Before getting the chance to review a 'real' gaming mouse, I wouldn't walk past the budget mice. I mean, they all point and click, right?
I'm never too proud to say I was wrong.
The Steelseries Aerox 9 is literally a game changer for me. Lightweight, comfortable to use and easy to connect. Ignoring the pulsating LED lights for a moment even the carcass needs a nod. The shell is a solid plastic, yet feather light in the hand, it glides beautifully. It is also open with a mesh effect, not only to allow the LED lights to show through, but also to keep the heat down. Airflow for my mouse hand is now a thing.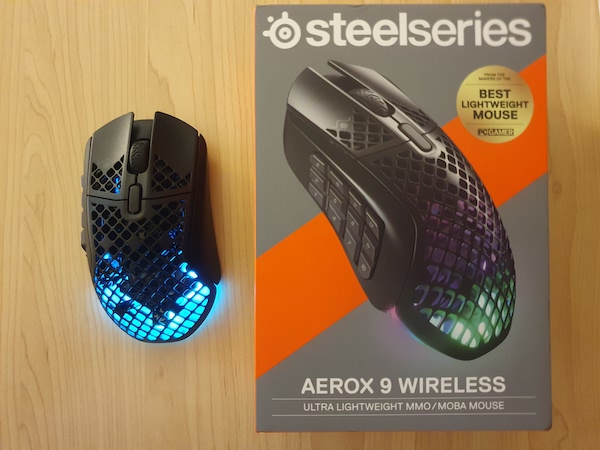 How many buttons do you need?
We should all be familiar with a left click, right click and wheel. Even Mac users will be able to mimic these actions. However the Aerox 9 comes with a CPI (Counts per Inch) button nestled above the wheel to change your sensitivity settings on the fly. Along with another 12 programmable buttons on the side, right where your thumb would be. I can see how these would be of use in an MMO or MOBA situation. Mapping actions to a single click, I was content with adding forward and back browser commands. It works nicely and even in a non-game situation makes life that little bit easier.
The macros for programmable buttons are set in the native Steelseries App, which is also where preset defaults can be installed for popular titles.
Lights, Camera, Action!
The Led lightshow is fully customisable and doesn't get in the way. Having a breathing effect on colour cycled lights emanating from my palm is actually soothing. Even during a nail-biter on Football Manager.
As far as motion is concerned, the mouse glides beautifully and never feels like you are fighting it. Of course there are a wealth of customisations to play with, so remember to save your default profile as a back-up.
Both the Bluetooth and Wifi connection work without effort. It's worth noting the full suite of customisations are only fully realised via Wifi. The USB dongle is unobtrusive and comes with an extender cable in case you need to plug it into the rear of the PC.
As an end user, there are a wealth of technical details that are nice to have, but are overshadowed by the excellent performance.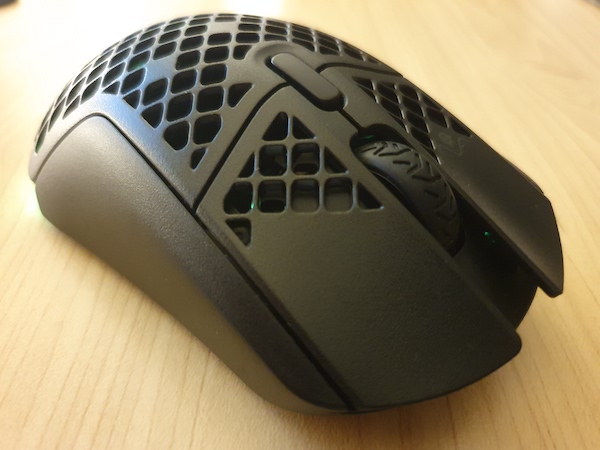 I've seen the light, literally.
This experience has been a revelation, having put the mouse through its paces with Football Manager and a few Gamepass games on my Surface. Not forgetting a few DOS Golden Oldies on my Mac, along with some actual work activities. It has to be said, I'm a convert.
It's ultra light, super comfortable and packed full of features.
The Steelseries Aerox 9 has convinced me never to look at a budget mouse in Officeworks the same way again.