Alienware M15 R6, gaming laptop review
Alienware's M15 R6 gaming laptop is a beast of a machine. Clad in Alienware's dark side of the moon colour scheme, the laptop looks nice as soon as it comes out of the box and ticks all the required boxes for a gaming laptop.
Great build quality: check
Powerful GPU: check RGB bling: check
Featuring an Intel i7 11800H CPU (running at 2.3Ghz), 16Gb of memory, a 1 Tb nVME SSD and a laptop nVidia RTX3080 GPU, the M15 R6 packs a lot of punch for gamers looking for a powerful machine to play the latest games on – and it won't disappoint in that regard. It also has a fair bit of RGB lighting, if you're a fan of that, and as all seasoned gamers know: The more RGB you have, the more frames you get. Right?
You power the machine on by pressing the alien head shaped button on the right corner, which illuminates orange if you're on battery power, blue if fully charged and blue/amber if it's being charged. Strangely, it took two presses of the power button to actually turn the machine on. There's a row of cooling vents along the top of the chassis, just under the central hinge, and the build quality is generally excellent (it only has one central hinge so there is a little bit of flex in the screen if you grasp it from both sides and gently twist it).
It also has a huge heating vent – punctuated with LED lighting around its edging – at the back of the machine. The M15 R6 tips the scales at around 2.5kg so it would comfortably fit in your backpack. The 15-inch panel maxes out at a resolution of 1080p, is clear and bright, and offers a maximum refresh rate of 360Hz. Port wise, it has ethernet, headset jack, two USB 3, a thunderbolt connection and HDMI. It's running Windows 11. The mechanical keyboard is excellent. As a touch typist, I really love it how satisfying it felt typing with it. The keys offer 1.8mm of travel and the keyboard just feels really nice to type on.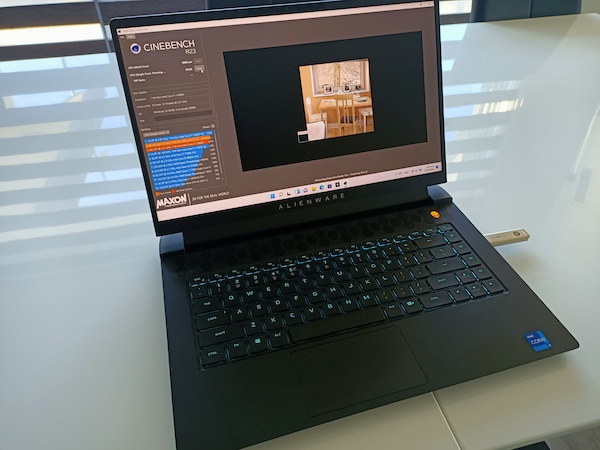 Testing the M15 R6:
This is a gaming machine and the star here is definitely the 8Gb RTX3080, which means you should be able to handle most games with no problem. I tested the M15 R6 using benchmarks Cinebench R23, 3D Mark and Geekbench and played a variety of games on it: God of War (PC), Forza Horizon 5, Cyberpunk 2077, Halo Infinite and Batman Arkham Knight, a game that was poorly optimised for PC on release, but is much more stable these days.
In Cinebench R23, the multicore test returned a score of 9880 and the single core test returned achieved 1450points. 3D Mark returned score of 9976 in the Timspy demo (with a graphics score of 10,912 and a CPU score of 6715) and 19,538 in the Fire Strike demo (with a graphics score of 27,906 and a physics score of 14,983). Geekbench 5 returned scores of 1520 (single core) and 8171 (multi core).
Benchmarking the M15 R6:
With Forza Horizon 5, Playground Games' latest motoring game, saw the GPU return a FPS maximum of 55.2FPS (average 46.3FPS) with an average latency of 76.6ms (mix of graphics settings, ray tracing on). I was able to play Cyberpunk 2077 on high graphics settings, while God of War PC used optimised settings from Digital Foundry, reaching mid to high 50s much of the time. Batman Arkham Knight, an older title, averaged 52FPS, maxing out at 66 FPS.
One thing I noticed is that the machine does get warm during intensive gaming sessions. Not hot but warm to the touch. You can also hear the cooling fans kicking in when you're doing heavy gaming sessions. In fact, my wife who was in the same room as I was when I was playing Halo Infinite on it commented on the fans. Intensive gaming sessions will also drain the battery, too.
My view this is a deskop replacement: It's not a laptop that you take to the café to do some gaming (unless you're plugged into mains power, obviously). I'd suggest you keep it plugged into mains power when you're gaming. It seems, too, that Alienware for some reason has hobbled the 3080 GPU's TDP (how much power it draws) to 115 watts. Look, I can see that Alienware have probably done this so as to keep the heat generation factor to as low as possible (as the more power the laptop draws the more heat it dissipates) but I'd rather have more power going to the 3080, to be honest, so I can get the best gaming experience possible.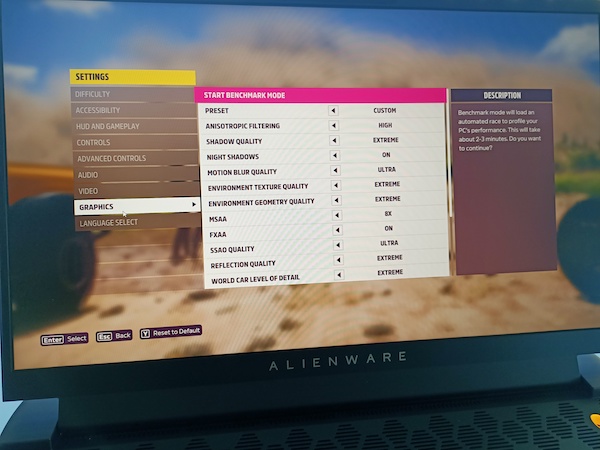 Conclusion:
The M15 R6 is a damn fine piece of gaming kit, able to handle any game you throw at it. The build quality is great, it's good looking and the keyboard is excellent. As a long time Intel CPU user, the i7 11800H CPU performed excellently in everything I threw at it, as well. It's a winning combination.
In the review configuration, the M15 R6 will set you back close to $4000 ($3998.99) so it's not cheap but you if you're more budget conscious you can configure the hard drive capacity and CPU via the Dell website, meaning the laptop can be obtained for as low as $2804.
I loved the M15 R6. I'd just like to see better battery life when not on mains power (of course, adjusting the screen refresh rate and setting the laptop up to only use the 3080 when required will preserve battery power) and a cooling system that isn't so loud when it's working hard.
A big thanks to Intel ANZ for providing the laptop for us to review.