Assassins Creed Mirage, Byte Size Review (XSX)
So apparently Assassins Creed has been around for 15 years now. And after the huge outings involved in Origins, Odyssey, and Valhalla, Assassins Creed Mirage is a step back in size, and in some ways, in time. Set in Baghdad during the ninth century is indeed a step back in time but more importantly Assassins Creed Mirage is a journey back to the gameplay roots of earlier games in the franchise.
As much as I loved the large open world of the recent titles, I never did complete them 100%. Mirage is definitely a more manageable size for those with limited gaming time.
Deja Vu or an Assassins Creed Mirage?
Assassins Creed Mirage absolutely feels familiar, almost the same, as other titles in the franchise.
I can understand not wanting to stray too far from the winning formula but Mirage is very much a 'been there, done that' vibe. As a street thief come Hidden One named Basim you carry out the task set before you. There is nothing new here, it is still fun and I still want to collect everything but it is still just a paired down version of other recent Assassins Creed games.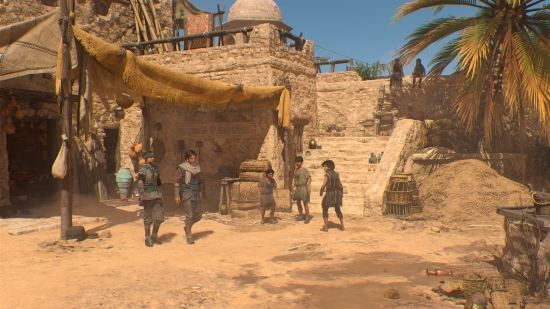 On The Fence.
One of my most hated things in Assassins Creed seems to be very prolific in Mirage. That is the constant fighting with controls where you are either climbing when you don't want to or unable to climb when you want to. I can't remember have such a problem with this the the last three games, but this time around it is a real pain.
I have also run into a couple of invisible walls in the form of spikes on walls. Even if you get to a point where a jump over would be possible you will hit the invisible wall and slide down.
Here Kitty, Kitty.
Visually Assassins Creed Mirage is nice with some great vistas but noting stands out as mind blowing. Maybe Valhalla spoilt us? The visual highlight for me is the ability to pick up and pat cats. And I'm a dog person. I do understand the historical settings and get why Ubisoft stick with certain themes but I am well and truly ready for a more colourful setting.
I feel like Anakin Skywalker… I don't like sand. Even just scrolling through the screenshots I took for this review I realised just how brown this game is.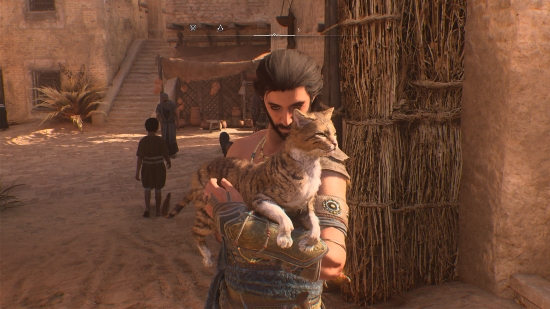 Closing Comments.
I don't hate it. I am actually really enjoying Assassins Creed Mirage. But I feel that enjoyment is more akin to hooking up with your Ex as opposed to meeting that new exciting person at the pub.
Has Mirage been released as a bit of a stop gap to celebrate the 15 year anniversary? It was initially touted as an expansion for Valhalla. Does this mean there is another full scale title not too far away? Codename Red looks promising, as does Hexe. Although I have already said I prefer shorter games, Mirage just feels a bit soulless.
In saying that, I am about to go and continue playing it. After all, it is Assassins Creed.