A mere two weeks since Playstation Studios released Horizon: Forbidden West to glowing reviews, Playstation owners now get treated to another top tier exclusive, Gran Turismo 7 (GT7). Polyphony Digital has kept in step with it's other first party stablemates, by making sure GT7 boasts all the quality and polish we all now expect from Playstation Studios exclusives. Gran Turismo was the racing-sim gold standard for years, it's been almost a decade since a numbered release in the series. I'm pleased to say, GT7 is here to confirm there is no doubt who takes pole position in the driving sim standings.
Gran Turismo 7 will feel very, very familiar to fans of the series.
To get the big question out of the way. Yes, the license system returns to 'skill-gate' gamers. Stopping them progressing until the basics of racing are mastered. That said, the license system feels far more approachable than in past GT iterations. Or maybe I'm just a better gamer than I was 25 years ago…yeah, Nah. The other main elements of previous Gran Turismo games also return too. So, I started out with a very modest Japanese 'compact car',a Mazda Demio. I had to work my way through races, earning money and collecting cars to take into the next level of races. Tuning as I go to hit the required Power levels to stay competitive.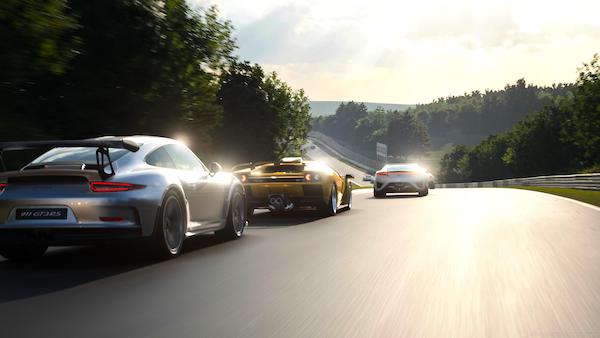 The game is built around a picturesque over-world Map which is really just a "pretty U.I". Each location is a menu button to access races, license tests, skill games, tuning and importantly the car dealerships. But a new addition, in the very centre of the map is "The Café". In an attempt to give the game a sense of a Single-player Campaign. I constantly had to return to "The Café" to speak with the owner "Luca". He would give out a list of three cars to collect to complete a "collection". Such as three various Mustangs, or three famous Japanese sports cars or famous rally cars. To complete the collection, I could race the recommended events which award each sought car as a prize. Or if I had cash on hand, I could go to the dealership and just buy them, to push onto the next quest.
GT 7 Ying, vs Horizon Yang.
The design around player progression is sound and it goes to the core of what Gran Turismo culture is – collecting as many iconic cars as possible. Then racing them around the worlds most famous tracks. But "The Café" setting and its surrounding identities like Luca feel a bit ostentatious, to the point of cringe. I see what Polyphony are trying to do. They are being very "grown-up" with its approach to car culture. In fact, it is a complete juxtaposition to Forza: Horizon's approach to car culture. Which is bombastic, arcadie, chaotic and fun. GT7 is the Ying to the Horizon Yang, which is fine though, as the Polyphony know what they want to give gamers. For me personally, I feel the GT7 approach as a result has gone a tad too far and feels a bit unintuitive, pretentious and stuffy.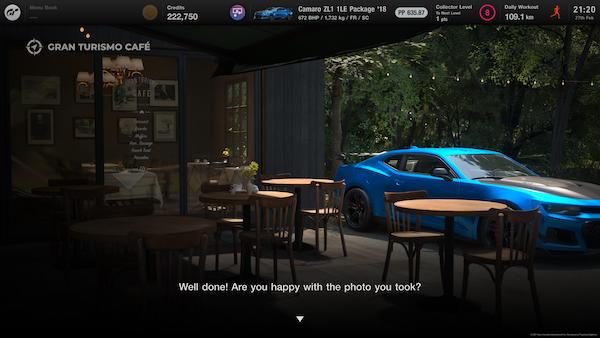 Aesthetics of the menus and peripheral player experience design choices aside.
Importantly the actual core of the title, its driving mechanics are…well BRILLIANT. The driving is sublime. As much as I would love a full sim-setup, with a wheel and racing seat, I have had to spend my time in GT7 only using the PS5 Dual-Sense. But even with a controller, the real sense of actual driving is something I haven't ever struck before in a Console game. It's very impressive. The left trigger shudders as I apply the brakes, telling me how my traction and ABS are doing.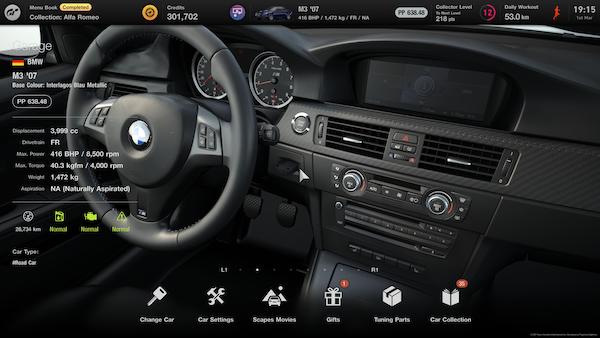 The haptics buzz in my left and right hand when my car hits the apex and crests the rumble strips. It's hard to explain in words, but to be clear, it's not like an old fashion rumblepack feel. The sensation of the rumble lines, perfectly match what I'm feeling and seeing on screen. The shudder of the car through gear changes, the different road surfaces under tyre have all been uniquely mapped to the haptics. I was seriously impressed. It is tough on the controller batteries though, so remember to keep the dual sense charged.
As any racer will tell you, a manual gearbox is a must.
I was running a sequential gearbox on the right control stick. Each change I could feel in my hand and immersed me in my race even further. The dual sense is a feast for the senses in my hands. But what is served up for my eyes is next level. On my 4K TV on the 60fps 'performance mode', Gran Turismo 7 just sings. Last night, I was racing around 'Monza' in a 500bhp BMW M3. For a moment I got lost in the details of my cars interior, the track outside and how the light was streaming through the trees. To the point, I completely missed my braking distance for turn 8 and crashed. I also strongly suspect GT7 will be a PSVR2 title and if that's the case. I will be out getting a PSVR2 on day one just to play this game!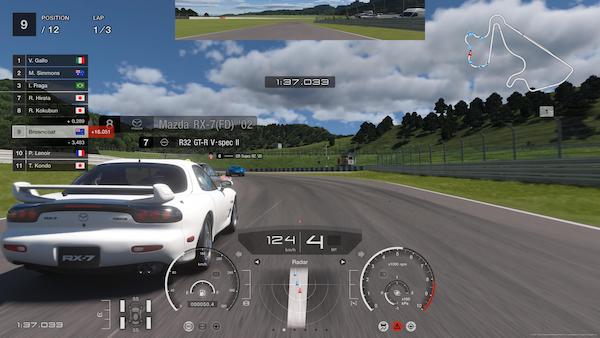 No car racer I have ever played has had vehicles and environments that are soooo pretty.
The car detail in both the interiors and exteriors is amazing. Over 400 cars from wee compacts to top end track cars have been carefully modeled. A huge amount of effort (and money) has gone into getting the license to model all the big manufacturers from around the world. Unfortunately, the same time and money has not been spent on the in-game music. Granted, this is all subjective. But personally, I found the game and menu music terrible. It's a mix of weird JRPG guitar rifts, old school techno, jazz and some classical stuff. Perhaps Polyphony intended for the music to feel like a throwback to the original Gran Turismo games, but I hated it. To the point I turned ALL the music off in the options menu and ran Spotify on my PS5…funnily enough with a Forza: Horizon playlist.
Overall, I loved the Gran Turismo 7 driving experience.
I can't comment on the multi-player aspects or microtransactions as none of these were live or playable prior to the actual release date. I'm not sold on the "Café" campaign and personalities like "Luca" attached to each of the map locations. It all felt weird, a bit budget and strangely '1990s'. Personally, I would have preferred a career mode where I am a budding racing driver, progressing through the tough club racing scene to eventually go pro. But once again, it's all a matter of taste I guess.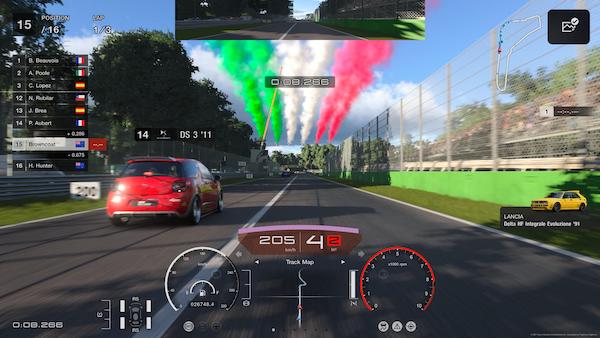 Polyphony has totally nailed the important stuff. The driving experience and the cars. Tuning and customising a WRX to be a rally beast, or spec-ing a BMW M3 for a Euro Touring car series is all great fun. The hand holding and easy early races will be nice for newcomers to GT, but it still becomes challenging later on for the real racers out there. There are no cheating rewind buttons or second chances if you crash out of a 15minute race.
Gran Turismo 7 leads a 25 year old franchise and even after all these years…it's still the pinnacle of Driving Sims.