Carrion, Nintendo Switch reviewed
Carrion is a horror game with a twist: You are the monster in the dark, hunting the humans – not the other way around.
In a genre that the game's makers have described as "reverse horror", you control a red amorphous tentacled blob that escapes confinement in a secret research facility and must escape.
The publisher behind Carrion is Devolver Digital, a breath of fresh air in the games industry that is, to be honest,  groaning under the weight of companies like EA and Ubisoft who trot out the same formulaic games time and time again.
Devolver champions the indie [independent] developer, like Phobia Game Studios the team behind Carrion. Allowing them to release their games to an audience that they might not otherwise have had access to. It's smart business practice and Devolver's actions have paid dividends for both gamers and it alike.
Carrion is Metroidvania in style, with the monster having to unlock doors to progress to the next location and that often involves backtracking to locations you've visited before and pulling levers that will unlock chambers in another area.
Monstrous Deposits.
Sometimes the monster will have to deposit some of its biomass into watery pools so that it reduces in size. Allowing it to squeeze ever so slightly through panels that are too tight for a large mass of gelatinous goo to fit through so it can fire sticky webs to hard-to-reach switches and levers.
Throughout the research facility are terrified scientists and armed soldiers that the monster can taunt with its roar – then devour, with some of them helping him grow in size. It's not all beer and skittles though. With later locations having tougher foes that require a bit of tactical nouse to outwit. The monster also has echolocation that helps it locate other deposits of biomass, which act as save-points.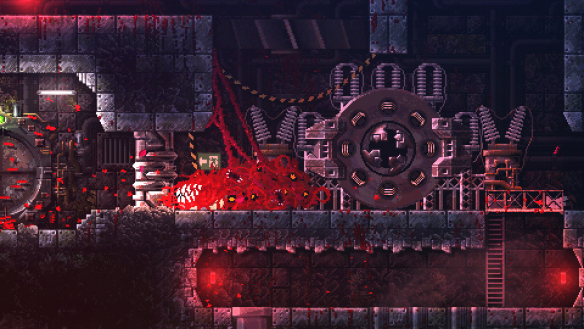 Carry on, regardless.
Carrion loses momentum sometimes, especially in flashback sequences where the monster has visions of the scientists that originally found it, but overall, I enjoyed my time immensely – with one caveat: It frustrated me more than once that there wasn't some form of in-game map [albeit an optional small one.]
I get that the developers were wanting you to feel like you were an evolving blob, not sure where you are, so having a map to find your next goal would break that immersion, but I found myself getting lost numerous times, unsure where to go.
Eventually I resorted to watching a YouTube play through just so I could see what I had to do to solve the section I was stuck on. It also required some serious back tracking to previous locations. To find a switch that I should have flicked or a containment area I should have breached to gain the ability to become invisible and pass through security lasers.
Bottom line is I had a great time with Carrion – the no-map frustrations aside. It's also perfectly suited for the Switch and was a nice antidote to a busy day in the office.
For gamers always wanting to be the 'bad monster" in a game, Carrion is your chance to be that monster.  Go forth and chomp, blobs.