Death Stranding PC review
Hideo Kojima's Death Stranding is a game that polarised gamers when it came out on PlayStation 4 and you had two camps. Those that saw it almost as the second coming as one of the best games they'd ever played.  Versus those that found it good looking game hindered by repetitive gameplay.
I never played Death Stranding on PlayStation 4, but did play Metal Gear Solid V on the console and wasn't a fan. It just didn't gel with me. I just didn't get it.
It was with some trepidation that I agreed to look at Death Stranding on PC when asked by the esteemed editor of this fine publication. I was curious to see how it played on a PC with more powerful hardware than a PS4. Also how Guerilla's Decima game engine – which was used in Horizon Zero Dawn – scaled to a PC. Where there are a wide range of hardware variables at play, unlike consoles which are standardised in their design and hardware.
Let's clear something up about Death Stranding PC
Note, this is not a review of the gameplay of Death Stranding: Guy did an amazingly in-depth video review here, when it came out so I'm not going to tread over old ground but I will say that while the game is growing on me the more I play it. I still don't have a freaken clue sometimes what the hell is going on. Fair to say that's a normal reaction with this game. Players control Sam Porter Bridges (played by The Walking Dead actor Norman Reedus). Broken down to its core elements – a game where you play a courier in the future reconnecting a fractured America by delivering vital packages from point A to point B, all the while reconnecting the UCA (United Cities of America) to a network that will reunite them.
To be honest, it's a freaken weird game, man.
I mean, in one BT encounter, a trike I was riding got stuck in some black goo. A giant tentacled whale dropped from the sky, ate me (as I didn't have any more grenades made from my own blood left). Then when I found my body, a giant crater had suddenly been created (surrounded by dead fish). I wish I'd remembered to get a capture of it: It was wild. Seriously, WTF, Hideo?
In another BT encounter, the aforementioned tentacled whale returned, but I threw three grenades made out of Sam's blood at it and it exploded in a shower of gold flakes. Another time, I clearly overloaded poor Sam with too many containers, causing him to stumble and fall, dropping all his cargo and causing the baby strapped to his chest in a pod to cry. Again, WTF, Hideo?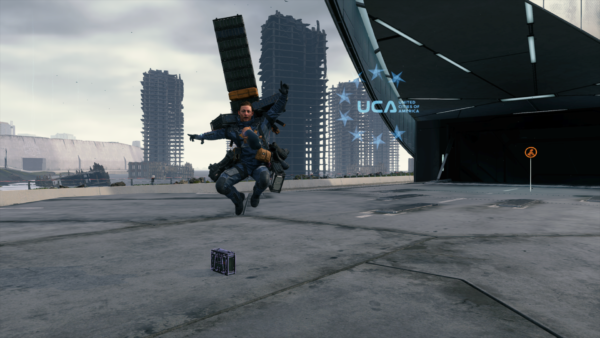 Anyhoo, this is a review of the more technical aspects of this PC port. How it looks, how it works with mouse and keyboard and, importantly, whether higher frame rates mean a better gaming experience. [Spoiler alert: Of course they do.]
Should PC gamers pick up Death Stranding or is it just another over-hyped Hideo Kojima production?
The tweakable graphics options for this PC version of Death Stranding aren't massive but there is enough to show that the Decima engine on which this game is built is hugely scalable if you've got a moderately good graphics card (ie current or last generation). Kojima Productions have clearly spent time getting this conversion right.
You can customise the level of graphics quality you want [I ran a mix of very high and high settings]. There's no tweakable FOV slider, which will frustrate some people, but a really nice touch is that you can select the maximum frame-rate, which goes from 60FPS right up to 240FPS.
I'm running an AMD Radeon RX580 – a still capable GPU but not current generation – and I  locked the frame rate cap at 120FPS.It's liberating at how much smoother game play is when you're not locked at 30 frames per second like with console games.
With my RX580, I was averaging 100 frames per second. I can only imagine how high the frame rates are with a top-end GPU like an RTX2080 or higher.
Death Stranding already looked good on the PlayStation 4 but it really does look stunning on PC. With highly detailed environments, characters and weather effects – it just shows how talented the team at Kojima is. If you've got the hardware, you will be impressed with how good Death Stranding looks. I did notice a few stutters, however, in early cinematic sequences which seemed to sort themselves out after a quick restart.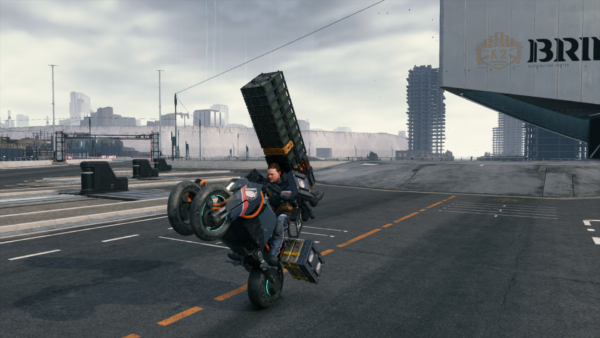 Keyboard Warrior or Controller Jockey?
Using the mouse and keyboard took a little getting used to for me as lately I've been more used to using a controller. Using the standard W-A-S-D set up for movement was familiar and worked but I had to stretch my fingers a bit when using V for melee combat against MULEs. You can use a controller but I had no luck using my wired Xbox 360 controller which the game wouldn't recognise.
The game has a comprehensive photo mode (all the photos in this review were captured using it) and it brings a tonne of options for in-game photographers.
However it took me a while to work out how to actually take a photo: There is no on-screen "capture" button. It was only after a bit of sleuthing using Dr Google that I found you have to use either Steam's photo capturing software or something like nVidia or AMD's photo capturing solutions to take a screen shot. It's a bit finnicky so an actual on-screen "capture" button would be a nice addition.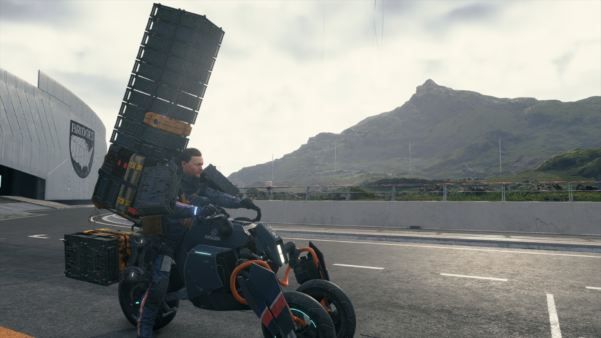 I'm more hours into a Hideo Kojima game than I've ever been before and you know what? I actually think I'm starting to like it. I'm not sure whether it'll completely win me over but I've found myself kind of enjoying creeping through BT-infested plains and silent valleys.
Death Stranding is one of the most polarising games in recent memory and I'm still to be convinced that Hideo Kojima is a genius. The bottom line is it is absolutely stunning on PC and provides frame rates that only a current generation console could dream of.
To that end, I have high hopes for games like Horizon Zero Dawn, which is also PC bound and uses the same Decima graphics engine. It's a pretty exciting time to be a PC gamer.