Days Gone PC technical review
First, we saw Guerilla's Horizon Zero Dawn make the leap from PlayStation to PC, then we were graced with Hideo Kojima's Death Stranding (although HZD was a rough port at launch that required a fair bit of work to get it working properly). Now, it's the turn of Days Gone PC, a zombie-filled adventure across a post-apocalyptic American mid-west, starring grizzled biker Deacon St John. It's a technical marvel that really showcases what is possible with PC gaming.
Once upon a time, you would never have imagined seeing a PlayStation game appearing on a Windows PC but now it's becoming more and more common place.

– Gerard Campbell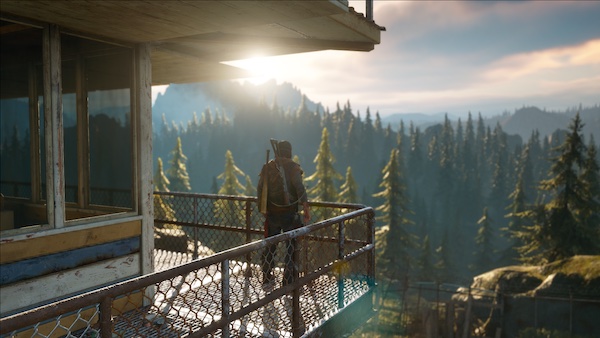 Now, I'm not going to review the game itself here: Guy did a great video review of the PS4 version which you can watch here. No, this is a look at what makes the PC version stand out from its console cousin – and it does stand out and is one of the best PC ports I've played in a long time.
A lot of gamers won't touch PC gaming, given the varied experience you can get depending on your set up and the frequent need to keep upgrading to get the best performance, but while I spend most of my gaming time on console these days, I really enjoy gaming on my PC every now and then as it generally offers better visuals and more tweakable options that its console counterpart would like uncapped frame rates, widescreen monitor support and the ability to use mouse and keyboard.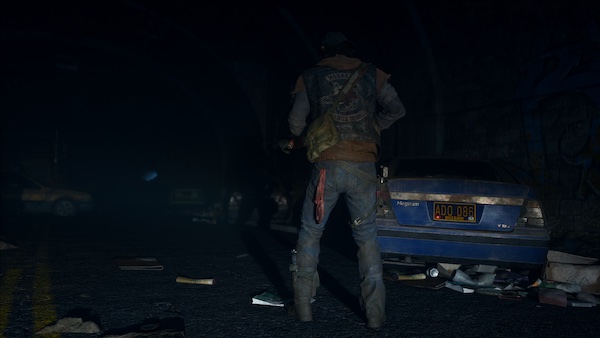 Does Days Gone PC need a beast PC?
Days Gone PC is no different and in terms of minimum and recommended PC specs, I didn't think it was too demanding, although I personally recommend these days minium specs isn't going to give you the best experience. For Days Gone, the minimum specs suggest an Intel Core i5-2500K or AMD FX 6300, 8GB of RAM and an Nvidia GeForce GTX 780 (3GB) or AMD Radeon R9 290 (4GB). The recommended specs suggest an Intel Core i7-4770K or AMD Ryzen 5 1500X, 16GB of RAM and an Nvidia GeForce GTX 1060 (6GB) or AMD Radeon RX 580 (8GB). My PC meets recommend specs apart from the CPU (I have an Intel i5 8400) but I didn't experience any issues.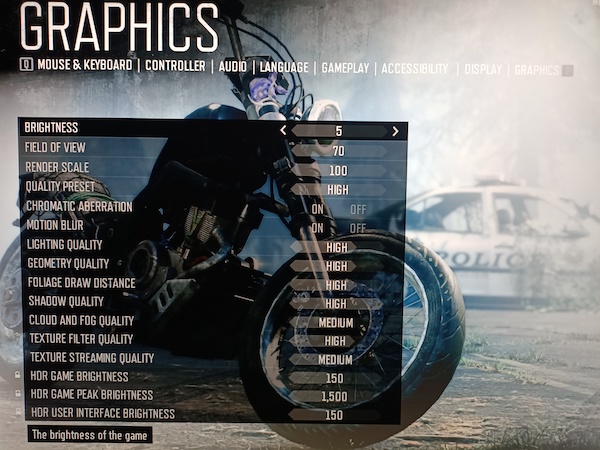 Now, I did not play Days Gone on PS4 so I can't comment on the graphics. From PS4 footage I have seen after playing the PC version, I have to say that the PC port is definitely visually superior, with higher detailed characters and world, and an overall crisper and cleaner image. Days Gone's graphic set up menu will also make PC gamers smile as it has an amazing number of tweakable options, letting you fine tune it to run the best on your machine. That shows me care has been taken with this port: It wasn't just a hasty conversion for a quick buck.
The game has four preset graphic options: low, medium, high and very high so you can find a happy mix and I was playing it on a 144Hz 1080p monitor using AMD's Freesync mode and set to the fastest response time possible.
All the bells and whistles.
The graphics menu is one area that a lot of other PC developers could learn something from, with a plethora of tweakable options including field of view, chromatic aberration, lighting quality, geometry quality, foliage draw distance, shadow, cloud and fog quality and texture filter quality. Another nice touch is the real time performance stats that run in the top right corner of the screen in the graphics tab of the game menu, showing current and median frames per second, frame times before applying vsync, GPU utilisation and frame times post-vsync.
Another great feature is when you pause the game and go into the graphics menu, you can see in real-time how each graphical tweak you make in the graphics settings impacts on the paused scene, which appears on the right hand side of the screen. It's refreshing to see changes to settings impacts on performance in real-time rather than on a pre-rendered screenshot.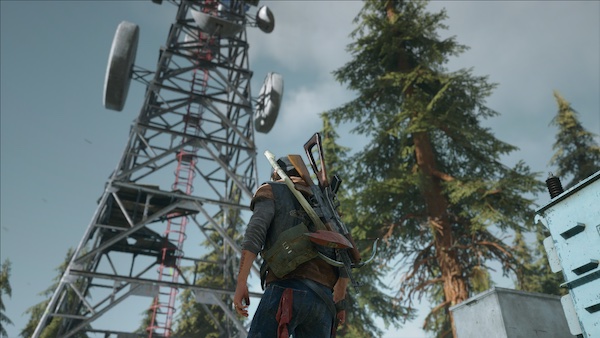 I tested with both locked and unlocked frame rates with a mix of medium and high settings (cloud & fog quality and texture streaming quality defaulted to medium quality), and unlocked numbers ranged from 66FPS to right up to 80FPS in cutscenes and from mid-60s to 100FPS in game play so it's pleasing that an RX580 – a GPU that is considered an old but solid performing graphics card – can play Days Gone so well. I stuck with a locked frame rate of around 90 frames per second, given the age of my GPU, plus I prefer consistency and being able to tweak graphical settings allowed me to do that. That said, GPU utilisation was sitting at 100% during really busy scenes.
But that's not all…
I also tested the game on a Dell XPS 15 9500 laptop (Intel 1074H CPU, 16Gb RAM, GeForce GTX1650Ti), which auto-selected a mix of high & medium settings and I was averaging around 65 FPS at a resolution of 1440 x 900p, at an aspect ratio of 16:10.
Frankly, I was impressed to hell with this PC port of Days Gone PC and while I'm not far enough into the game to decide whether I'm taken with its world and game play. The adventures of Deacon St John are growing on me the more I play it.
With Days Gone PC, Sony and Bend Studio show just how a good PC port should be and have set the bar for future PlayStation games that are heading to PC.