Descenders, Byte Size. (reviewed on PS4)
There aren't a lot of video games like Descenders about mountain biking, a sport that I like to partake in as often as time allows.
Perhaps my favourite mountain biking game – and I'm slightly biased here because I backed it on Kickstarter – is Lonely Mountains Downhill, which was made by a small German development studio and it really is marvellous fun, with a gorgeous visual aesthetic and "Just one more go" game play.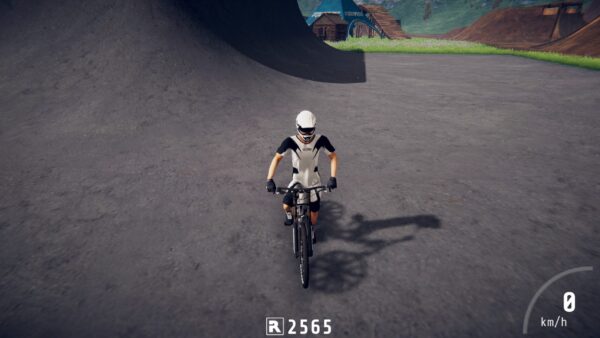 Descenders comes from Dutch development studio Ragesquid and while it's not much in the looks department – to be honest, it wouldn't look out of place on the PlayStation 3. It does have an addictive quality about it as you test your mountain bike mettle on a variety of downhill mountain bike tracks. Tracks are either fast downhills, with a few twists and turns; windy paths or strewn with stunts that let you pull of sick backflips, no hands and grab some air.
Descenders – All Downhill From Here
The dirt tracks are all procedurally generated, which means they are slightly different each time, and there's a branching tree-like progression system. Where you have to complete a set number of trails before you can take on the "boss" track. Each trail will challenge you do something to gain bonus points: Reach a specific high speed before the end of the run, land a jump cleanly or do two backflips, and all lead to the "boss" track. A final course that culminates in something crazy at the end like a massive jump that will send you over a train bridge. You only get a certain number of lives each run, too: Crash too many times and that's you done for that run.
Here's an early run with one of the aforementioned "boss" tracks at the end.
You never forget how to ride a bike
Descenders doesn't take long to pick up – you'll have come to grips with the controls within 10 minutes. It's great fun for a couple of hours but then the sheen wears off a little and you'll put it down, coming back to it later when you want to test your skills on another trail. I found I'd pick it up when I had a few minutes to spare, fire up a handful of courses then switch it off for the night: It's not a game that will have you up till 3am in the morning.
For those of us who love tw0-wheeled action, Descenders might just scratch that itch.