Dredge developer interview: A fishing RPG with a sinister undercurrent
Gerard Campbell caught up with the team behind Black Salt Games. A young development studio based in Christchurch, New Zealand, making waves with its debut game, Dredge.
In an unassuming building in Christchurch, New Zealand, overlooking a popular inner city hospitality hub in the city's CBD, four people have made something magical. That something is a game called Dredge.
Two years in the making, and coming from fledgling game development studio Black Salt Games, comprising the talents of Joel, Nadia, Mikey and Alex.
What is Dredge?
At its simplest, Dredge is a fishing game set in a seemingly idyllic group of islands. It's ambitious, sure, but the team aren't lacking in experience. They've all worked in Christchurch's burgeoning video game development scene for the past 10 years, honing their skills.
Nadia said the four knew each other after working for other people then the pandemic hit. After a few discussions, she says the time seemed right for the group to start their own development studio and start working on their own game.
In Dredge you cruise about in a fishing boat, throw out a line, catch some fish and sell to the strange fishmonger at the nearest port. For fans of fishing, there's something therapeutic about bobbing in boat, pulling up fish after fish after fish.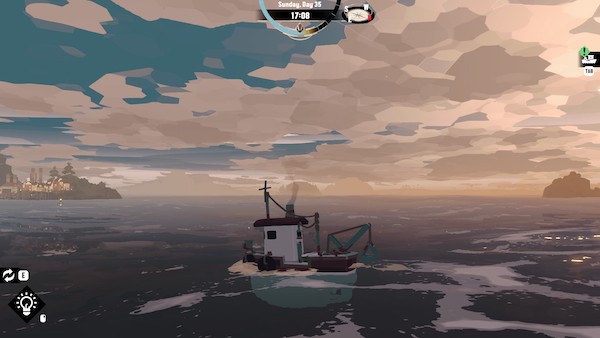 That said, there's so much more to Dredge than just fishing. Think of Dredge as a role playing game where you sell your catch (be it fish, trinkets or salvage you've dredged from the depths), using the proceeds to upgrade your boat, making it stronger, faster, more powerful – and you'll need all the upgrades you can get as you'll soon discover, there's more bubbling beneath the surface in Dredge than you first think.
"The actual idea comes from the whole idea of fish. I grew up around fishing, did a little fishing and enjoyed the fishing mini-games in other games and then wanting to combine that with some atmosphere in games that I really like. Really oppressive atmosphere like Papers, Please and Frost Punk where things happen and none of it is good. I was just wanting to bring that to a fishing game," says Joel.
Mostly comes out at night. Mostly.
Dredge, for all its cutesy cell-shaded visuals, has a sinister underbelly that, to partially quote Newt from Aliens, "Mostly comes out at night. Mostly." You will soon discover that there's something not quite right lurking beneath the blue waters of the island archipelago.
A key element to Dredge is the concept of time. "As you travel around, you're spending your time pushing towards that time of day when things get harder, basically. I think the tension probably comes from the unknown and the deliberate freakiness that we've thrown at the game. We hold a lot back and let players imagine things a lot of the time."
Another central tenant to Dredge's game play is the sense of tension that develops the more you play it. The team says they used a number of techniques to create that tension.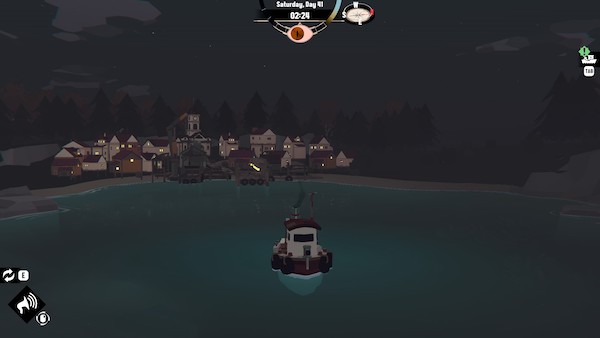 "Fog plays a huge part in that and from the very start it was one of things that influenced a lot of the technical aspects that we had to do [so that you could still see boat]. The art also makes things seem unsettling: You can see for miles in the daytime, but view distance is very short during the night, which makes things very unsettling," says Joel.
While the team describes Dredge as an open-world RPG adventure, Joel says it's also a horror game "although we're not horror gamers ourselves". Mikey chimes in, "We've seen a lot of players never go out at night. It takes a lot longer to finish the game …"
At first, that was how I played it: Only fishing during the day.
I started safely: Staying within the confines of the relatively flat-water harbour, dropping a few crab pots on the outskirts and plopping down a fishing line before heading back to home port, selling my fish to the rather weirdly unsettling fishmonger and then sleeping until dawn. I never, ever ventured out at night: It seemed safer and less risky to just fish during the day.
"We always want people to feel unnerved but we deliberately let people not go out at night, if that's what they want. They can choose that balance for themselves. That said, there are more lucrative things that can be caught at night, and it can be easier to spot somethings at night, but we don't want to punish players who aren't brave enough to go out at night."
Night is when the gloomy fog descends on the waters and strange noises and glowing lights bring an air of uneasiness to proceedings. It raises the hairs on the back of your neck, so to speak.
I soon learned, though, that I would have to eventually venture out after dark as quite often certain species of fish can only be caught at night. So I set about upgrading my boat: Collecting scrap for a more powerful engine, brighter lights and more robust fishing tackle.
Venturing out at night plays tricks with your mind too.
I told the team about an island I saw one night not far from Little Marrow. The island had a small house on it, its lights piercing the inky darkness. I decided to cruise across, always mindful of what was inthe water underneath me, and nearing the island – it suddenly it disappeared into the gloomy fog. It never existed, apparently, and it was unnerving.
"Not everyone is going to have that experience, not everyone is going to see that house. You got luck, or unlucky, to see it," Joel tells me.
Night also brings out the horrors of the deep that can easily scupper your boat if they catch you unawares, sending you down to Davy Jones' locker. On more than one occasion, I could see the giant maw and glowing headlights of some unspeakable underwater horror as it chased my boat, frantically being steered towards a safe port.
Fact or Fantasy, you decide.
Mikey admits the game's creatures were inspired by real-world underwater horrors.
"There are a lot of messed up things in the real world," he says. "I was looking for things and thought 'That's a really messed up angler fish' or 'That's a really messed up blob fish'. Once we started getting a little bit more into the lore, I started looking at Lovecraftian creatures and they are an undefined mass of monstrosity."
While fishing is central to Dredge, exploration of the game world plays a huge part as is talking to inhabitants and putting the fragmented pieces together to find out what is going on.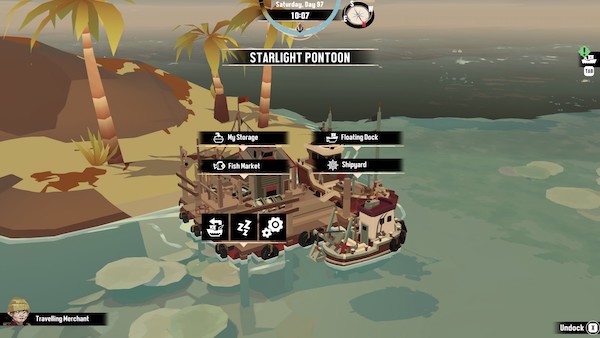 As you cruise around the archipelago, you'll come across strange monuments with carvings of fish on them. Spooky robed figures who request specific fish be caught for them.Wrecks of vessels containing unknown treasures; a stranded researcher; a weird cult dude; ghostly voices and strange lights.
Players aren't restricted on where they can explore in Dredge, says Joel. "We allow players to go anywhere, anytime, but there are areas that are more difficult to access if you don't upgrade your boat." Ports have been placed "just far enough away that you can't do it all in one trip," says Joel.
Dredge is gathering steam and is on track to be a next big thing.
While there was already interest in Dredge, gamers really became interested in the game after the team showed it off at video game trade shows, like PAX in Melbourne last year (attended by none other than the esteemed editor of this site).
The team says its online community suddenly exploded. With people intrigued by the lore and mystery behind the game world, and its inhabitants. It now has a community of dedicated followers, all keenly waiting for the game to finally launch, with the game's story, characters, and atmosphere proving popular. Other fans just "want just want to fish," says Joel.
Those keen on exploring the depths of Dredge, both literally and metaphorically, don't have long to wait: It releases on PC (Steam), Nintendo Switch and Xbox and PlayStation consoles on March 30.