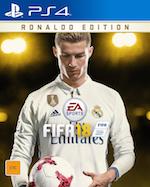 Christmas is coming, the geese are getting fat and in cooler climates the Premiership is in full swing. Given that we are on the cusp of gaming's very own silly season, what else is there to do other than give the annual Fifa update a run out and stretch those chilled calves of poster boy Ronaldo?
It's actually a bi-annual update for us, having spent many years chasing the newness of these games recent times have seen skipping a year to be the best option. Often giving more impact to the fine tweaks and polishes that the developers so deftly apply.
Any given year Fifa offers up a solid package, content in spades as you play online, offline in various modes, being able to pick and choose contests, flex your management muscle, play as an individual and now the newly improved The Journey. Otherwise known as the Alex Hunter single player narrative, The Journey put you squarely in the boots of an up and coming youngster, forcing you to play in key games and make sound rational decisions for him with Mass Effect style choices over dialogue.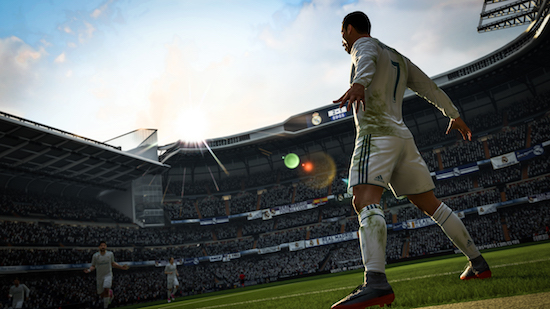 I missed Fifa 17, so I didn't get to experience the first rollercoaster story of Alex Hunter, that said it's pretty easy to catch up and there has been plenty of thought invested in to the character build up and story driven cutscenes. While the narrative treads a fine line between 'Skip' and 'Watch', especially when it plays like a bad episode of Eastenders it does retain some charm and the deeper the story goes the more you find yourself hanging out for the scene's punchline. The Journey is peppered with digitised soccer legends popping in and out which add some credibility to the story direction.
Let's be honest, it is an entertaining mode and is probably better with the dedicated Hunter character than using your own Pro, although some may disagree. However the story unfolds it comes down to your ability on the pitch, which always leaves you striving to improve for your boss.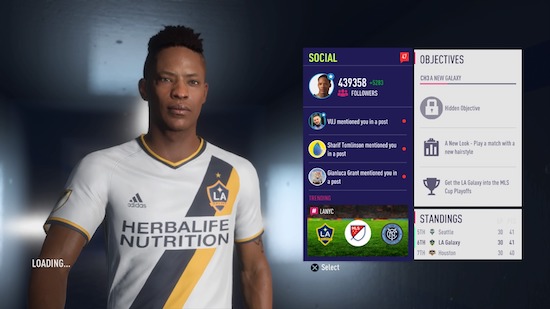 Other than The Journey the game has benefited from other enhancements, there are a ridiculous amount of tricks and flicks available to the Fifa Savant, something I will never achieve, but nice to know they are there. The biggest impact for me is around the grounds, this second iteration of the game using the Frostbite engine really shows. Even in non-Pro HD the grounds look spectacular. Especially the crowds, there are more individuals and sections of the crowd act independently depending on what happens around them, so its not unusual to see a frenzy behind the goal with a near miss. Player models look much more lifelike and the eyes have lost their zombiness, that said they are mostly too small to notice. That said, the little things please me the most, like a build up of ticker tape across the pitch or the wear on the turf as a game progresses.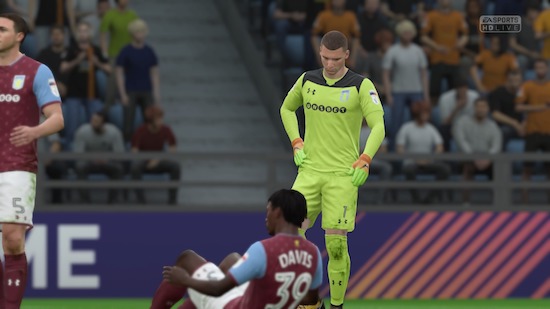 As far as gameplay goes, the action is mostly smooth there are occasional slowdowns around a frantic box clearance, but its Fifa, it does what it says on the tin. As with any sport title there is a learning curve to get back into eth ebb and flow, especially if like me you don't really advance into the Advanced School of Fifa. Sometimes a match can feel like you are pushing a big snowball uphill, then a flash of brilliance will have you skipping past defenders, slotting one home and bouncing on the sofa with your shirt over your head.
Soccer – its a game of highs and lows. The lows for me have always been the same, the seemingly psychic ability of any opponent to intercept my balls and disposes me by looking at me, followed closely by my players ability to run away from the ball whever they are selected for action giving the opposing player that much needed extra yard.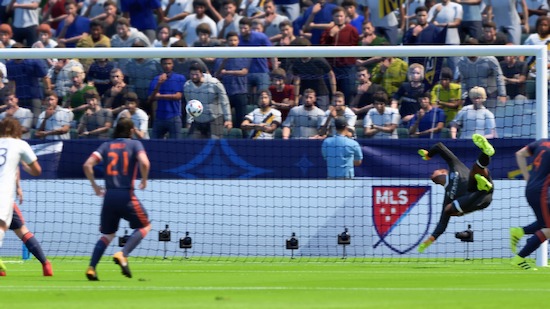 Overall, I like it. It feels less like a Sky Sports broadcast these days and more like a well polished game. The front end is enticing and even just popping in to see if I can match the greatness of Aston Villas weekly schedule can be enough, having links into the real world of soccer certainly keeps the interest alive. There is a big push for FUT (Fifa Ultimate Team) which seems to be a big draw for many and EA actively push it as often as they can, but its a boat I keep missing – maybe fantasy team building just isn't my bag anymore, or maybe next year, just like my hope for FIFA VR.
Up the Villa! By the way.