NBA 2K18 Review (Xbox One)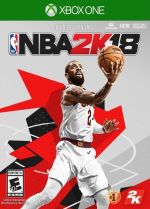 So here we are, the latest instalment of the almighty NBA 2K series, and this years cover star is Kyrie Irving of the Boston Celtics. More importantly Steve Adams is as prominent as anyone in game, especially if you follow the Oklahoma City Thunder as your team.
As usual fans of NBA 2K will already be all over this and enjoying the premier basketball title available today. As for new comers to gaming or basketball games prepare to be overwhelmed with options, game modes, terminology and shoes.
Overwhelmed in a good way that is.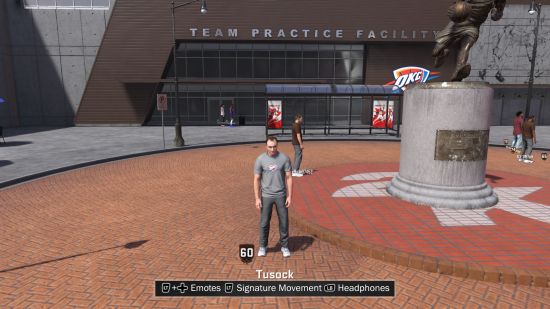 I guess the big change this year is what is being termed 'Run the Neighbourhood'. Basically this is the hub for your career player mode. By moving around the neighbourhood you can access everything from gyms, and barbers to you training facility and apartment. There are even basketball courts scattered around the 'hood' so you can get a bit of street court action between that haircut and your meeting with your agent.
You could argue that all this is just a glorified menu system but it is pretty cool when you start seeing your billboards pop up on buildings. The gym, which can be used to boost your player is a nasty collection of quick time events that has you choosing between various items of fitness equipment. Just wasn't my cup of tea at all that came across as an unnecessary grind to get minimal pay off.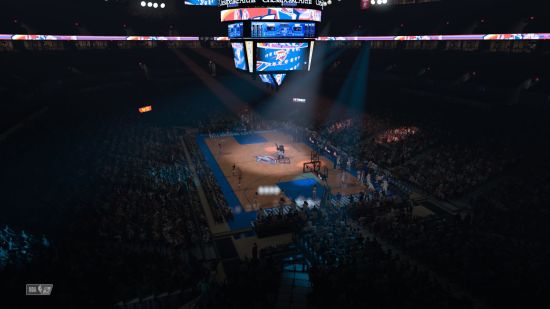 Apart from the Run the Neighbourhood career mode there is a wealth of other options, including the MyTEAM trading card game, which will all be recognised by returning players. As with previous years there is also a weekly show full of hints and tips, interviews and quiz questions for you to earn in game currency to spend of outfits and upgrades. I have found myself watching more of these not because I am a fan of the NBA but because there is a lot of useful tips about getting more out of the game, and getting easy currency is a bonus too.
Obviously fans will get much more out of the NBA chatter with talks of drafts and stats with players whose names ring a bell but that is it for me. One thing worth appreciating is the  amount of content with all the different players and so much info and data, both spoken and in text, it is just mind boggling!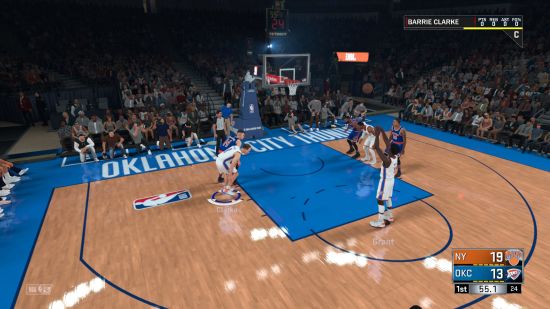 Graphically, as to be expected, the in game visuals are fantastic, both the commentary and sound effects are also well up to par. Unfortunately the neighbourhood is a very bland and sterile environment and moving around it becomes a bit of a chore.
Also some of the cut scenes in the career mode are a bit puppet like. Considering the effort and standards in the on court action it really is a shame that the surrounding presentation isn't up to the same level. But I guess the actual game time that counts is on the court so it is good that that is where all the effort has gone.
NBA 2K18 is listed as a Xbox One X Enhanced title along with 4k and HDR support so with the hope of upgrading my gaming gear in the near future this will be one of my test titles to see if the One X and 4k HDR is all that it claims to be.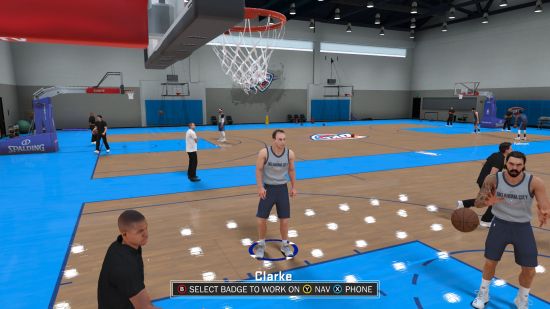 Closing Comments.
This is the fifth year in a row I have had the pleasure of reviewing NBA 2K and it is growing on me, not just as a game but as a sport. The actual game of basketball is phenomenally well represented and as I start to understand terms and tactics I am finding myself enjoying it as a game. Throw in a rise of a good Kiwi in the form of Steven Adams and I have found myself with a much increased interest in following the NBA as a sport and not just as a game.
As usual there is the huge fan base of NBA fanatics that wait expectantly each year for their beloved NBA 2K to release, and really there is no need to market the game to this group. But what I will say is that the quality of this game really does mean that every true gamer should have at least one recent release of the NBA 2K in their collection.
Swish! Nothing but net!