Inglorious Basterds Review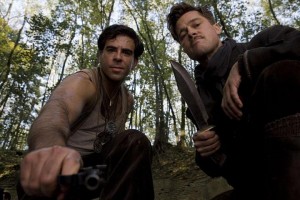 There is one thing you can say about Tarantino, he knows how to make a great movie, maybe not every time, but he hits more than he misses.
He may not have had my full attention at Reservoir Dogs (having a preference for it's inspiration : City on Fire), but Pulp Fiction owned the cinema at its release and still shows it's class. It is safe to say that Inglorious Basterds is Tarantino showing his credentials at that level again, ignoring Kill Bill 2 and Deathproof's indulgence.
I remember reading a long time ago about his desire to pay homage to classic World War Two movies, an article long forgotten until today. As you would expect characters stand out in their eccentric and larger than life ways, but also fit right into their environments. There is something about a Tarantino movie that can elevate an actor's performance beyond the standard hollywood dross, whether it is the directors writing, direction or passion does not matter, just enjoy it.
Brad Pitt stands out for his borderline psycho performance, but the crown for me goes to the creepy and nightmare inducing Christoph Waltz – the embodiment of SS Officer Hans Landa, manipulative, clever and downright deadly.
The movie weighs in at 2 1/2 hours and although there have been some negative comments about pacing, I have no issue; the suspense on screen and the way Taratino can brutally turn a scene around in an unexpected direction keeps you guessing until the end. Dialogue is never wasted and the artistic direction feels top class, there are even the trademark Tarantino special visual tricks and his unusual wide ranging taste controlling the soundtrack.
I won't give any story away, just an opinion and that is: Bloody, Funny and Satisfying.
Finally, as with Pulp Fiction the best moments will probably come back to you after watching and a second viewing would only improve the experience.
Director: Quentin Tarantino
Cast Includes: Brad Pitt, Diane Kruger, Mélanie Laurent, Christoph Waltz
Genre: War
Run time: 154 minutes
Rating: R16 – Contains violence and offensive language