Cinema Gaming, going large on the Silver Screen
As a young man I had two dreams, one was to own a nice little campsite and the other was to own a boutique cinema. The second was born of a love of movies and the plan for some cinema gaming on the big screen after hours. Neither of these dreams took off, until now.
We probably have to thank Covid and 2020 for the opportunity, as traditional business finds other ways to make its assets work. I recently spied a Facebook ad by my local Event Cinema offering gaming sessions. How could I not take it up?
Isn't it expensive?
Well not really, not when you look at how you could split it and what's on offer. To be honest I was surprised and right now, I'm planning on booking my Sons joint birthday party here. If you check out the table below, the inclusions make it well worthwhile. Of course any parent can tell you a $500 budget doesn't go far on a kids party these days. I'm all in for 3 hours of Minecraft in Gold Class to be honest.
The session comes with a few caveats of course, booking is easy and the sessions are available between 10am and 7pm.
Event Cinema Gaming Packages
High Score - Package $200
2HR Private Traditional Cinema
Bottomless Popcorn
10 x Soft Drinks
10 x Lolly Cups
High Score - Adults Package - $300
2HR Private Traditional Cinema
Bottomless Popcorn
5 x Beer Buckets or Bottomless Soft Drink
The Game Over - Kids Package - $500
3HR Private Gold Class Cinema
Bottomless Popcorn
10 x Cheeseburger & Fries
10 x Soft Drinks or Water
10 x Choc Tops
The Game Over - Adults Package - $600
3HR Private Gold Class Cinema
Bottomless Popcorn
2KG Buffalo Chicken Wings
10 x Mini Hot Dogs & Fries
5 x Beer Buckets
What will you need to supply?
Your console and games of your choice. As we are not streaming games from internet based domains you will need to ensure you bring games of your choice.
How many people can book in one sessions?
Between 10-20 per session however the people that attend the less game time for each guest.
What about the experience?
My initial enquiry by email was handled quickly and we soon settled on a package, being on my own this time I went for the basic offering. Of course I negotiated my way out of the ten lolly cups in exchange for a plate of sliders.
On the day, from arrival to setup was straightforward and there's something nice having a theatre to yourself by booking rather than by accident.
When I arrived we sorted out my choice of soft drink and preferred Choc Top. Then it was off to the theatre, where I plugged my PS4 into a HDMI port on the house laptop. Within seconds my dashboard was gloriously up on the giant screen. For tech heads the base cinema offers 2k, 1998 x 1080 at 1.85:1. To be honest lost on me, I do know that Gold Class runs at 4k with full 5.1-7.1 audio depending on the console/content.
About halfway through my sliders and fries arrived, yes, they were cold before I remembered to reach for them. That said, they were still great quality and a healthy portion.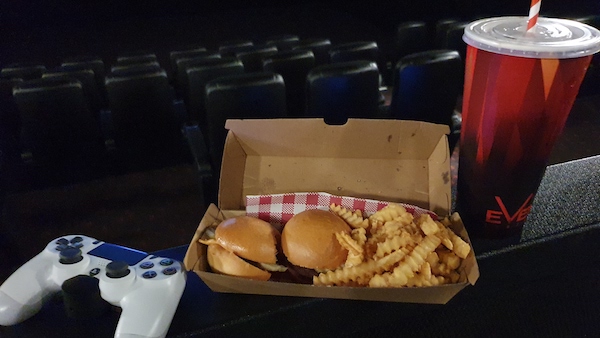 How was the actual gaming?
Thrilling in one word. Fucking amazing in two.
Here's a quick roundup of the games I got in over the two hours. Ideally I wanted more, and will certainly be back for some No Man's Sky and Destroy All Humans.
Cinematic and brutally gory, Ellie and Abbey did not disappoint on the massive screen. This game was citied as a cinematic masterpiece when we were reviewing it. Hell, the cinema seals the deal. I could have sat back and just watched all the cutscenes and we all know I don't do cutscenes. The cinema sound blasting out the crackly shrieks of a Clicker may well give me nightmares.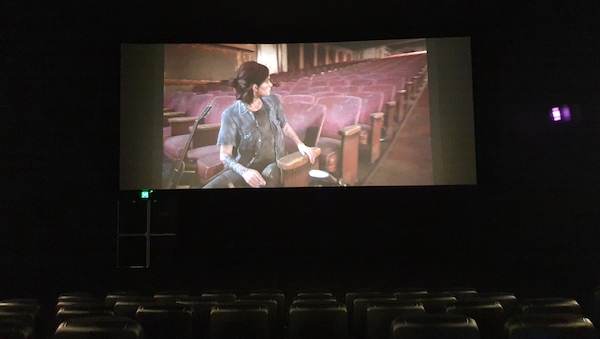 Play a shark on the big screen, be the Jaws, feel the Jaws. The game scales up so well and I managed to crack the final fight with Pete, I'd say the enormous screen helped. Either way – I scored a Platinum Trophy while playing Maneater in the cinema, that's one for the Captain's log.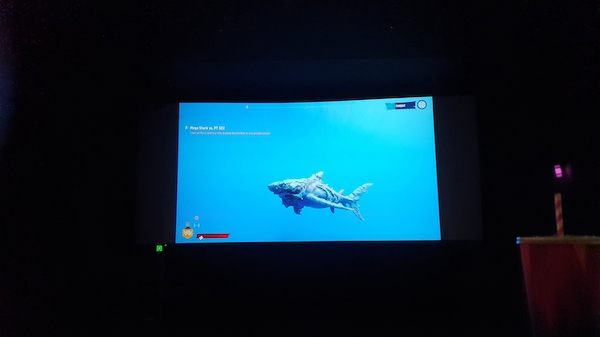 Fast and loud and colourful. Doom is fairly new to me, but the transition to the big screen just enhances the messy kills and pumping soundtrack. I managed to crack through the early stages, initially I was worried that a first person viewpoint would be a problem at this scale. It wasn't DOOM Eternal is mental and the theatre sound alone kept me pumping shells. Spectacular, will play again.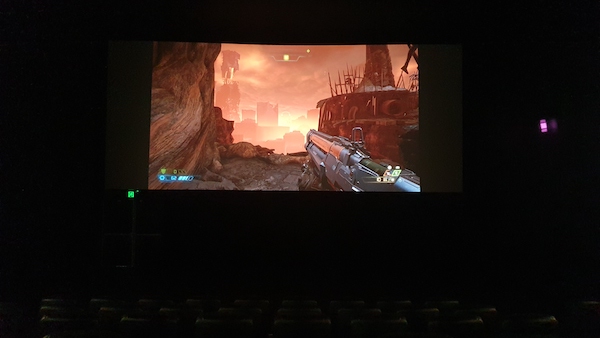 If you think the Kurosawa mode is a cool addition, then think again until you've played it on the cinema screen. This is where that mode belongs, being a scratchy homage to classic Samurai cinema – it just came home. Of course the game is as stunning as ever, and the sound cues on offer are pumped right up, the ambient sounds and soundtrack vibrating through the theatre make this a joy to play this way.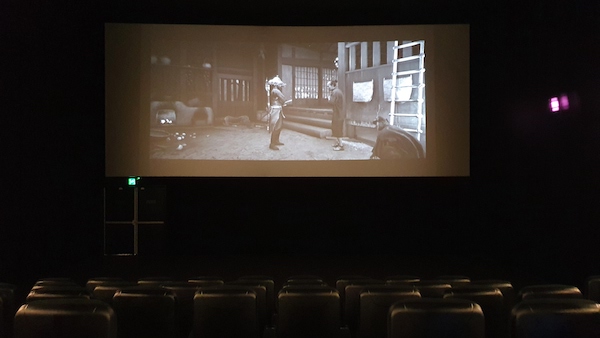 We ran out of time sadly, but fear not, I am planning an inevitable follow up to this post in the near future with Crypto along for the ride.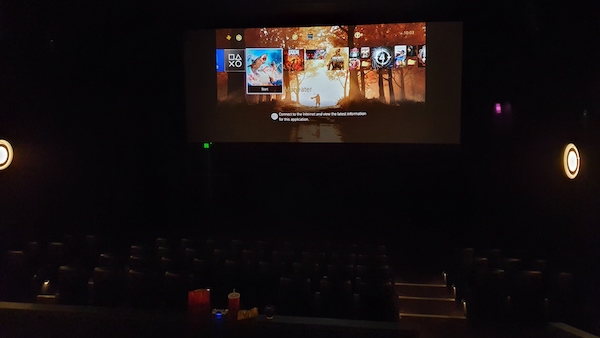 I'll be back.
Overall this is a great treat for any Gamer, the spectacle alone is worth the entry fee. I can really see this taking off especially as there is very little in the way of opportunity or new movies to watch. Support your local and treat yourself.
In fact, I think we should only ever review games in this way from now on.
I even managed a cheeky blast on Alienation right at the end, those glorious Housemarque graphics really coming alive. To sum it up, I'm still thinking about the whole experience. Like seeing the Grand Canyon in the flesh, you know its going to be big, you're just not prepared for how cool it is.
I didn't even drink my coffee, so take note.