The JBL Range continues to impress with the Quantum 910 Wireless. Having swapped out my 810 Wireless Headset for the much new and improved Quantum 910 Wireless Headset I find it hard to go back.
It's not even a year since I wrote about the 810 Wireless, and everything I said then still stands today for the 910 Wireless. Albeit with a few extra Bells, Whistles and Quality.
JBL and Harman are Masters of improving their products. I guarantee that if you are a fan of the 810 or below, as soon as you slip on the Quantum 910 Wireless, you'll never go back either. Unless you need to keep playing while the 910's charge up.
Let's Get Down To It Boppers.
As always the JBL Packaging is one of my favourite things, its sturdy and functional. All the bits and pieces are snugly packed away. It's the kind of packaging I like to hold onto, just because.
In the box, the 910's themselves, the usual charge and audio jack cables. Along with a calibration microphone for set up and the new dongle. Of course all this is in the standard JBL Orange and Black, with quality braided cables.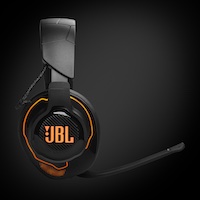 The Bluetooth dongles are always an interesting one. They've been getting bigger and often the last thing you want it a large unsightly USB sticking out of your console. this dongle is clever though, while bigger than the the 810 dongle, it comes in two parts. Snapping together for a standard USB pass through, or coming apart for a USB connection, like a Switch or in my case my Surface Pro. I like this functionality, but I don't like the potential for me to lose the thing. If only they could be magnetically stored on the headset when not in use.
While we are thinking of losing things, there's a soft touch bag that comes in the pack, perfect for keeping everything together.
Gimmee the Lowdown Bro.
The Quantum 910 Wireless delivers a range of connectivity and function. Aside from Bluetooth calls or listening for pleasure, PC gamers get the benefit of JBL Quantum SPHERE 360 technology. A game changer in itself. On Playstation (and Switch), where I spend most of use time we get JBL Quantum SPATIAL 360. The difference being SPHERE delivers a fully 3-Dimensional soundscape, SPATIAL is a Virtual Surround.
SPATIAL is fantastic enough for me, and the many CoD players that have tried to creep up on me will vouch for that . There's nothing sweeter than hearing footsteps come up behind you, to spin around and take them out. JBL label SPATIAL as Immersive Sound, it absolutely is. Footsteps can be tracked in-game, you can really hear the game, before you see the game.
Xbox owners are limited to using the 3.5mm audio jack and stereo sound, but that's why Microsoft have their own headsets.
There is a richness and depth that Quantum products deliver, even swapping between the 810 and 910's will show just how much more depth and clarity of sound is coming through. I spent many years playing games without a decent headset, these last few years have really opened up my ears and eyes to how much more there is to enjoy.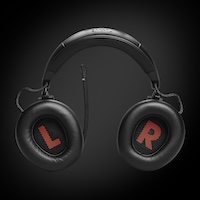 What about the Influencer Rating?
Your friendly neighbourhood Influencers will be all about the comfort. Yes, again, as ever the Quantum 910 Wireless is now the most confirmable Headset I'm using. Big soft padded, over ears. The flexible cups that lay flat when slid down. The headband, lightweight and solid with a nice external design just adding that bit more equality. In fact the whole unit itself is feather light.
Not only the comfort matters, but the build quality is terrific. As soon as you slide on the power button, you notice how solid and purposeful it feels. Little things like that make a big difference.
The battery life is decent, and improves when you turn off the RGB lighting. Which I do, partly because it looks a bit over the top on a Teams meeting, but it means I can push through a long few sessions on the Playstation without stress.
The JBL Quantum 910 Wireless is without a doubt the best headset I've used and has raised a bar so high, I'd be surprised if they can beat it themselves. For clarity too, this review is overdue, because I've been enjoying playing games too much with such good sound.
The JBL Quantum 910 Wireless proves that the Best got Better, again.