MX Keys Mini, Review (Hardware)
Keyboards. The unsung heroes of both work and play. Most of us are just happy with whatever we get with the computer. We don't even give it a second thought until the space bar stops working. But in this day and age we all tend to have multiple devices, many that don't have a physical keyboard. TV's, tablets, phones, even gaming consoles. And we all know the pain of using the TV remote to enter Arnold Schwarzenegger into the Netflix app. A Bluetooth keyboard is what you need. A nice sleek, mini one that looks at home on the coffee table. Something available in different colours to match the sofa? Perfect. Logitech has you covered with the MX Keys Mini.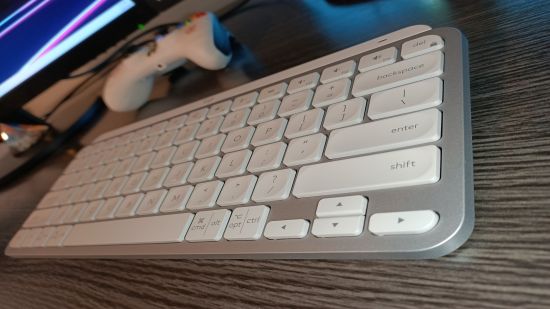 Solid As.
Enter the MX Keys Mini from Logitech. Available in three colours, Pale Gray, Graphite, and Rose. I received mine in Pale Gray from the good team at Logitech. I firstly noticed the heft of the box. A big fat multi-lingual manual? Nope. The contents are made up of some basic instructions, a USB-C cable for charging, and the MX Keys Mini keyboard. It's a hefty little sucker, and I mean that in the best way possible. It feels really solid and well made in the hands. On a table it stays put, not wanting to move around while typing. A key attribute for a keyboard. Measuring in around 296mm x132mm x 21mm in size and just over 506 grams the MX Keys Mini is a nice little package.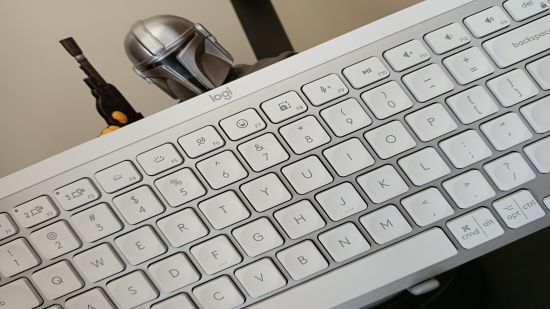 Threes Company.
Unboxing while sitting on the couch it made sense to connect it to the TV straight away. An out of box test if you like. This process couldn't have been easier. Turn it on, select one of the three device keys, and pair. Here lies one of the greatest features of the MX Keys Mini, the three Easy-Switch keys which allows you to jump between three different devices at ease. This allows you to move from TV to tablet to PC without having to pair each time. Very nice.
Battery life is great, with the backlight off you can expect up to 5 months from a full charge. Using the backlight, which has sensors to adjust to surroundings and a proximity sensor to activate only when needed, you can expect around 10 days of charge. Those who use the Logi Bolt USB Receiver or Logitech Flow enabled mouse will be happy to know that the MX Keys Mini is a compatible device.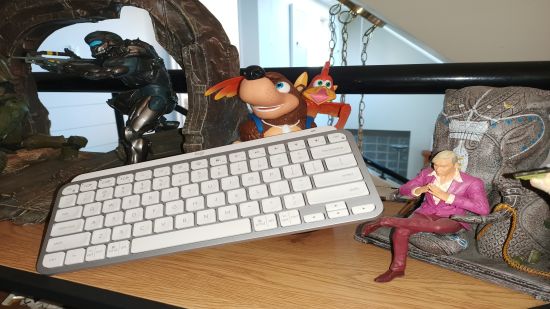 Making Mavis Beacon Proud.
At the core a keyboard is for one thing. Typing. The MX Keys Mini is, well, a mini keyboard. Not ideal for gaming or data entry. Capable of all these tasks but its portability and connectivity are its strengths. The keys feel nice to the touch and are perfectly responsive. Other additions like shortcut keys for Mic Mute/Unmute, Dictation, and even Emojis really elevate the MX Keys Mini into modern life. Although the compact nature means the loss of the Number Pad, Logitech has still managed to retain a set of independent Arrow Keys. Super useful on devices like TV's.
Closing Comments.
So often it is each to overlook everyday objects. Utilitarian devices that just do what they need to do. We all need to be exposed to products that break the mould, that bring something extra to the daily grind. The MX Keys Mini keyboard is just that. It makes life just that little easier, more convenient. And lets face it, in the world we are in today anything that makes it a bit easier is a great thing.