Strange Brigade, PS4 Review
Remember the days of Saturday Morning Matinee? Probably not, especially if like me you were one of the generations that followed behind and got to learn about the likes of Flash Gordon or Zorro in twenty five minutes bites of black and white drama. They were shows from a simpler time, a time when youngsters would cram into the movie theatre at the start of their weekend and watch the latest instalment of a their latest hero. There would be drama, action, spills and cliffhangers. Often all wrapped up by that quintessential clipped English voiceover.
As a child of the Seventies growing up in England these serials had graduated from the theatre to TV, mostly being pumped out at weekends or binged during school holidays. Either way at that time, it was still riveting.
Why this preamble, you may ask. Well Strange Brigade is quite unique mainly for being a brave new IP, but also as a jolly good fun homage to these simple times both in narrative and presentation. Taking a sprinkling of Boy's Own Adventures mixed with a healthy dose of Michael Palin's Ripping Yarns, enjoy a rollicking trip of Devil-May-Cry-Derring-Do, adventuring into the unknown and fighting evil wherever it raises a mummified head.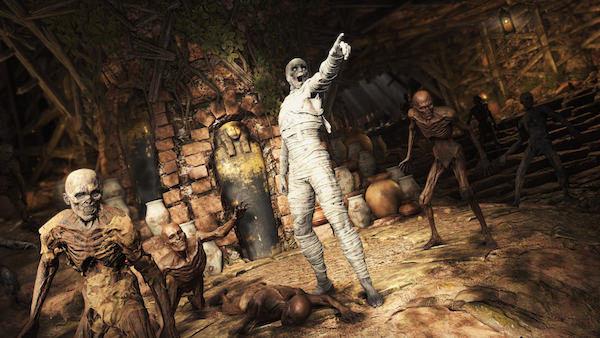 Rebellion have come up trumps with this one, a third person shooter full of mildly challenging puzzles, loot and wave upon wave of monstrous entities. The setting of Strange Brigade is pitched around Empire Britain albeit a somewhat Steampunk take, while the weapons offer standard ballistic fare a few special versions and the addition of runes upgrades them into fire or ice laden death dealers.
No respectable Strange Brigade Member is complete without a thrown weapon and they range from grenades or dynamite to decoy grenades, or my personal favourite the mine. Topping off the arsenal is an Amulet of Dark Powers, handy for accessing puzzles and wave points on the map, supported in the narrative by on trend mumbo jumbo. The most useful aspect however is each characters particular skill employed when wielding the amulet's powers, starting off with a fairly basic, but very effective power they can be upgraded with skill points, more on those later. The Amulet is recharged by collecting souls from the departed evil creatures, something that is not in short supply.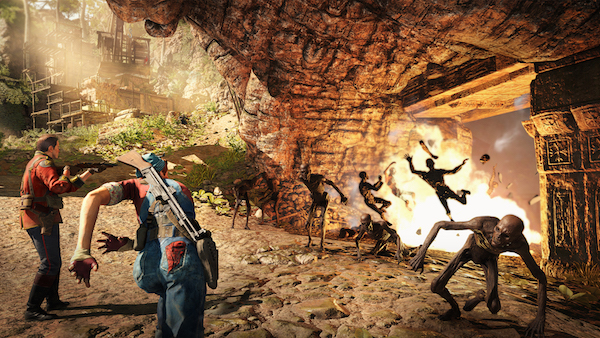 The game is built to be a co-op experience from the get go and while you can play alone, it quickly becomes a solitary loot hunt. There is some enjoyment working through the game alone, looking for puzzles and fighting off waves of creatures, but even the lack of AI co-op teammates makes the Brigade too much of a Solo affair. Do it if you have to, do it if you want a quick buzz or do it when you have early code and nobody to play with. Strange Brigade is fun, its just much, much more fun in a crowd.
Visually it does the job, the introduction scenes are played out on scratchy black and white newsreels complete with a jolly and quintessentially English narrator, its nice to see a light hearted vision maintained like this. They had a fun idea and ran with it, all the way. When you get boots on the ground the levels, while feeling a touch old school look great, fit the part and are warrens of design with branching paths and verticality. For a nosey kleptomaniac like myself there is slow progress to be made, even without dying I can take over two hours poking my way around an area, desperately making sure I didn't miss a puzzle.
Even though I did.
They are also peppered with tremendous traps, spikes, swing axes, exploding barrels, in fact having fun setting off traps and destroying the minions of darkness with the environment is a big part of the attraction, wherever you find yourself a trap trigger is not far away and more often than not a handy shot will be devastating.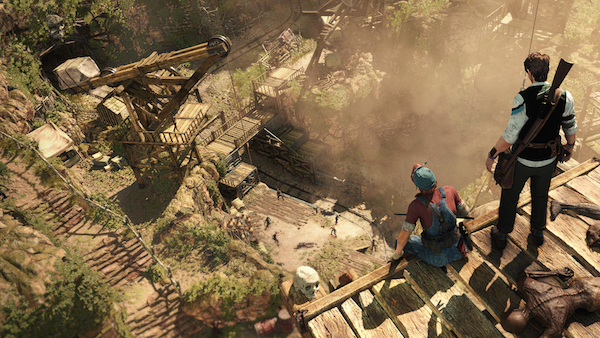 Speaking of puzzles, they come in various shapes and sizes. Usually interacted with by walking on something and/or shooting something to open a secret room or reveal a chest. While the mechanics are reused, the effects are nicely mixed up in a way that you're never sure if this one will open up a chamber full of zombies or not. Something I do like is that while the puzzle and its answer may be in the same position, the actual key will change form session to session. So there's no point remembering them.
So, what do puzzles make?
Prizes, obviously. Generally a pile of loot will be revealed and you will need to collect it asap, gold is the currency of the day and in-between levels you can spend it up large on newer weapons. Which is nice. Also worth a shout out to my favourite puzzle, a return to form for the Pipe game of the eighties which last encountered me as a Bioshock mini game. Also, collectibles, love them or hate them collectibles are here to stay, but Strange Brigade makes them worthwhile.
While the diary pages you find along etc way are basically feeding a Trophy, the Relic sets have to be completed to give you a Skill Point which can be spent of upgraded versions of the amulet. I love this take, yes have your annoying collectible items to find, but actually getting rewarded in game for it, now that's new to me.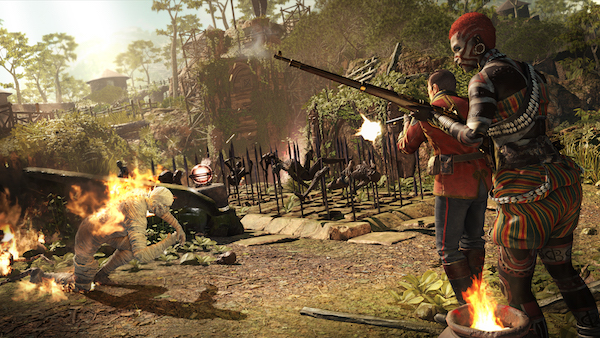 Gameplay and gunplay are up to par, while I did have trouble feeling comfortable with the throwing mechanic at the beginning it soon settled down. Strange Brigade is not a game that holds your hand health wise, you can pick up a potion and knock it back, but only one, which is not really an issue considering there aren't that many lying around. The weapons feel suitably different and even though the characters have a preferred option, you can swap into using anything and that has been essential for a few encounters.
The creatures attack in waves and as long as you don't get overrun its manageable, until a mini-boss or Boss are thrown into the mix which will call for a slight change of strategy. Each area is finished off with a hefty Boss fight, whether a giant statue or fireball throwing Soul Cage, either way its all about tracking down evil witch queen Seteki.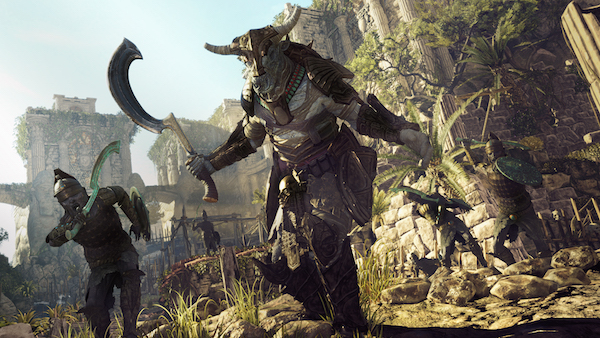 Upon first firing up the game, I admit to feeling a touch underwhelmed and wondering if 'this was it'? Fear not brave adventurers, a few levels in and secrets uncovered the urge for one more section got me good, even playing alone I found the narrative and refreshing setting kept me going. Strange Brigade is a solid offering and is in no way a small game. The Score Attack mode is an addictive slice of levels already run, killing against the clock and now there will be people available Horde Mode and playing the actual campaign with other people is going to lift the game even further. As a package it's a game that does exactly what it needs to and considering the first month giveaway of a new character (Gentleman Spy Adventurer Winston) with Season Pass DLC to follow, the team behind it will be going to great lengths to keeping it alive.
Time to get out there and kick Evil where it hurts old chaps!