Turrican Anthology Vol. 1 & 2, Switch Review
What's better than yearning after some retro Turrican goodness? Playing all the Turrican versions on Switch of course!
Turrican holds strong ground in my Amiga memories, I know I played a couple of them right through. Although I cant remember exactly which episodes they were. That said the gameplay was always strong, wide open levels, secrets, enemies and upgrades. There was a forgiving respawn system and enemies stayed dead, which was nice.
Like a lot of retro games, you had to be there, its not often a fresh reboot can offer the magic of yesteryear. This is quite the case here. While I have a special place for Turrican, my bias is for the Amiga versions and we've kind of moved on from run and gun platformers. The weapon upgrades are still fun, but make sure you don't pick up something you dont like, and re-exploring the levels shows how much design went into them. Developer ININ Games has pulled out all the stops bringing these classics back to life.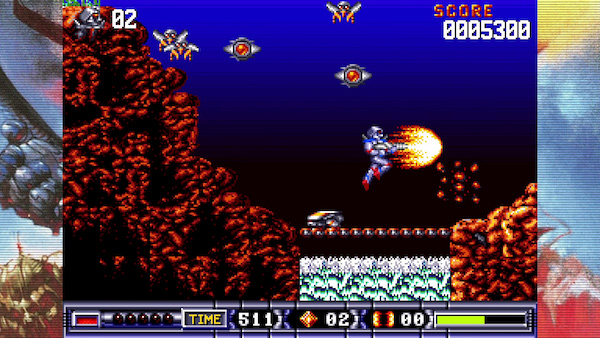 Ten whole Turrican Anthology games, in two bites.
The Turrican Anthology comes in 2 packages, which does seem odd given they're not enormous games. Even more odd is the way the Amiga, Genesis and SNES games are mixed up on the carts. There are a few extras packed in, such as a soundtrack jukebox, images and readable manuals. Oh, we do love the days of manuals. The Switch has a bunch of gameplay challenges too, which would I assume align to Trophies elsewhere. There are also unlock able cheats and a Rewind button, but I haven't been down that dark alley yet.
Fair to say I've played the most of the Amiga versions, the weapons and UI are familiar. The Genesis feels a touch clunky in comparison and the addition of a grapple, great at the time, doesn't do anything for me. The SNES games are as expected bright and colourful versions, with a few accessibility nods to early console gamers. I have played some console Turrican on my Pandora Arcade, but it feels better here on the Switch.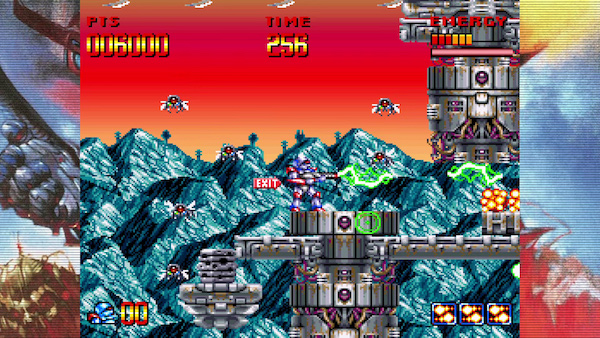 Control setup offers a standard Switch sticks and buttons combo, this works and is the easiest to get used to. The traditional one-button setup is available, but again, we've moved on. One helpful addition is the map, which grows as you explore. On the Switch its default call up is clicking the right stick. Something that happens a lot by accident until you change it. The Map can have various layers turned off, but default shows up hidden upgrade blocks. Which is really handy in these times of 'A quick blast'.
Turrican or Turrican't?
The Turrican Anthology is a great trip down memory lane, I get flashes of familiar territory, and the skills are coming back each time. It's easy to pick up and play in a short session, anything too long and the Switch Claw Hand starts to creep in. The collection will certainly be staying on my console to scratch the Turrican itch now and again.
A must have for fans of the series, but I still question the validity of splitting it up into two packages.