Spider-Man Remastered: Web-slinging, PC action
PC gamers, rejoice: You can now play one of the best superhero video games around with Insomniac's Spider-Man Remastered swinging its way onto PC this month.
Spider-Man Remastered was first released on PlayStation 5 in 2020, an updated version of Insomniac's 2018 PlayStation 4 game. The PC port has been handled by Nixxes. A 20-year-old Dutch company renowned for a magic touch taking console titles and getting them to work on PC.
Insomniac's Spider-Man sees Spider-Man have to save New York from Mister Negative, a crime-lord who threatens to release a deadly virus upon the city. As Spider-Man battles Mister Negative and his plans, Spider-Man also faces off against a number of well-known enemies from comic book lore – Scorpion, Rhino, Electro – while also tackling the personal issues facing his civilian identity, Peter Parker.
Sony, clearly impressed by the work that Nixxes was capable of, bought the company in July 2021 and as well as Spider-Man Remastered. Nixxes are responsible for the PC ports of Deus Ex Human Mankind Divided, Shadow of the Tomb Raider, Marvel's Avengers and Rise of the Tomb Raider.
However, dear reader, I am pleased to announce that Nixxes have done sterling work with Spider-Man Remastered. As I experienced an almost dream play through of the game, using the high graphics preset across the board (automatically selected by the game). Returning stable frame rates and only delivering one crash that forced me to restart the game.
Spider-Man Remastered, an almost dream play-through
The PC version of Spider-Man Remastered promises increased graphics performance using dedicated Tensor Core AI processors found only on GeForce RTX GPUs, nVidia DLAA (Deep Learning Anti-Aliasing), an AI-based anti-aliasing mode for GeForce RTX gamers, a wide range of display ratios, including ultra-wide 21:9, panoramic 32:9, and nVidia Surround multi-monitor setups as well as graphical features such as SSAO (Screen Space Ambient Occlusion), texture filtering, LoD quality, shadows, and more. It also comes with the City That Never Sleeps additional downloadable content which features three missions (The Heist, Turf Wars and Silver Lining).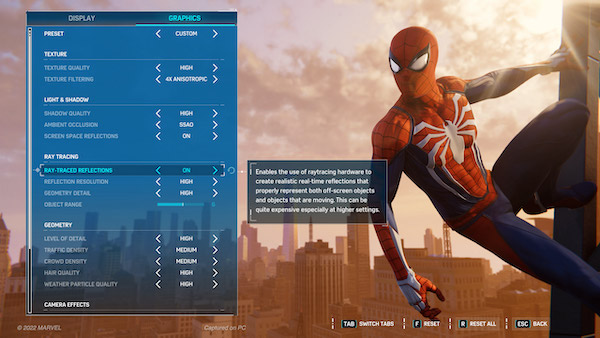 I played Spider-Man Remastered on a PC that while a good performer on the CPU front (it has a 11th generation Intel i5 11600K) it isn't packing a modern generation GPU like one of nVidia's RTX series cards. Sadly, I'm still running an AMD RX580 with 8GB of VRAM, so to say I was a little nervous was an understatement. My monitor is an LG 27GL650F running at 1080p 144hz.
I am surprised my RX580 performed so well, to be honest. I expected it to be like a slideshow at times, with the ageing silicon hampering my enjoyment of the game – but it didn't. That said, my workhorse GPU can't trace rays so I couldn't test out the ray tracing goodness, unfortunately. So if there any GPU companies or PR people that feel like being generous and would like to send me a nice shiny graphics card to test out. So I can experience the game how it was meant to be, with all the graphical bells and whistles. You can reach me at Gerard@koru-cottage.com …
OK, back to the game.
Traversing New York as the web-slinging crime fighter is just as enjoyable on PC as it was when I played the game on my PlayStation 5. While I could have used mouse and keyboard, it just felt more comfortable using a PS5 Dualsense controller. With Spider-Man, developer Insomniac have really nailed the sensation of skimming between buildings by a web strand and it's probably on par with the excellent swinging mechanic found in Activision's Spider-man for the Nintendo GameCube.
According to FRAPs, doing fairly pedestrian tasks like wandering around Doctor Octavius' laboratory delivered frame rates in the high 90s, while in combat and general game play frame rates tended to hover close to 60 frames per second, dropping to the mid-50s at times. The lowest I saw the frame drop was mid 30s but only for a few moments. I experienced the odd stutter from time to time while web-swinging but nothing that affected enjoyment.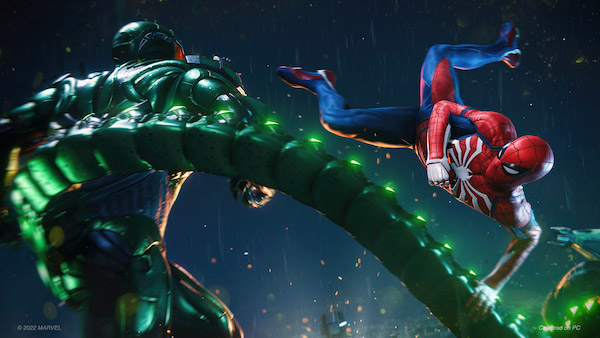 AMD's own Adrenalin software monitoring program advised an average frame rate of 58.1 frames per second (using the latest 22.5.1 drivers.)
Not content with that I also monitored performance with Xbox's PC game bar, which saw GPU usage dropping to as low as 27% during less strenuous moments, going all the way up to 100% utilisation during heavy combat (and the GPU's fans sounded like they were working hard, too)I. The CPU was clocking in at around 4.10Ghz most of the time.
Same Spidey, different platform.
There's no new content here just for PC: This is the same game that console players got to enjoy a couple of years ago and if you're a completionist there is a shitload of collectibles and side tasks to keep you busy while you're not giving the smack down to crime syndicates and bad guys (backpacks, missing pigeons, photos at landmarks, science laboratories).
You can probably tell by now that in my humble opinion this is an absolutely brilliant port of an absolutely brilliant PlayStation game. Along with the Batman Arkham series, this could quite possibly be one of the best superhero video games of all time and despite having played this before on PS5, I enjoyed the chance to play through it again.
Once again, Nixxes has shown it is masters of its craft and the fact that more PC players can now play some of the best games from PlayStation consoles is nothing but good for the industry.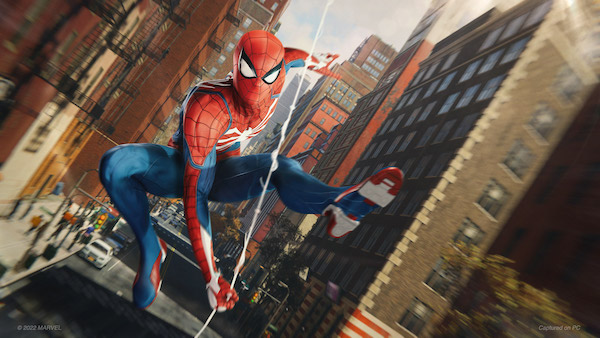 Probably the only thing I want to know from Insomniac, Nixxes & PlayStation right now is how long do we PC players have to wait to see Spider-Man Miles Morales on PC as I need as much advance notice as possible to ensure I have a new GPU that can trace all them sweet, sweet rays …
A big thank you to PlayStation NZ for the early review copy of Spider-Man Remastered. At time of writing this review I had put 30 hours into the game, completed around 70% of the main story, done several side missions and collected multiple backpacks.