I'm not sure how Xbox – Lynx came about, probably one marketing person talking to another, maybe they wanted to do something about influencers smelling of Bullshit, maybe it was because Gamers alledgely smell of teenage stockpiles stashed under their beds.
Also, it's been around for well over a month, but sometimes when the PR guys decide not to send you something to review, you have to buy it yourself if you really want to try it out. This is just as true for games and hardware as it is for grooming products.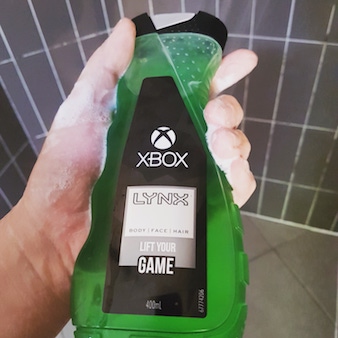 So here we are, a week after I spent $12 in Coles to try out the Xbox flavour Lynx and to see if it really did lift my game.
But, how does it smell?
It looks the part, I mean it's been spat out by the Lynx machine so why shouldn't it? It also looks suitably green, which traditionally screams XBOX! The key is the smell really isn't it and it's, well, fresh. The shower gel has a light and zingy scent, nothing to shout about. It won't cause strangers to follow you home. Be honest, there are worse things on the shelf at Coles. Having tried a few variants of Lynx over the years, it's probably been around the block before, like how certain flavours of chips get rehashed as something else.
The Deodorant has a refreshingly similar take, however it just doesn't have the staying power. In comparison to my usual solid stick, (which has a ship on the bottle) is still fragrantly with me at the end of a long day. The Xbox – Lynx spray needs re-application. Also, when used in conjunction both products feel a little bit too much of the same thing.
Does it have the 'desire' effect?
Overall, it has been a neat little spike for exposure on both brands, has it won over consumers? Probably not. Has it won over the Influencers, streamers and gang that gushed over their care packages? Well, let's file that under Anthem shall we?
And I still really don't understand the why.