SteelSeries Arctis Nova 1, Review
The SteelSeries "Arctis" Range has undergone a face-lift in 2022. I was lucky enough to spend some time with the Nova Pro X in July, and they seriously impressed. I now have got my hands on SteelSeries entry level Arctis model, the Nova 1, to hear how they perform.
First impression is the similar design and cosmetics to the top of the line Nova Pros. The Nova 1 look almost identical. The adjustable headband system, the soft mesh earcups and hide-away mic all look identical to their $500 big brother. Which is really impressive. Sure, the odd bit of trim is plastic, not steel on this cheaper model, but nothing that is too offensive when compared to other headsets in the $120-ish price bracket. The supplied 3.5mm cable though, seems like an afterthought. Flimsy and plastic. A braided cable should be the minimum for any headset over $100.
Good functionality in a modest package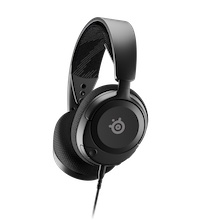 The controls and connectivity are functional, with nothing to write home about. A 3.5mm jack, a volume wheel and a mic mute button. That's it. My only real gripe would be the side of the volume wheel is too small and is hard to find for those spur of the moment adjustments. A massive plus though is the mic itself, particularly how it hides away flush to the left cans surround. It is a beautiful bit of design and changes these gaming headphones into a set of cans which can go on the bus, on the plane or too the gym without so much as a second glance.
The mics audio quality is also to be commended. I found it to be crisp and easily on par with any other sub-$200 headsets I have used in recent years. It boasts noise cancellation, a relatively unique feature when compared to other headsets in the same price bracket. The all-important audio quality of the headsets is good too. This is a subjective topic, what sounds good vs bad. But for me, the Arctis Nova 1 were perfectly fine. I am using a pair of wired Sennheiser GSP 602s as my go-too at the moment. And I found the Nova 1s to be far from jarring when swapping between the two. The Novas lacked a little bit of bass or "impact" with explosions etc… but overall the audio quality was very close to my GSP 602s, which is impressive at this price point.
Arctis Nova 1 in Summary
The Nova 1s work with everything and anything with a 3.5mm jack. Unlike my GSP 602s, they look classy and clean with no grills, RGB lights or the massive ear cups many companies seem obsessed with now. The Arctis Nova 1 are understated, well made and importantly will fit into any environment. They sound great with music, movies and games. Simply put, for the money there is probably nothing better around at the moment.