Call of Duty MWII, review
It's CoD time again, and with Call of Duty MWII this year that's not a bad thing.
Infinity Ward return to the 2019 reboot from the late PS4 cycle, continuing the story they left off. With a familiar roster of characters and the less grizzled, but still legendary Captain Price front and centre.
Without beating around the bush in a Ghillie suit, this is one of the best Call of Duty campaigns I've played in a while. To be honest. I never played Vanguard in 2021, while I enjoyed BlackOps in 2020 the retro style of game was ultimately forgettable.
Call of Duty MWII harnesses the power of the Series X and PS5, graphically the games are stunning. Environments, effects, lighting set the scene and the moment to moment gameplay keeps pushing you on.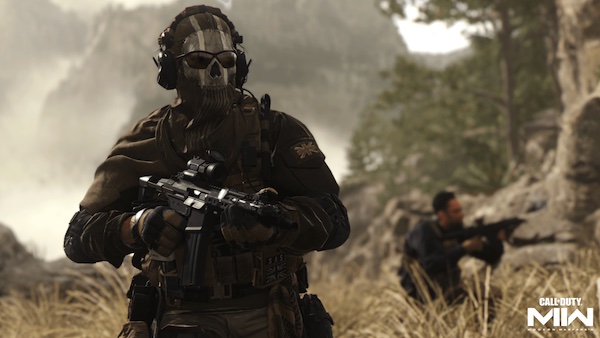 How Call of Duty is MWII?
There are some glaring and thankful omissions, you don't have to run any silly gauntlets through a shooting gallery. Something that has always pained me, in fact the closest you get to the old on-rails escape is a road chase.
This level has a painfully lame mid-section with you, (Soap) jumping from truck to truck, taking out threats and chasing to the front of a convoy. That said the beginning is spectacular and the end pivots into a nice firefight, so it's not all bad.
With the truck section being the weakest point there is a lot to love. Some classic Call of Duty environments come into play. Assaulting an Oil Rig, rappelling down a skyscraper, battling through a prison and fighting across a container ship. Only this time the containers are sliding around, which is incidentally inspired.
The game is not afraid to break away from standard FPS gunplay. Deftly dropping into a stealthy section using security cameras to break into prison. Add a couple of levels where you end up unarmed and alone. Relying on crafting to make up weapons and gadgets from a limited skill wheel. There's a returning favourite too, raining death from 30,000ft in an AC130. Not forgetting a very nice reminder of "All Ghillied Up" – if you know, you know.
These distractions break up the flow of gameplay and do give you a respite when needed, they also feel natural without being obviously forced on you.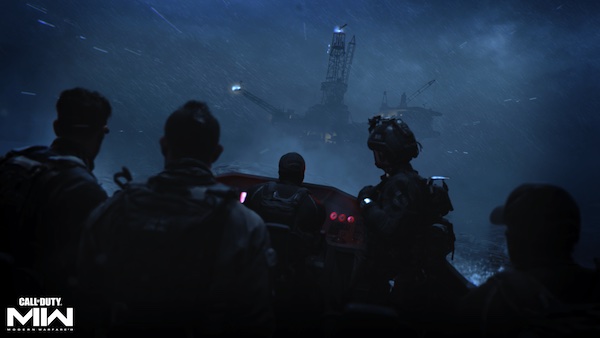 More Globetrotting than The Amazing Race.
The narrative leaps all over the globe as expected and anybody that has played the original imagining of the Modern Warfare games won't be overly surprised by the twists. Besides, it stands the test of time that being boots on the ground alongside Soap, Ghost and Captain Price is a pleasure.
What about Gaz?
Oh, yes, there are a few other returning characters, but you know the drill.
The online game is as fast as ever, quick lobby turnarounds and a decent filter system to make sure you get the game of choice. It's easy to get lost in the moment and find yourself the wrong side of midnight thanks to "one more map".
Levelling up progresses nicely and experience can be picked up at a healthy pace. The weapon modifications are easily accessible and there are plenty of options, as long as you've unlocked them. Dipping into the the very Ubisoft-esq "Gunsmith" between rounds to tinker, you can even customise weights on certain attachments. Which can have an immediate affect on your style of play.
Perks are ever present, the Rock Paper Scissors system still full of favourites, along with time earnt perks or buffs that add to the mix. It's easy to settle on a custom load-out that you rely on, but its worth experimenting with options. Certain maps play better with close of mid range load-outs.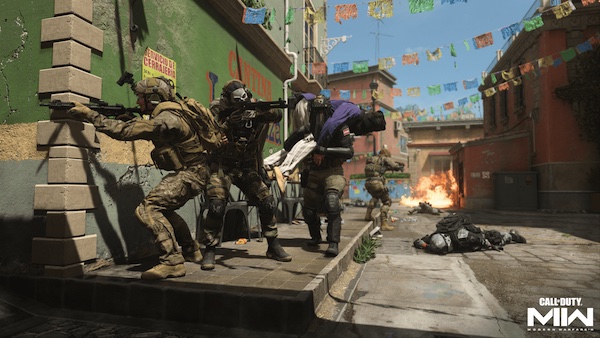 Maps you love, Maps you hate and the joyful community
As for the maps, there will always be maps you love or hate. One of the most divisive is a border crossing packed full of cars. Apart from sprinting knife or shotgun nutters, once you get over hating it the map can reap rewards.
The Ground War mode is worth a mention for big team battles, it harks back to good Battlefield in some ways. There are also Moshpit modes with third person views, but I probably won't dive in. What can be fun are the Spec-Ops missions and a notable mention to the Hostage Rescue multiplayer too.
The Call of Duty MWII community does not let us down either, even though you have to read and accept three good behaviour promises before launching. There's nothing stopping the screeching, swearing, mouth breathing teenagers that know all sorts of things about your Mom. Best desserts are served with a claymore.
Overall, don't believe the tired naysayers, this is a great campaign and rock solid multiplayer. Infinity Ward know what they're doing in this space and I'm happy to take a couple of years off the next Call of Duty until they bring MWIII.