Doom: Eternal – The Ancient Gods Pt2 – Review
Doom: Eternal's stunning balance of strategy and aggression won it a place on the much coveted "Guys Top 3 Games of 2020" list. Now, Doom: Eternal The Ancient Gods: Pt2 has dropped and I have happily descended back into the depths of DLC Hell to shoot some demons in the face.
Picking up from the cliff-hanger at the end of Ancient Gods: part 1. Doom-Guys doppelganger is the 'champion of hell' and needs to be dealt with. As I said in my original review and my part 1 DLC write-up. Doom Eternal does not have a story worth worrying about. Take it as read, it's about Heaven vs Hell, demons and monsters….. and its honestly nonsensical shite, and not the reason we play Doom. That said, the final cut-scene of this DLC was very satisfying and puts a nice bow on your Doom journey that began in 2016.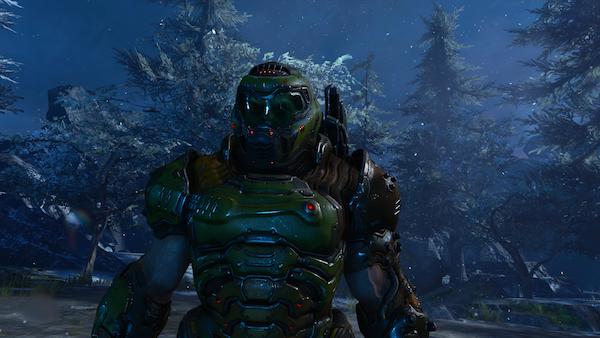 But, why do we play Doom: Eternal Bruce?
The real reason to play Doom are the tried and true mechanics of Doom: Eternal. Frenetic combat, glory kills and the push/pull of near death ammo and health pick-ups. Part 2 has added the massive Sentinel Hammer to the Doom-Slayers arsenal. The Hammer is a ground-pound area of effect attack, stunning enemies and causes a shower of ammunition to drop. To be frank though, the Hammer made little difference to my combat methodology and I often forgot to use it.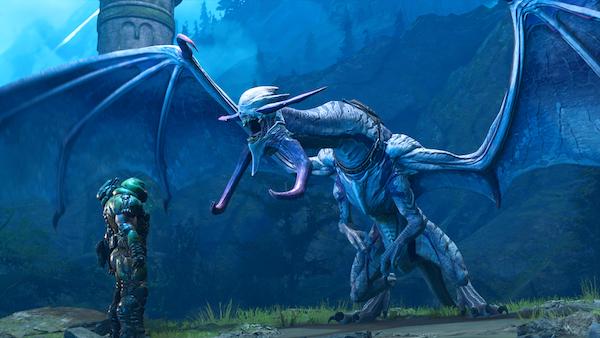 Part 2 features a few new enemy types. Really though, ID Software have just tweaked some of the existing demon types. They powered up the Imp to a 'Stone Imp'. Who now attacks with an unstoppable rolling attack. The 'Armoured Baron', now has power-armour that needs to be shocked-off with the Plasma Rifle, before damage can be done. The Screecher Zombie was cool. Zombies are usually just fodder, but the Screecher if killed, buffs surrounding enemies and sends them into a frenzy. Chaotic fun and strategy all at the same time….pure Doom.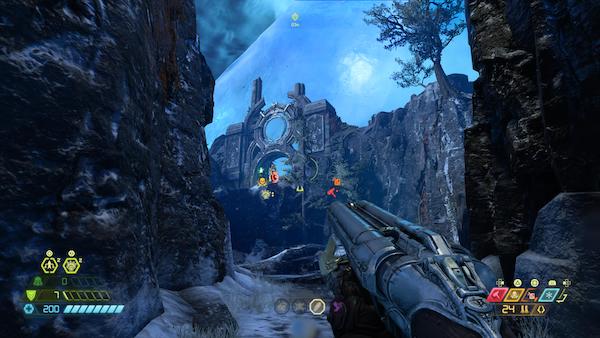 Two sides of the Doom: Eternal – Ancient Gods Pt2 coin
All settings being equal, the combat encounters in general didn't feel as challenging compared to the main game or those of part 1. Maybe it's because I have played A LOT of Doom in recent months, but for some reason the combat arenas felt less impressive or chaotic. Certainly the painful final boss fight felt repetitive and a bit cheap. The platforming sections still featured, but thankfully to a much lesser extent, which was great. The addition of the situation specific grappling ability on the shotgun-meathook was noted. But its implementation is far from revolutionary.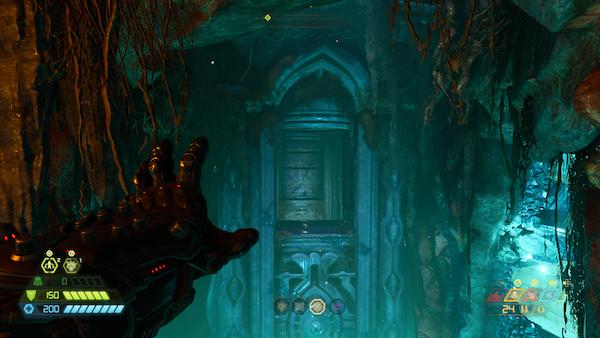 Its hard to put my finger on. I think when a studio totally nails a game out of the gates, as ID did with Doom: Eternal, finding new ways to spruce it up is going to be tough. It's hard to improve on perfection, as they say. I just didn't enjoy part 2 as much as I did the main game or part 1.
Don't get me wrong though. Doom: Eternals new DLC is beautiful, 60fps-fun and is still an example of master-class shooter design.