F1 Manager 23 (via Xbox Gamepass)
Like all the other management video games, F1 Manager 23 puts you in the shoes of a team principal vying for world championship glory. While dealing with all the shit that comes with managing a high-profile racing team.
Coming from developer Frontier, F1 Manager 23 builds on the first entry from last year and from first glance looks remarkably similar to last year's debut – but that's not a bad thing as things like menus are well laid out and clear.
This time, I decided I'd put on the no doubt expensive shoes of Mercede's team principal and owner Toto Wolff, a team I have followed for some time, through its highs and lows (this year), much of it because of Lewis Hamilton. I even wore my replica Mercedes F1 team shirt while I wrote some of this review.
The Helicopter view.
Gamers thinking they'll be racing the cars in F1 Manager will be in for a huge shock. This is not EA's F1 23 or Assetto Competizione – this game sees you managing the fine details of running a F1 in a year-long championship season. The racing is only the end result.
Being a team principal (most of the time) is not as glamorous as being a driver, and F1 Manager highlights that: You have to manage sponsors high expectations and team goals and stay within the yearly cost cap. While keeping your two drivers happy, ensuring enough money is spent on research and development of the car and the factor and, most importantly, keeping the team profitable and performing.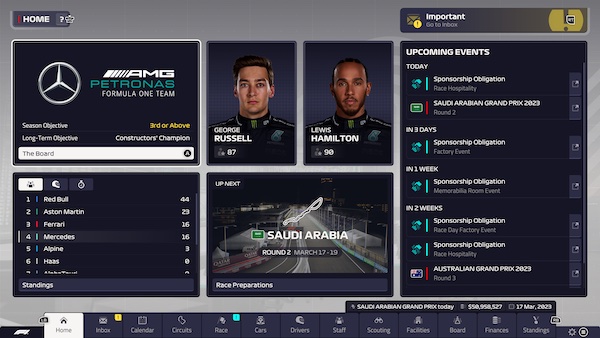 If you're a fan of minute detail then F1 Manager 23 will be right up your wheelhouse, as there's a granular level of management, especially during races when you can set team tactics, manage performance and assess things on the fly.
While a lot of it is administration work in the lead up to the races, you do get to flex your muscles during races, leading the team through the free practices through to qualifying then finally the race. Of course, if you don't want to sit through the free practices, you can get the game (or your engineering team, rather) to simulate free practice and qualifying, although it's not as satisfying, to be honest.
F1 Manager 23 and getting trackside.
During the race, you'll have to manage the cars on-track performance, keeping an eye on tyre wear and engine temperatures, all the while managing the race strategy, knowing when to pit, and when to push aggressively or when to conserve energy for a late lap surge.
The game follows the real-life race season, with the first race in Bahrain. I managed to get Lewis Hamilton a P5 finish, while team mate George Russell managed a close 7th – which, funnily enough, was the same positions they finished in the actual real race in March this year. In the second race of the season, Saudi Arabia, we managed P7 (Hamilton and fastest lap) and P8 (Russell). Who said I couldn't be a team principal?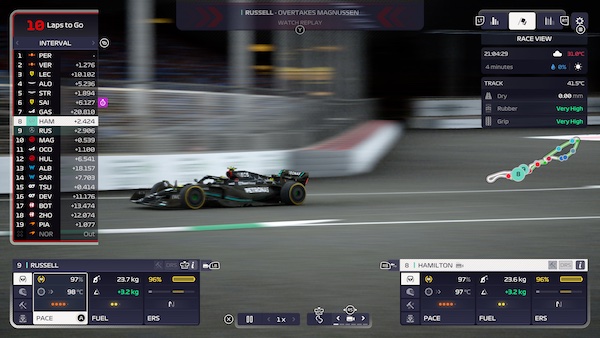 Races are not a simple of case of setting and forgetting, you'll need to swap between multiple tabs to keep an eye on everything from tyre temperatures, rubber wear, fuel management, ERS deployment, and unpredictable weather. It's actually quite complex and is accessible enough for casual F1 fans who want to dip their toes into the management sim genre but also for hardcore F1 fans who want to delve as deep as they can.
You can speed up the race and it'll highlight key moments and you can use the in game camera to view proceedings from a variety of angles, including the driver's eye view. A new feature for this year's edition is the Race Replay which lets players to control a team during a real-world race scenario.
The view from the podium.
Graphically, F1 Manager 23 is a little janky in places, and character and driver's faces still have that unnatural look about them. During races, cars sometimes act as if they're on rails, often pulling janky overtaking moves, but commentary provided by David Croft and Karun Chandhok brings an air authenticity.
F1 Manager 23 isn't revolutionary but it builds on the foundations created by F1 Manager 22 and if you're a fan of F1 and management sims who wants to channel their inner Guenther Steiner, Fred Vasseur or James Vowles, then this could be the one that gets your motor running.