FitBit: Charge 4 – Review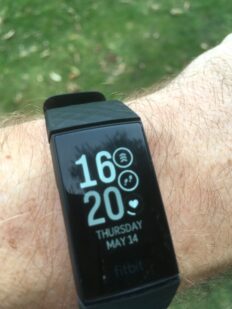 For the past week I have swapped out my trusty time piece for the brand new FitBit Charge 4. My "wrist real estate" is a valuable commodity in 2020. If I'm going to stick something on the all important none-master-side wrist, it better be worth my while. This impressive little GPS Fitness Tracker, has managed to punch its way into the Smart Watch space.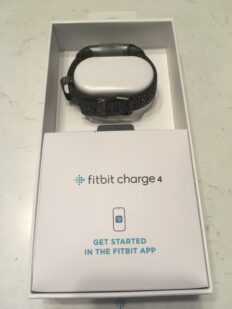 The actual nuts and bolts are like this. The FitBit: Charge 4 is a compact fitness tracker that will monitor a myriad of fitness data points. Including heart rate, steps, distance traveled, sleep patterns, minutes in various cardio zones… and more. This functionality goes hand in hand with the Smart Phone App, needed to analyse the data. Combined they give clear picture of how training in progressing over a week.
All about the energies and battery life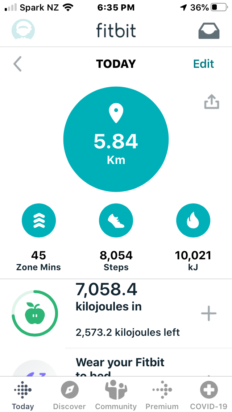 With some other manual inputs into the App, like food intake. I even had an accurate picture of my Caloric intake versus energy burnt. It was fascinating. The other all important feature to highlight is the advertised 5-7days battery life. I can attest that the advertising is for once true! Obviously using GPS chews through the power, but even with a few runs during the week, I got 5+ days out of a 100% charge.
As far as the watch-face UI goes, I was surprised how much I could get out of its '1.5cm by 3cm' touch screen. Aside from the usual watch features like time, alarm, stopwatch etc…this wee tracker, when paired with my iPhone, let me read my TxTs, get reminder notifications, weather reports, various workout programs. Plus a wireless payment system and even Spotify remote control. Mental from something so small. It was a bit fiddley to start with, but became second nature after a day or so of use.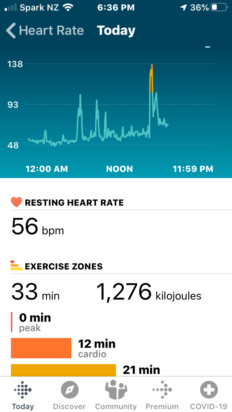 No phone required!
This all said, none of these afore mentioned features are unheard of in other $250NZD bracket, fitness trackers. In fact, there is no shortage of affordable, compact, sleek fitness trackers on the market. However, the major feature the Charge 4 boasts over others is built-in GPS tracking. No phone required!
When I went for a run, there was no need to cart the phone along to track my progress. I went on many long distance runs and when I got home, my run data was there to be analysed. With 'heat maps' of my cardio zones, my speed and even my per/km pace. I found it really impressive. (Sub 5min Kms or bust!!)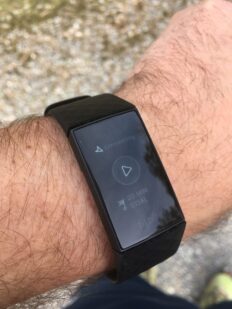 This level of tracking combined with the FitBit Apps personalised and customisable goal setting, meant that over the first couple of days I set myself some daily/weekly targets. I focused on the amount of minutes my heart rate needed to be in 'The Zone', how many Kilo-joules I had to burn and how many 'steps' my day should include. As I ticked these goals off, the Charge 4 would buzz and display a cool graphic, giving me a wee pat on the back. I did not expect to enjoy it as much as I did. That said, as a Gamer maybe I shouldn't be surprised.
Not all lollipops and Unicorns
If I had to lay a complaint at the feet of FitBit, for me, a newcomer to the brand and platform. It would be the lack of clear instructions on where certain options and setup features are controlled from. For example, I work in Law Enforcement and live by the 24hr clock. For the life of me, I could not find where to change the watch time to display 24hr!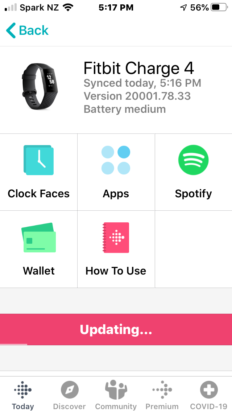 It was not in the watch settings and not in the App… so. I turned to Reddit and found I had to create a FitBit.com account in the desktop website and change it in there. Really!? There were a few weird little problems like this that required a google search to find the answer. The features and options are impressive, but there isn't one set place to go to and change them. It is spread across the FitBit platform and is not that super friendly to use.
Overall. I am sold on the FitBit: Charge 4
As a gamer and stats nerd, I have loved digging into my workouts. For both my HIIT sessions and cross country runs, seeing what my body has been doing and how close my goal is has gamer-fide my fitness. (Achievement Unlocked)
Having accurate GPS tracking in such a compact device kinda blows my mind and any budding fitness freak out there, who wants smartphone-lite functionality without the heft and price needs to get the FitBit Charge 4.
Thanks to FitBit for the review item to trial, any questions feel free to ask me @nzBrowncoat on Twitter.