Intel i5-10600K CPU review: The heart of a new PC build
While it's true that much of my video gaming these days is on on either my Xbox Series X or my PlayStation 5, I'm still a proud card carrying members of the PC Master Race and truth be told, I started my gaming on the venerable ZX81 way back in the dark ages of personal computing.
Recently, Intel Australia/New Zealand got in touch and offered me the chance to test out its 10th Generation i5-10600K CPU – and I jumped at the chance.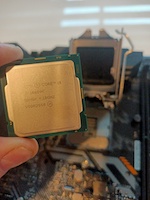 I was keen to have the chance to re-build my PC with a newer generation CPU & see how Intel's 10th Gen chip compares to the 8th Gen i5 8400 that I had been using for the past four years of so. A big thanks to Intel Australia/New Zealand for the opportunity.
The Origin Story
For this new build, I was going to need to purchase a new motherboard for the i5-10600K as the Asus B365M-K motherboard that houses the 8400 doesn't support Intel's new LGA1200 socket form factor (the 8400 is the LGA1151 form factor).
So being the person that I am, I spent days investigating the cons and pros of a variety of motherboard chipsets that would work with the i5-10600K and eventually settled on an Asus TUF Gaming Z490-plus wi-fi motherboard from New Zealand retailer Computer Lounge.
The Asus board seemed to rank favourably with the review sites I follow and I've long been a fan of Asus' motherboards as I've found they're generally constructed well and offer great features for the price. I mean, the board even came with a certificate of reliability from Asus. Verifying that it had passed a variety of reliability tests that included vibration, mechanical shock, thermal shock and solderability tests on the motherboard's capacitors and chokes (whatever they are!).
The TUF Gaming Z490 looked just the thing that I needed but I'd be lying if it said it was easy finding a Z4890 mother board: Most retailers were either sold out, didn't stock Z490 boards any more or were leaning towards the newer chipset for Intel's 11th Generation CPUs.
The Set-Up
OK, let's talk about the heart of the build: The CPU for a moment. Intel's i5-10600K is part of the company's Comet Lake CPU line up which was released around a year ago and is a 6-core, 12-thread CPU running at 4.1Ghz. It has a maximum clock speed of 4.5Ghz but apparently can be overclocked quite easily to 5.0Ghz. I don't plan to overclock – at least not at this stage anyway.
So, with the i5-10600K ready to go and the Asus Z490 motherboard having arrived safely, it was time for the re-build to commence.
Apart for the new CPU and motherboard, all the other components were straight transplants from my old PCz; The SSD (which had the Windows 10 Pro OS installz0, the HDD (I haven't got around to getting an M.2 drive yet), two sticks of PNY's 8Gb RGB RAM and my dependable but ageing Sapphire RX580 GPU.
I was ready to begin, optimistic that I'd be done and dusted before I knew it. Oh, how wrong I was.
Remember earlier in this piece I mentioned how I was no stranger to building PCs? Well, I have to say that this was probably the most problematic build I've ever done. Installing the i5-10600K onto the motherboard was easy and painless part: It was a piece of cake, as was installing Cooler Master H410R air cooler (it too came from my old PC and luckily for me, supported the newer LGA1200 socket mounting holes).
I forgot to take into account was that I was moving from an microATX motherboard to a full sized ATX board, too, so I meant I had to pay closer attention to cable routing and the like.
The issues that I had were fairly and squarely on me: I had to remove the motherboard a couple of times after securing it as I'd managed to trap cables between it and the case chassis or I'd not done a case standoff tight enough.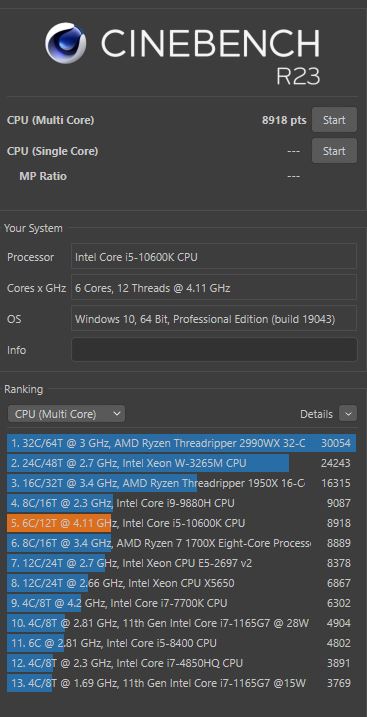 I also had issues with the cheap RGB controller that came with my Montech case. The four case fans (three at the front, one at the rear) are all daisy chained off molex connectors and I'd somehow managed to get things tangled (and I also managed to connect the power connector to the wrong header on the motherboard).
Cable management was a mess, quite frankly, and one point only three fans were going, then two, then the RGB lighting on all four fans went then they didn't. Sadly, though, because I'd connected the power connector to the wrong motherboard header it shorted out the shitty RGB controller, causing it to smoke. I did the only thing I could: I removed the controller and disabled the RGB cables, securing them out of place. I'm just pleased I didn't manage to do any damage to the brand new motherboard.
Once I'd re-built my PC, I had, ahem, POST (Power On Self-Test) issues, memory seating issues and boot issues – but I won't bore you with that. The important thing is that my PC is all up and running again, computing along with the Intel i5-10600K – which is proving a significantly better performer than the 8400 it replaced, touted by many as a great CPU choice for gamers. Good job I'm a gamer, then, right?
The Payoff
I tested the CPU using Geekbench, CPU-Z, Realbench and Maxon's Cinebench R23 benchmarking tools.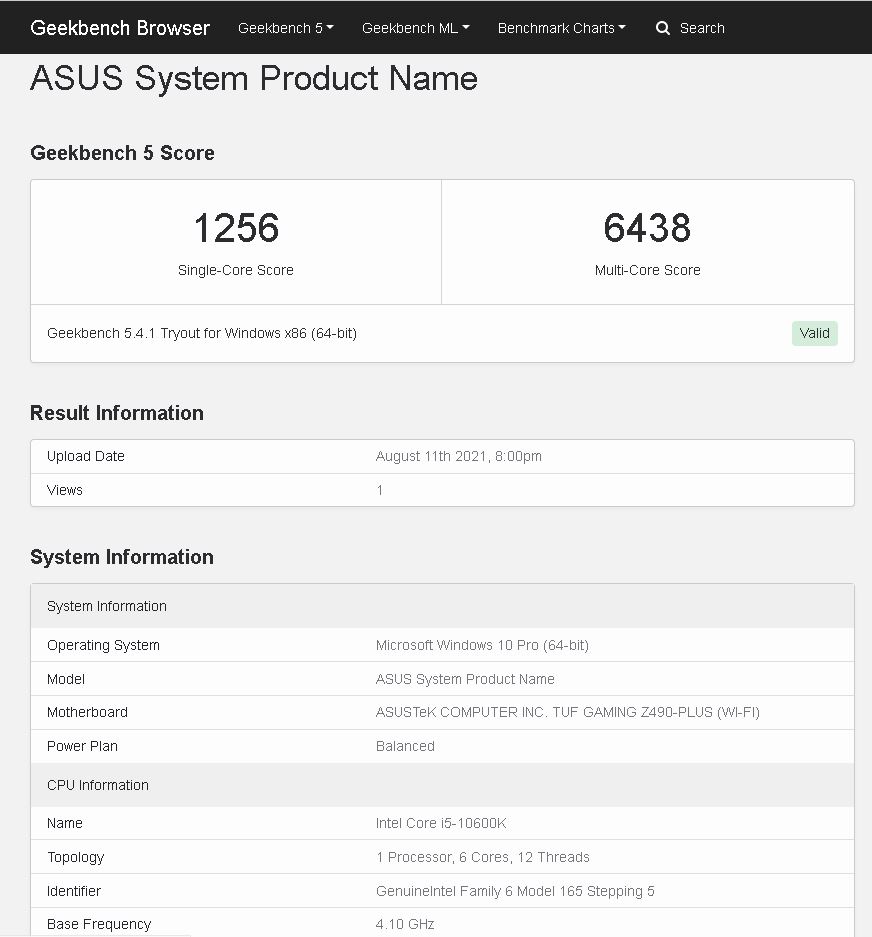 Using Cinebench, I tested both the 10600K and 8400 on core performance. The 8400 returned a single core reading of 4802 (I forgot to do a multi-core test before swapping out CPUs) and the 10600K returned scores of1253 (single-core) and 8918 (multi-core).
Geekbench returned a score of 1256 (single-core) and 6483 (multi-core). CPU-Z returned scores of 513.7 (single thread) and 3813 (multi-thread) for the 10600K.
Realbench tests image editing, H.264 video encoding speeds, OpenCL and heavy multitasking and delivered a score of 145,369.
To be honest, I have no idea what any of these numbers mean in terms of whether a CPU is good or not but in general world PC usage, the Intel i5-10600K performed remarkably well and faster than my previous 8th Generation i5 8400 did so I'm extremely happy.
So, that's it for this build post. In a future post, I'll test the 10600K's gaming performance.
A huge thanks to Intel Australia/New Zealand for the test i5-10600K CPU.