Norton 360 Premium Lifelock, review
Anti-virus software is one of things that's a little bit like house and contents insurance:
You don't feel you need it so you wonder why you're paying the premiums. But something when goes wrong,  you're really glad you had it.
When it comes to anti-virus software, I've gone down the free route in the past. AVG, Avast, Karpersky, that sort of thing, which offer basic protection. Without the bells and whistles of the premium products like McAfee or Norton, which is what we're reviewing here.
Norton 360 Premium Lifelock offers real-time threat protection, a secure VPN, a password manager, parental controls, 100Gb of cloud-based storage and safe cam. Which blocks unauthorised webcam access to your PC. It's subscription-based software, which means you'll have to pay every year for it to keep offering protection. But it does lets you install the software on up to five devices, such as a smartphones and tablets.
Let's crack on, shall we?
The review software was redeemed via a download code and once installed, setup was super simple. Setting up the cloud storage, VPN and password manager were simple enough.
I first wanted to test out the VPN (Virtual Private Network) – and I can report it works extremely well, and actually works better than VPN I have paid a three-year subscription for (I'm now regretting that decision).
I tested Norton's VPN on streaming services ie Netflix and was able to view content in Canada, the United States and Britain. Sadly, a VPN only highlights further how poorly the content on the NZ Netflix is. A VPN is also a great security option for when you're using public wifi but given the current lockdown status in NZ. I was unable to get out to public spaces like libraries and hospitals to test it out!!
The password manager lets you enter usernames and passwords of commonly visited sites (meaning you don't need to remember them or write them down on a piece of paper). Then it generates a secure password, and the parental controls lets you monitor and manage the online activity of children up to the age of 17.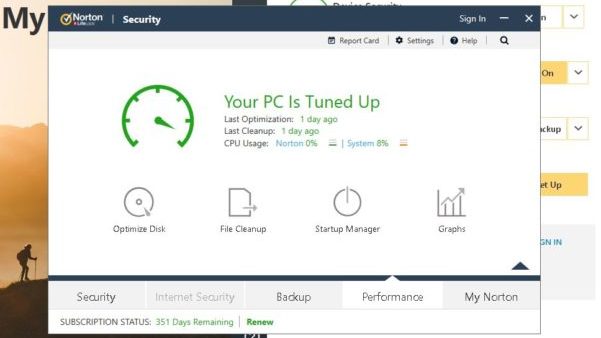 The deep settings menu in the main UI is pretty impressive
Letting you customise the antivirus, firewall, spam, back-up settings and even control your webcam settings. Dig deeper and there are a huge amount of options to tweak to get the level of protection that suits you. You can also optimise installed HDDs, control which programs boot up on start up and clean unwanted files from your PC. It's a pretty comprehensive package.
Browsing can be made more secure by installing browser extensions like Norton Safe Search, which show you which sites have good safety ratings and which have bad ones. Plus Norton Safe Web, which says it will help protect your online banking sites and protect you from risky downloads. As well as identify risky links in social media sites like Twitter and Facebook. I could have also installed Norton's home page, which would have made it my default home page  but I chose to stick with Google as my home page.
Testing out Safe Web and Safe Search
I tested out the banking protection mode and while I like the idea behind it. I was confronted by numerous Captcha tests (which I seemed to fail often). You know the ones: "Select every tile that has a hydrant in it" or "Select every tile that has a bus in it.".  Look, Norton's banking protection might be brilliant, but having to navigate through Captcha tests to set it up put me off using that feature. So I disabled it.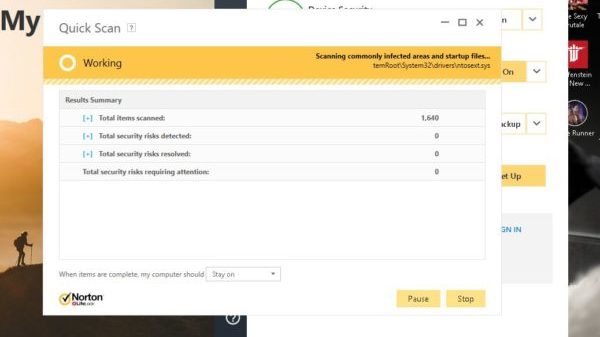 I warmed more to the Safe Web security. Which puts a green check (tick) mark next to safe websites from a Google search. Hover your mouse cursor over the check mark and it reports whether the website is safe, untested or unsafe and lets you know how many threats were identified on the page. It's good to have in this age of dodgy dealings and online arseholes.
However, I came across one issue with it: It considered the email program that I use to contact the esteemed editor of this site as a dangerous website. Blocking access, even when I clicked "continue", meaning I couldn't send emails from it.  Frustrating to say the least but you can manage the extensions permissions to check specific sites, if you want.
Overall, I liked the protection Norton 360 Premium Lifelock gave me, despite a few annoyances
The anti-virus protection is top-notch and pricing starts from $NZ40 a year for one device (with 2Gb of online storage). Right up to $NZ125 for five devices (offering 100Gb of online storage), which seems pretty reasonable.
Worth it if you want to protect several devices with more than the free versions have to offer.