ROG Strix G16, Gaming Laptop Review
ROG Strix G16 is a mouthful, isn't it?
I'm not a PC gamer by any means, apart from some Mac based Football Manager or CM 97/98 in Dosbox. The last gaming PC I bought would have been back around 1998, it was a pentium something and came with a CRT screen so big I could barely get it through a door. The sound card never worked and after a few months it was relegated to Roller Coaster Tycoon and Champo, because I couldn't be arsed to upgrade it.
Thanks to our friends at Asus, I got the chance to see what twenty odd years of R&D had done for gaming on a PC.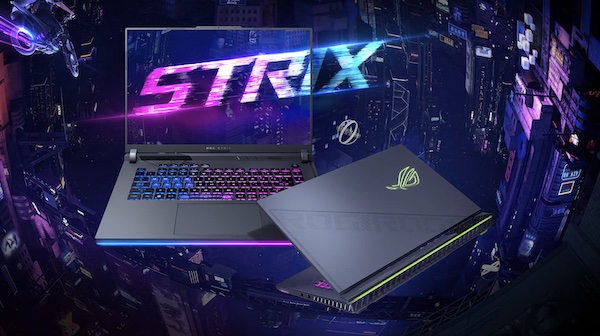 First impressions of the ROG strix G16
Out of the box the laptop feels quality, the packaging is smart and the unit is nicely weighty. As somebody that knows nothing about tech specs or cares little about frames per second we'll focus on the user experience.
It's sexy. The shell is smooth to touch and the super flat keyboard feels light and responsive to type on. Of course, once the unit is fired up, those keys take on an RGB backlight life of their own.
The screen is HD bright and HD sharp, even at 16 inches, it feels bigger. Being used to gaming on big screen televisions for the last few years it absolutely feels different, there is often a flatness to PC images, but the ROG Strix G16 does a greta job of throwing things around on screen. Again, I used to having my experience relatively out of the box, so digging around in setting for graphics and colours isn't trial and error I have time for. Which is why I was very pleasantly surprised at how impressive the Strix looked on screen without trying.
Sound-wise the unit has a beefy output and for my reference is streets ahead of the Surface I use for work. The quality of the Dolby Atmos cuts through from the moment you first fire the unit up and the slab of the ROG splash screen. With Noise Cancelling and Virtual Surround on tap, you can get away without needing external microphones or headsets. That said my JBL 910s were just the job when I was playing in a busy household.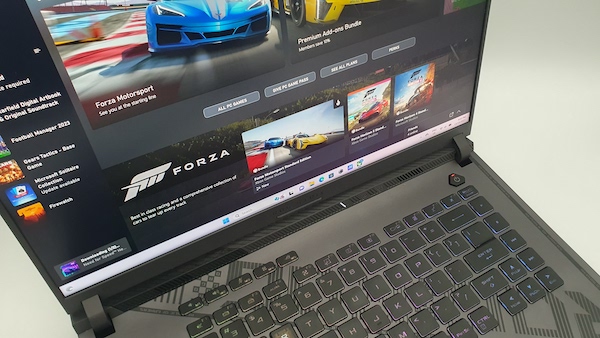 Performance
It's cool and quiet to say the least. One of the most impressive things for me was that it ran virtually silently, and even a couple of hours into Starfield it was still cool to touch. Considering the power that the ROG Strix G16 is using and the work that goes on inside, it will obviously handle long sessions with ease. Multiple fans and all round vents obviously make a difference when it comes to the health of your hardware.
I don't have the time or energy for in depth Benchmarking. What I can say though, is on battery the ROG strip G16 gave me about 2.5 hours before I had to plug it in. That was cranking Starfield too, with a couple of downloads in the background. So given the circumstances – not bad.
On a personal level, having a laptop right in front of me changed my own perspective. Motion was more of an issue, my old eyes struggled a bit more and the space between me and the screen felt, well, off. In the complete opposite to a handheld device, where you rely on a much closer focal point the laptop sits in that space between me and my TV.
Currently the G16 is discounted below its RRP of $2,699 AUD and that's a pretty good deal. The unit certainly offers value for money, but for the right end user. It would be a waste to use this hardware on work or studies, it's a gaming beast through and through. Although the nature of being a laptop means it becomes a fancy desktop that goes on occasional jaunts to the lounge or you are a streetwise gamer on the go.
It you have the purpose, the ROG Strix G16 certainly has the means. I cant see anybody being disappointed if they commit to picking one up.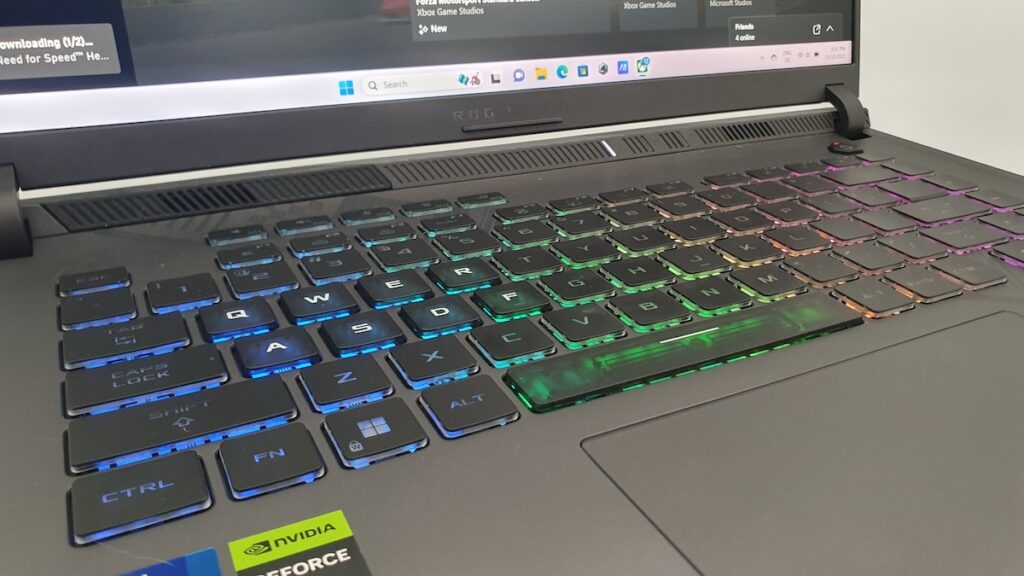 Summary
I'm a couch gamer, while the ROG Strix G16 is a beast, no mistake, its not going to convince me to swap out my consoles.
For me there will always be something more relaxing about kicking back on the sofa in front of a big TV. I appreciate the power that the ROG Strix G16 offers and would absolutely recommend it to any PC or Laptop gamer looking for a new unit. I just know that the portability is something I don't really need and my crabby old hands are so fixed on controllers these days, I'm long past being a king of WSAD and mouse games.
Basically, a great option if you're in the market for a gaming laptop and if that's you, if won't be a regret.