E-retailler Mighty Ape is a familiar name to many New Zealanders, especially in the gaming space. Now it's entered the telecommunications space, joining forces with One NZ (formerly Vodafone NZ) to offer a suite of pre-pay mobile offerings for New Zealand customers (sorry, Aussie chums, it's NZ only).
Promising unlimited data plans that don't include "throttling" the speeds, Mighty Mobile launched in August, with three unlimited pre-pay data plans which it calls Fast, Faster and – you guessed it – Fastest, which can be paid on either a monthly or annual basis. All three plans include unlimited standard calls and texts to New Zealand and Australia from within New Zealand. Overseas roaming is on the cards but it won't be offered until later this year.
Mighty's marketing says the Fast and Faster plans offer unlimited data at speeds of up to 10Mbps and 50Mbps respectively, while the Fastest plan has no mobile data cap. While they offered unlimited data, though, Mighty says contracts will have fair-use clauses and it uses One NZ's network.
Pricewise, the Fast plan will cost $40 a month, the Faster $50 a month and the Fastest $80. For the purposes of review, Mighty Ape supplied us with a SIM pre-loaded with one month on the Fastest plan.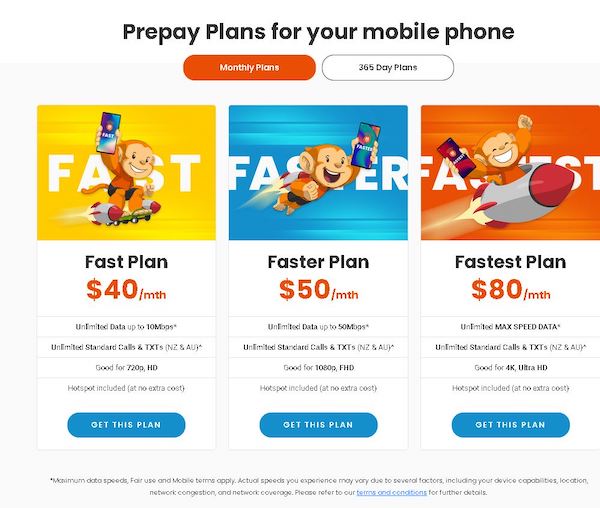 Set up Shenanigans
Set up was simple enough, although I ran into a slight hiccup when trying to delete my credit card details from my account as I didn't want to use the account post-review and be charged for a mobile service I wasn't going to use. After talking to Mighty Ape's helpful PR team, it seems that you need to have two forms of payment stored before you can delete one, meaning I was unable to delete my credit card details. I could turn off auto-renew but I couldn't actually delete my payment details.
This seems a little shortsighted of Mighty Ape and I hope they rectify this in the future, although it is the same model that streaming services like Disney + and Netflix use. A big shout out to the PR team and the support team at Mighty Ape, who moved heaven and earth to sort things for me: We got things sorted in the end.
Mighty Ape Mobile performance
Over the course of the past few weeks, I've used the Mighty Mobile plan mainly for web browsing, watching YouTube and making video calls. It performed faultlessly, with video calls stutter-free and no disconnections. I did several speed tests using Ookla Speed Test to test speeds over 5G (wi-fi turned off), returning results of 291Mbps down, 12.9Mbps up; 257Mbps down, 9.78Mbps up; 242Mbps & 6.57Mbps; and 248Mbps & 9.68Mbps. I was impressed with those speeds, especially given it was over mobile data from my home which has, from time to time, spotty mobile coverage from my usual telco.
The video calls, again done using mobile data only, were clear and trouble free, as was streaming digital content. I was again impressed with the quality on offer.
On the packaging the SIM comes in, Mighty Ape proclaims it's offering "NZ's mightiest pre-pay SIM" and while that's clearly a play on the Mighty Ape moniker, as far as mobile networks go it does what it says it does on the tin and having unlimited data in this age where content is digital and streamed and people are seemingly online 24/7 is hugely welcome.
To find out more about Mighty Mobile, visit www.mightymobile.co.nz