Sea of Thieves Review, Xbox One S
Now unless you have been stranded on a deserted island somewhere then you are bound to have heard of Sea of Thieves from Rare and Microsoft. It has been a long time since I have seen as much promotion and marketing go into a game title. Everything from large well advertised Alpha and Beta testing groups to Sea of Thieves hardware, including external hard drives, controllers, and stands. They really have thrown everything at this Xbox/Windows 10 Play Anywhere title, you would hope with a bottle of bubbly cracked across the bow, it would be a beautiful launch and plain sailing for our rum soaked mates at Rare…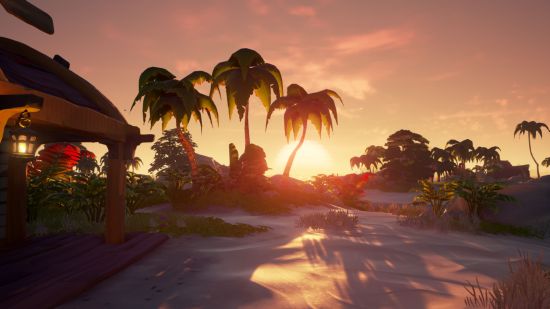 Unfortunately there were some pretty rough seas when the launch date arrived. Servers were overloaded, even after stress tests were carried out during the Beta phase. And because of this overloading many things began to fall over and, to date,  still haven't got up. There was delays in game when it came to receiving rewards, which considering the single gameplay reason is to amass gold didn't go down too well. And to top it off, Rare have disabled Achievements for the time being to reduce server load as well. It looks like Sea of Thieves could be heading for the rocks!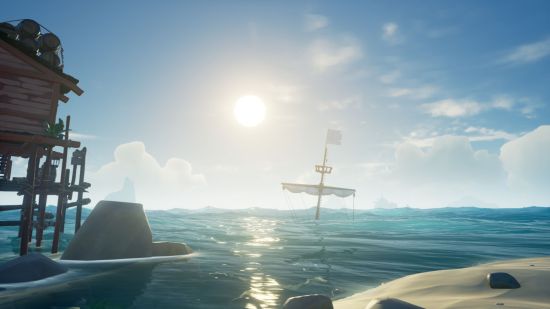 So you finally get into the game. And it is gorgeous! Water realistic enough to make you green, sunsets to make you stop and go ahhhhh, and wide open vistas of sandy beaches that will make you book a holiday in Fiji. Admittedly, it is a cartoon graphics style that some won't like but it is just fantastic to look at. And to set the mood for a bit of plunder, a great pirate sound track. You can even play your own ditty's with a couple of instrument's. You can feel the love that has gone into the visuals of Sea of Thieves But is it enough to keep you on the high seas or is the tavern going to be your fate?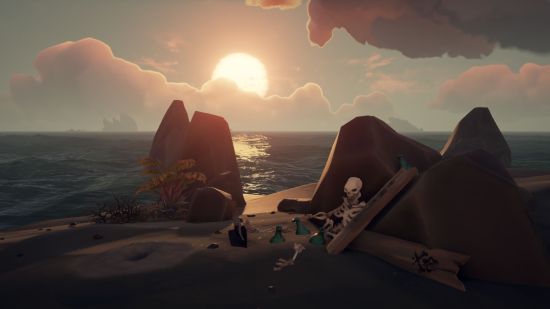 The life of a pirate is pretty much all about the booty, gold that is. And there is basically three ways to get it, buy treasure maps and find chests, take on bounties to raid skeleton strongholds, or collect items required by merchants. And that's the game. Unless of course you want to be a true pirate and then you can just hunt down other pirates and take their booty. First time this happened to me I got so wound up before realising that plundering others is what pirates do and is therefore a core part of the game. After all it is an online multiplayer game. Just make sure you have a crew to play with, solo play is just no fun at all.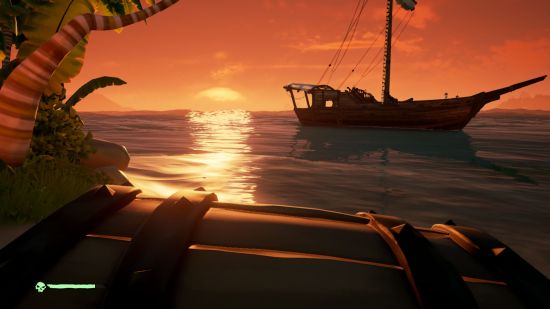 And there it is, Sea of Thieves biggest problem, there is just not enough to do. No story, no quests, no nothing. Just buy a map go to said location, dig, smash skeletons, or catch chickens, return to vendor. Rinse and repeat. All just to earn gold to buy cosmetic items for either your pirate or ship. And to top it all off, if you are alone then you have to take care of all the ships controls too. Sails, anchor, wheel, and also nip down stairs to check the map too. And if you do come under attack you can add repairs, bailing water, and firing the cannons to that as well.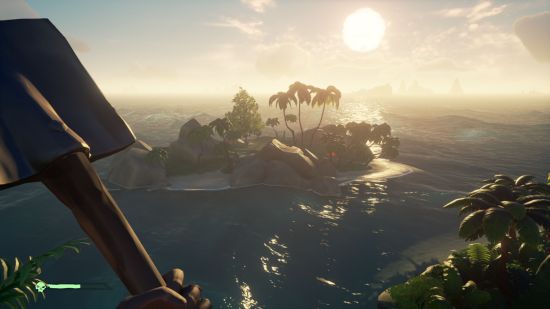 The potential is there, oh yes, the potential is huge! At the moment Sea of Thieves is a soulless, repetitive grind in an extremely pretty wrapper. Flesh it out with some variety, weekly missions, community raids, common enemies (you know, like the navies that actually hunted pirates), and even a decent solo campaign and Sea of Thieves could be unstoppable. Your initial play time will show this. It plays well, looks fantastic, and you just can't help but wonder what is in store for you. Unfortunately after a short amount of time this feeling will be crushed by the repetitive grind. Such a shame.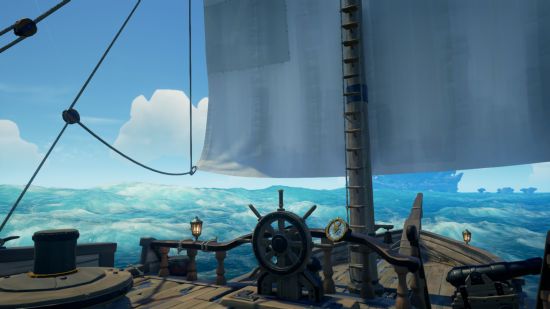 Closing Comments.
I was lucky enough to be on board with Sea of Thieves from the Alpha testing phase and have always seen the potential but was wondering how it was going to manifest itself. I guess I thought that Rare had plenty of good stuff up their sleeve for the actual release date. But no. It really is tearing me apart as to whether I like Sea of Thieves or not. I would recommend to people to hold off on any purchase, not only are there many fixes going on, and full credit to Rare for that.
I would hope that we will see a slew of new content in the near future. If not, Sea of Thieves may be destined to spend its days in Davy Jones' locker.