Gidday Team KC. I am giving big-ups to a Podcast which is dedicated to the 'troubled child' of the web, Bungies game- Destiny.
THIS WEEK it's Guardian Radio -Now, I love Destiny, but like much of the player base, I have moved onto other things for the time being. That said, Bungie is quietly…and slowly…working away on improvements. So, to keep up with the patches and changes, I still tune in every week to the Guardians to hear what the latest patches hold and where the 'meta' is going. If you are a Destiny fan who plans to return at some stage, these guys are still a fun listen.
As always, it flows both ways. Make sure you hit me up on Twitter @nzBrowncoat  or in the comments with your own favorite listens.
iTunes Blurb:
Broadcasting from The Tower since early 2013, Guardian Radio is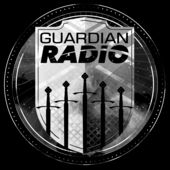 your source for Destiny news, tips, and chatter. Tune in to each episode and join Mark, Byf, Belle, KDub, and MesaSean as they breakdown Bungie's ambitious shared world shooter. Feel free to contact us and join in on the conversation. GUARDIANS! Embrace your Destiny!