The Inpatient – PSVR Review

There has been a steady stream of PSVR games supporting the platform over the last year and The Inpatient from Supermassive marks a step change in the depth of games that will be on offer going forward.
A title that lays its foundations as the prequel to Until Dawn it has some work to do, you have to admit the setting within the phobia inducing corridors of a shonky Blackwood Pines Sanitarium gets you off on the right foot.
First up, the title is oozing quality. Graphically the environment is beautifully constructed and during the adventure transitioning to bigger interiors offer a few wow moments while you take in the detail. That said, a lot of your time is spent in your characters cell, albeit in different states of disarray.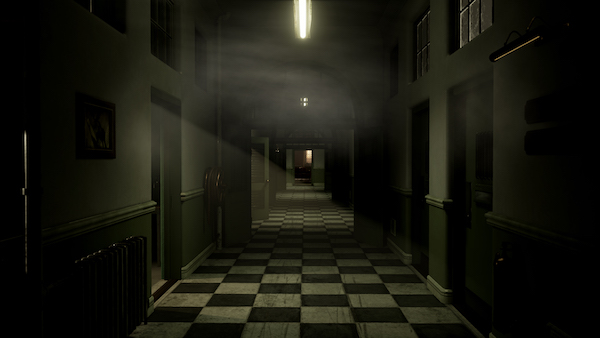 As a psychological horror game it does an okay job, very atmospheric and splattered with darkness, but being 'in' the movie doesn't bode well for my attention span. Characters although voiced really well, seems to go trailing off on long winded diatribes that lost me at hello. Essentially most exchanges wind up with a choice of response for you, a three or four word response that triggers them off again. This is actually one of the stand out mechanics of the game, the voice recognition is superbly implemented, for extra immersion just say the response you prefer and the game carries on. It does help to build something of a bridge between you and the characters, more so that a simple button press – which is of course an option as a fall back.
With branching dialogue depending on your responses there is a lot of cause and effect going on around you, even if you do feel like you've made a safe choice it can come to bite you later. All well and good, but due to the pacing and lack of selectable saves it would be struggle to find the time and inspiration to fully play out the dialogue to all the different outcomes.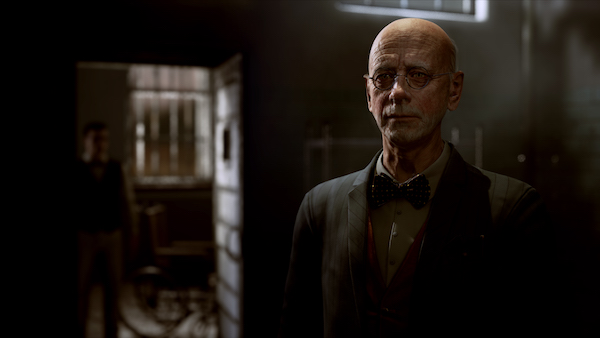 The story plays out with you as a patient, but experiencing flashbacks and memories that would be right at home in a Di Caprio movie along the same theme. To this end it starts to feel like a well crafted, but very cliched experience. There are huge periods of silence where nothing really happens, followed by a clattering of doors or spooky wild dog eyes. Being labelled as  a horror experience it doesn't quite hit the mark for me, I have experience a couple of minor jump moments, but nothing to write home about. Back to the plot, as mentioned thanks to the wandering dialogue, I'm not really sure whats going on anymore – which is a shame, because as a protagonist you are pretty much just a passenger in this shadowy world. Until the endgame, which seems to wrap up at speed and leaves you reeling when you actually realise the game is complete. Depending of course on your decisions and the consequences that play out.
I have experienced a few issues too, my first night with the game was ruined by a 90 degree drift in the view which I could not reset by holding the options button. This left me sat on the sofa constantly craning my neck to the right as if waiting for a bus. It would appear this was due more to my bright blue t-shirt and ceiling fan, but still had an effect on my impression.
There have also been some seriously odd glitches, where having to get close to a trigger item to lift and being contorted into the next scene without being able to move. Occasionally just getting stuck on scenery and once you notice your unfeasibly long arms, you just feel like the BFG wandering around knocking over chess sets and throwing mugs at NPCs. Speaking of NPCs, they occasionally glide into position when they are off track, they also float slightly within the environment which is more noticeable due to them not casting shadows…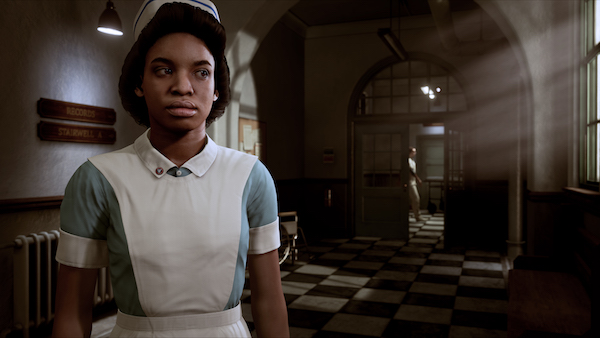 The game can be controlled with a Dualshock or a pair of Motion Controllers, the second option is far and away the most immersive, but it would be good to swap schemes on the fly for different scenes. Using the Motion Controllers you get to pick things up and interact more, its also great for wandering around with a flashlight as long as your digital arm behaves itself, although the right controller mechanic to managing a turn on the spot can leave you a touch off centre when rushing.
Considering where we are with PSVR and the limitations it has The Inpatient is a classic and atmospheric psychological suspenseful game for those who like that sort of thing, it is also a game with more depth than usual. Weighing in around 3 hours it can be dealt with in one sitting, but the pedestrian pace at which you wander the corridors and lack of momentum until the final 30 mins can make it feel longer.
Following on from the recent wave of lengthy titles we are getting broader experiences with more thoughtful mechanics. As an indicator to where the unit is heading over the next year, The Inpatient is well worth the ticket.