The Witcher Complete Edition: Geralt of Rivea in the palms of your hands
I'm not really sure what alchemy and magic potions CD Projekt Red & Saber Interactive have evoked to enable one of the finest action RPGs of this generation – The Witcher 3 – to run on Nintendo's handheld console the Switch but, my God, they've done the seemingly impossible and made it happen.
I'm not going to give a history lesson in this review retelling the story of Geralt of Rivea, a genetically enhanced mercenary who is the star of this game series based on the books by Polish author Andrei Sapkowski, suffice to say this game – the third in the series – has Geralt tasked with searching for Ciri, his understudy many moons ago who has returned, along with an oppressive evil called The Wild Hunt that wants to destroy everything in its path.
The Witcher, It's a miracle
The fact that Saber Interactive has even got The Witcher running on what is essentially a tablet chipset is a miracle and what's even more astounding, though, is isn't some pared back version of the same game that appeared on PC and consoles: It's the complete edition (just as it says on the tin), with all the DLC (including the Blood & Wine and Hearts of Stone expansions that were released). Sure, it's a compromised version of The Witcher. Or as the editor of this esteemed site likes to call it: The Henry Cavill Sim 2019. In account of Cavill taking the lead role in Netflix' The Witcher series, but it's feature complete.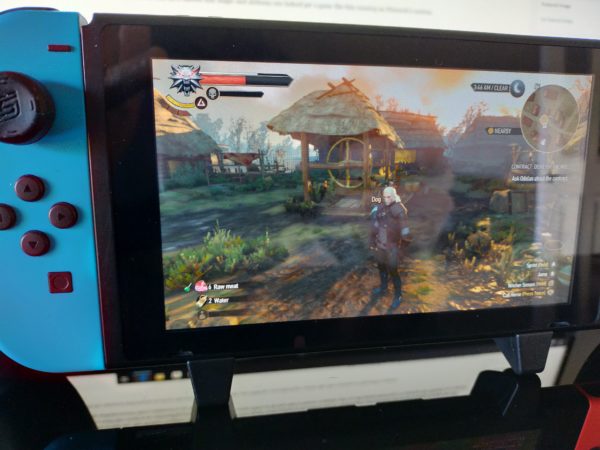 When it was rumoured that The Switcher was coming to the Switch I didn't quite believe it but here we are: It's real and it's wonderful.
I've played The Witcher games right from the beginning and The Witcher 3 on both PC and PlayStation 4. So I know a thing or two about the series, and yes, Nintendo's version takes a dramatic hit visually. With environments more washed out and fuzzy than its console and PC counterparts (especially vegetation). At times, when a sunset bathes the game world in golden light or light shafts stream through a forest, it really does look beautiful. Also, from all accounts NPC counts and character models are comparable to other versions. Besides, The Witcher 3 was a demanding game on PC at the best of times if you cranked all the bells and whistles up.
Some advice, though: If this is your first time experiencing The Witcher. I advise you don't start with the Switch version. If you have access to either console or PC versions, play one of those versions first. That's the best way to play it. Also, I don't recommend playing it in docked mode (if you have a Switch Lite you can't anyway). Why, you ask?
It's really for on the go
Played in docked mode on my Samsung 40-inch 1080p TV, the visuals are frankly a mess and hurt my eyes. Things are blurry – as if a thin layer of petroleum jelly or such was smeared across the screen [especially ground vegetation which is lifeless and flat] – textures take ages to load in sometimes [detailing on Geralt's shoulder armour took an insanely long time to sort itself out] and to be honest, it just doesn't look nice.
It's clear the Switch version is designed for handheld play first and foremost. The 6-inch screen hides all the imperfections and compromises better. Yes, you still notice flat grass and the like, but portable mode is best for this edition of The Witcher. Play it on the bus, on the train. Heck, play it sitting on the toilet. It doesn't matter where you play it because handheld mode is where the magic shines best.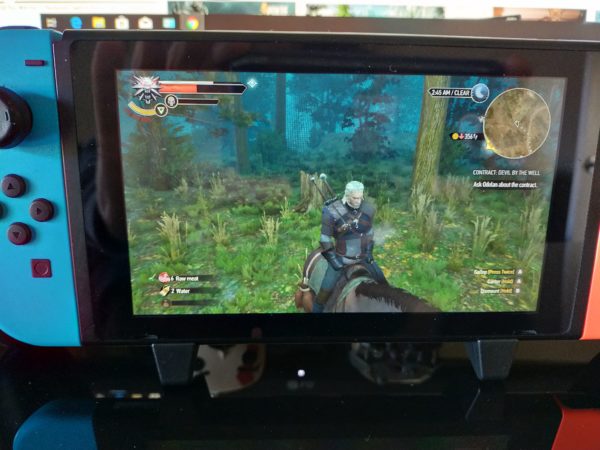 How does CD Projekt Red & Saber Interactive get the seemingly impossible game onto a console that is dramatically underpowered when compared to its siblings? By using a dynamic resolution to ensure stable performance, that's  how. The game will drop as low as 540p in crowded and demanding places, but you know what? You don't notice it that much in portable mode due to the small screen [at least, I didn't notice resolution drops but then I have old many eyes]
The game seems to hold a relatively steady 30 frames per second (Digital Foundry has done a great performance analysis on things), although dips are noticeable in crowded areas and some cutscenes where it's abundantly clear that the Switch is being pushed to its absolute limits to keep things running, and like many games ported over to Switch I still found on-screen text ridiculously hard to read at times – even with my glasses on. It's also a battery hog. Be warned: During one 2 1/2 hour play session, my Switch's battery went from 100% to 34%. So have a power bank ready to go if you plan to play for extended periods.
That damn horse again
Any niggles? Of course. One is the game's automatic pathfinding when you're riding Roach, your horse. Which I'd hoped they might have fixed in this version. When I set a waypoint and held down the appropriate button for automatic canter to our destination. He'd lose track of where he was going, forcing me to manually steer him back onto the right path. It's not a game breaker: It's just annoying that it's still here. Another is given the small size of the Switch's screen [and the default quite dark gamma settings for the game], sometimes enemies are harder to spot, which makes combat challenging at times.
The bottom line here is that yes, The Witcher Complete Edition on Nintendo Switch doesn't look as good as its console and PC counterparts and pureists will recoil in horror at that, but The Switcher (or Henry Cavil Sim 2019) is an outstanding port of one of the finest action RPGs of all time that is feature complete and I just can't put it down [I've played for hours and hours over the past week]. It's just perfect for when my better half is marathoning her soup operas and I need something to occupy me.
I tip my hat to all the talented individuals involved. Who have shown that magic and alchemy can indeed get a game like this running on Nintendo's system.