The Player 2 Twenty Four Hour Charity Marathon is back.
So it's a mouthful, but the Player 2 Twenty Four Hour Charity Marathon is a pretty worthy deal. Now in its fourth year the marathon sees Matt Hewson (editor of Player 2) streaming a variety of games for 24hrs, starting on 2nd November. He won't be alone, with a few guests young and old joining the effort to raise funds for the Terry Campese Foundation (TCF). Matt Hewson is and has been a strong supporter of this charity for many years. The TCF proudly supports disadvantaged people in the Queanbeyan region and country towns such as Braidwood.
Now that Mr Hewson has joined the board of the foundation the marathon's focus is to raise $4,000. It's relatable that this goal will be used to provide some gaming technology to selected regional hospitals in NSW. As a parent of small children I can vouch for this as a great result. Anybody that has spent time in hospital with sick children would be very happy with a distraction.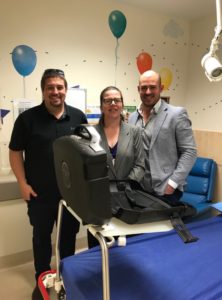 The Player 2 Charity Marathon will take its normal format on Twitch, inviting viewers to donate and participate for the chance to win some prizes. There is usually an extensive haul of loot generously provided by the Australian Gaming community. Supported by major PR sponsors and Distributors, with each $5 sponsored giving you a ticket in the draw.
Not forgetting to keep Matt and the crew company through long, wee small hours. Be sure to keep an eye out for moments of madness once the clock passes 2am, we supported the marathon last year and will again. Will #WWE2k20 make an appearance? Well maybe that's a donation target.
Either way, take a spin around Player 2 this weekend. It's for a good cause and you might meet some like-minded people.