Byte sized review: The Commission 1920
A turn-based strategy game set in the 1920s. The Commission 1920 is a mafia-themed game unlike any other Mafia game I'd played before.
Tasking you in the role as a Don of a mafia family in the city of New Shore – the Bogianas, Calessis, Donanos, Junios and Roccas. This is a resource management sim where you exert your influence over the city to rise to the top. It's a re-imagining of the original Commission game originally released in 2018 (a game I never played).
It's all about family, sort of.
You start by selecting one of five crime families to control, determining the family's traits (ie it has strong business acumen) and its rival family. You then assign soldiers/units to districts, tasking them with completing missions, recruiting associates, or bolstering existing resources as you make your moves on becoming king Don. Units can do things like attack other rivals in rival districts or bribe them to avoid bloodshed. Units also have shifting loyalty based on the actions of the family. Adding the risk for units that are disloyal potentially being recruited by a rival family.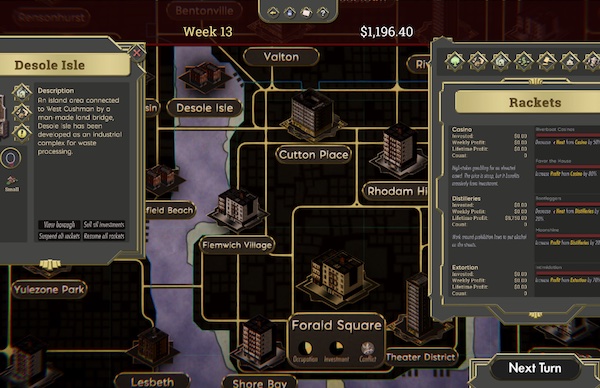 If you're after an action packed mafia game with action sequences and cinematics, this isn't the game for you. This is the strategic side of mafia life, with the turn-based action slowing the pace down a little more. Which means if you're a fan of planning moves to the most minute of detail you'll enjoy this.
Slow burn or concrete boots?
I have to admit I struggled with The Commission 1920. It's got a graphical aesthetic that grew on me but maybe it's because I like my mafia games with a bit more action but I found it's click-click-click mechanics just didn't gel with me. It didn't create the tension that I feel a mafia-themed game should have.
It would have been nice to have some cinematic or graphical sequences to mark when a major event had happened. For example when a rival Don had been defeated or another crime family's racket had been captured.