I make no secret of being a big single player gamer. So along comes Redfall from Arkane Austin. With proven single player history in Prey and Dishonored I admit I was intrigued with this latest title. Then came the push about the co-op side of the Redfall. All of a sudden I was getting Back 4 Blood and Left 4 Dead flashbacks. Thankfully my time in Redfall, as a single player, has been great. A reminder how much I suck at first person shooters, but very enjoyable none the less.
Here is where I must credit Arcane Austin for being able to create a more than serviceable single player experience within a title they are obviously pushing as a co-op heavy game. Nice one guys.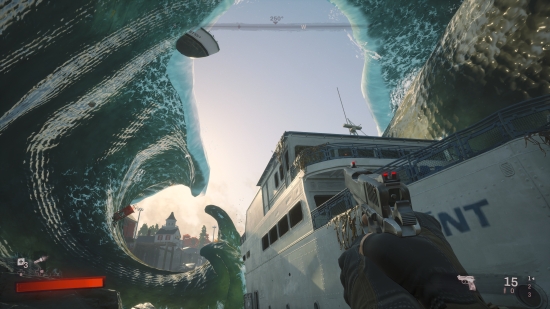 Where's Wesley When You Need Him?
Redfall, Massachusetts. A lovely island town with great amenities and plenty for locals and tourists alike. Unfortunately a legion of vampires have also taken a fancy to Redfall as well. Isolating the community and blocking out the sun, our resident fang-faces are having their way with the human population. Time for a hero, or four, to step up. Layla, Jacob, Devinder, and Remi all bring different skills to the table but each can hold their own alone if needed. I laced up the boots of Jacob Boyer. An ex-military sharpshooter, with an active camo cloak, ethereal raven, and phantom sniper rifle to aid his quest.
The opening moments ooze originality and set the scene with some great visuals.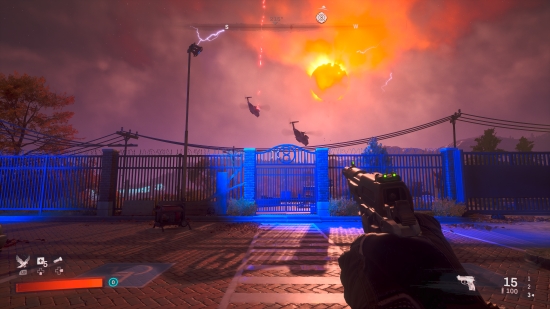 I think We're Alone Now.
At it's core Redfall is a fairly standard formula. Open world, with you setting up an initial base of operations, yes, it is a Fire Station again, and then moving out unlocking more safe houses as you explore. Missions are given at the Fire Station as well as some in world quest givers. Usual story for our poor heroes, nothing is free. Collecting items around town allows you to purchase aids like med-kits, lock-picks, and weapons. Loot is generously found and dropped by slain enemies. A nice dynamic between item level and quality will often have you second guessing yourself as to which weapon is better for you. Just like Wesley Snipes, I am happily doing this alone.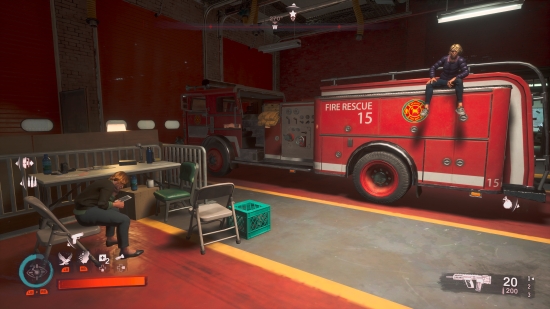 I Can See A Rainbow.
Visually Redfall remains faithful to its roots. Fans of Prey and Dishonored will see Arkane's style at play. It is not a ultra-realistic style but a clear and crisp one that I really like. The big thing I really like is the colours. It would have been easy to make this a dark and dull colour palette given the theme. But instead there is plenty of bright and vibrant settings. Very nice. There has been much internet nay-saying about the lack of any 60 frames per second performance mode at launch. I may well be my old eyes, but I can't say I have had any concerns. And Arkane have already stated that a 60 FPS mode will be released within a month or so. As with any shooter I find myself struggling at times with aiming so I am the last to comment on the gun play. Suffice to say I am still holding my own against the horde.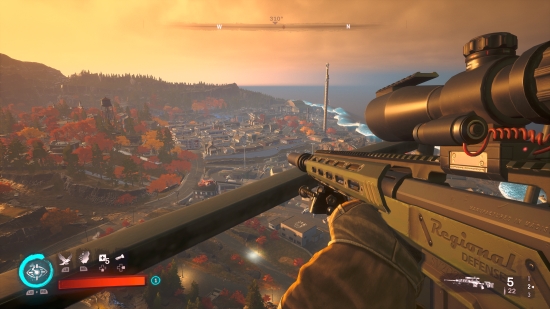 Redfall, Closing Comments.
Redfall is a big AAA title with plenty of hype being thrown at it. Is it the next big thing? Maybe? It sure is plenty of fun and easily accessible, even for a lone player. Initially I thought region of Redfall seemed on the small side but unlike many open world titles it is a dense, urban environment with a lot to explore. With a diverse array of weapons to aid in your dispatch of an equally diverse group of enemies, both human and non-human you will regularly be reassessing your plan of attack.
Releasing on Game Pass will do wonders and give everyone a perfect opportunity to visit Redfall with a few mates to enjoy some co-op vampire hunting.