Shatter Remastered Deluxe (Switch review)
To show how old I am, I played the original Shatter on PlayStation 3 back in 2009. Describing it in a review as (and I quote) "one of those simplistic, visually appealing games that has a brilliant soundtrack and wears its retro roots proudly on its sleeve".
Shatter Remastered Deluxe is no different.
Shatter, which comes from Wellington New Zealand-based development studio Pik Pok. They were called Sidhe Interactive when the original game came out. Modernises the classic brick break game, where you have a paddle, balls and a heap of blocks to destroy in the process. In a twist, your paddle can blow wind, allowing you to change the direction of the ball. Or suck, meaning you can pull particles from broken bricks towards you, filling an on-screen energy meter that unleashes a powerful shard attack. 
Shatter Remastered 'breaking out' in 2022
The Remastered version doesn't reinvent the game wheel here. This is the same game as the 2009 original but offers 4K visuals on current generation consoles and 5.1 audio. On Nintendo Switch, the platform I played it on, it offers 1080p 60 frames a second in docked mode, and 720p, 60FPS in handheld mode. The brightly coloured visuals just pop on my original Switch's screen and movement was buttery smooth.
Shatter isn't a difficult game. But things do get a little frantic at times when you have multiple balls in play, all bouncing around in various directions.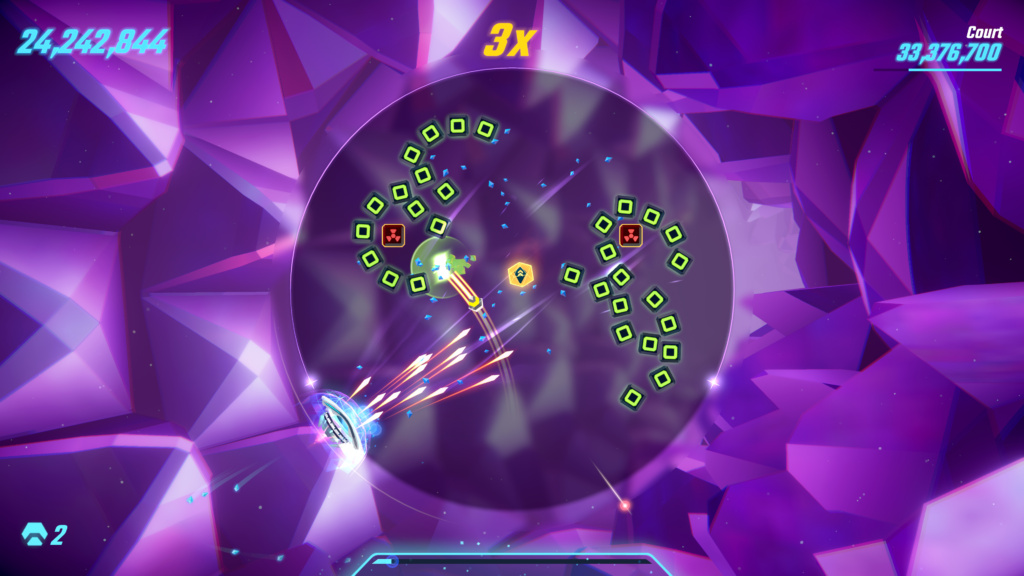 The sound track, from New Zealand musician Module (aka Jerimiah Ross) feels well suited to the on-screen action. Complementing the futuristic visuals nicely. It has a 10 worlds to play across. Each with an end of world boss, and variety of game modes, like endless play, story mode and time attack.
The most pleasing thing about Shatter Remastered is that. Like the original it is the type of game that you can pick up and play for short sessions: You're not tied into hours-long missions. This is the perfect "pick up and play" game, even more so thanks to the portability of the Nintendo Switch.
If you're a fan of fast-paced, chillaxing brick-break games, Shatter Remastered Deluxe will be right up your alley. Plus it's a New Zealand developer, which, as a born and bred Kiwi myself, I'm always keen to support!