Tiny Tina's Wonderlands Review (XSX)
It's Bunkers & Badasses, Baybee! Welcome to Tiny Tina's Wonderlands. What better way is there to while away your time in space than a game of Bunkers & Badasses. A table-top fantasy RPG being played by Valentine, Frette, and you, The Newbie. And with Tiny Tina as the Dungeon Master, well, anything can happen. You, The Newbie, recently anointed Fatemaker have been tasked with defeating the Dragon Lord and saving Butt Stallion and the land of Brighthoof. All in a very Borderlands way of course.
The story is pretty standard fare but the way it is done is great. Many a pop culture reference to be found so I will refrain from spoiling too much. Lets just say you will run into everybody from the Smurfs to Pinocchio.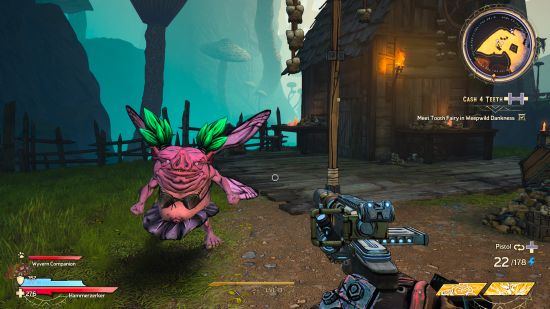 You Are Over Encumbered.
I'm a huge fan of Borderlands, as a solo player. I have never really got into the co-op side of things in a big way. But as a looter-shooter, I love it. I'm an even bigger role playing game fan, so to have these two things smooshed together makes me a very happy camper. With the familiar game mechanics of Borderlands it took no time at all to get into the swing of things, and with a dedicated melee weapon slot there is definitely plenty of swinging. Replace grenades with a spell slot and you are ready to go medieval on some bad guys.
Don't worry, there are still plenty of guns, guns, guns!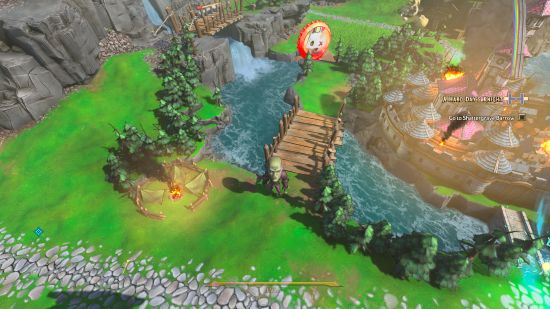 Attack Or Flee?
The most obvious change is the addition of the Overworld map. This is your table-top, if you like. It even has real world items dropped on it like bottle tops and erasers, which quite often allow for a short cut. The fast travel system is still in place but initial exploration happens on the Overworld map. You will also fine dungeons, encampments, and random encounters on the map, all fantasy RPG staples. This map also has several shrines dotted around it that are missing fragments. And of course these fragments are to found in the dungeons. Complete a shrine for a boost to you of your stats. A sort of continual side quest.
Although after your initial exploration you will find yourself opting back to the fast travel more and more frequently.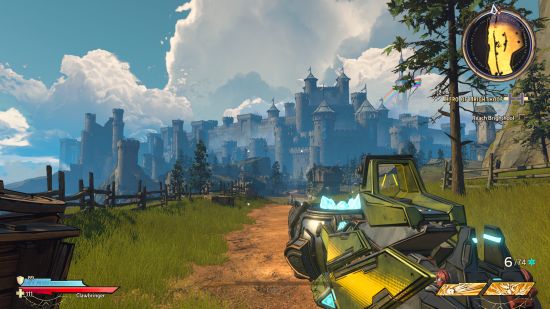 Roll For Critical.
The Borderlands franchise has always been a beautiful series of games to look at thanks to its Cel Shading technology. Moving into the latest generation of gaming machines means that Wonderlands looks absolutely fantastic. The bright vibrant world really does pop. Because of this style it also allows for a good solid frame rate too. Although I have again found that leaving the game in Quick Resume too often will cause some frame rate issues. But again, like Elex 2, quitting the game fully on a regular occasion appears to solve this.
Surround sound is a given these days. But I have to admit to not being wowed by anything in recent times. Not until Tiny Tina's Wonderlands at least. On many occasions I have looked over my shoulder to investigate a noise. I even got up once because I thought I had left a tap running in the kitchen, it was a waterfall behind me in the game! Truly glorious sound work.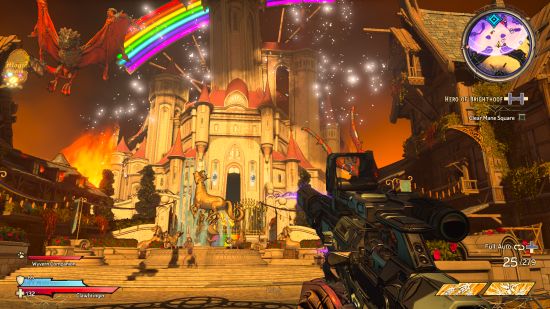 Closing Comments.
It's Borderlands Jim, but not as we know it. And I like it. The core of Tiny Tina's Wonderlands will keep any Borderlands fan happy. Lots and lots of loot, great humour, with some cool cameos from characters we all know and love. For me though, the greatest achievement in Wonderlands is all the pop culture references. Some are very obscure, which just makes them even greater if you do get them.
It is pretty easy to recommend Tiny Tina's Wonderland to anyone really. The franchise just continues to be a solid staple in modern gaming. Get out there Vault Hun-, I mean Fatemaker.