Logitech G413 SE mechanical keyboard review
Over the years, I've had a few Logitech PC peripherals, mainly keyboards and mice, and I have to say I've always been a big fan of the company's hardware.
All of the keyboards I've used over the years, however, have been standard ones. By that I mean they didn't have mechanical keys. Well, that changed recently when Logitech got in touch asking if I'd be keen to check out its G413 SE. A wired mechanical gaming keyboard with tactile mechanical switches that feels excellent to game and type on.
Despite years of using a PC and gaming on a PC, I've never actually owned a mechanical keyboard before. My current – and long term keyboard – is a Microsoft Sidewinder X6 keyboard which definitely doesn't have mechanical tactile key caps. I could immediately feel the difference between the two keyboards but it did take me a day or so to get used to the key action on the G413 SE.
Now, I can touch type and the G413 SE is ever so slightly longer than the X6 (without it's detachable numeric pad attached) but I tended to rest my fingers on the wrong keys when I started typing. I don't know why I did it but after a few attempts things sorted themselves out and I was tapping away and gaming comfortably with it.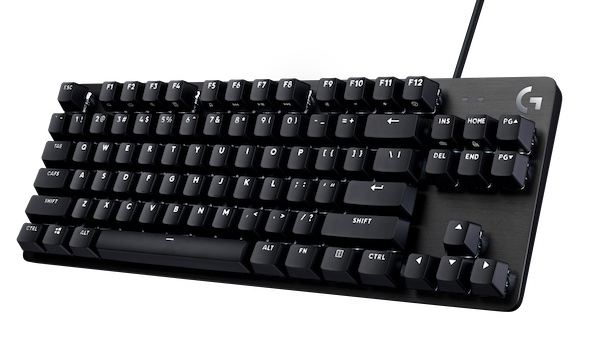 The nuts, bolts and LEDs
Built with an aluminum top plate, the G413 is sturdy, well constructed and the PBT keycaps have a nice feel and travel to them. I found them incredibly responsive, too, offering a much more premium feel than the old Microsoft keyboard I use every day. The keys are also individually backlit with white LEDSs, which is quite subtle (unlike the X6's bright red illumination). Making everything highly visible, especially when gaming in the dark.
Probably the only negative is that for some reason the G413 isn't compatible with Logitech's G Hub software. Which means you can't remap keys or program macros. It also doesn't come equipped with wrist rest, if you like those.
The G413 SE will set you back around $NZ170 but I think it's worth it as it's a really great mechanical keyboard that doesn't overwhelm with fancy, unnecessary features.
I'm honestly not sure my fingers will be entirely happy going back to gaming and typing on the non-mechanical keyed Sidewinder X6 when I return the G413 SE back to the PR company.
Highly recommended.